Brother Praised for Refusing to Attend Sister's Wedding He Is Paying For
A brother's decision to not attend his sister's wedding was praised online, after she refused to invite his long-term girlfriend.
The brother took to popular Subreddit "Am I the A**hole" to share his upset after being shamed by his family in real life. The 44-year-old explained that his younger sister, 36, is marrying her fiance, who she has known for three years.
He, however, has been with his girlfriend for almost 11 years and they have lived together for eight. They are also expecting a child together, but haven't yet shared the news with the family.
According to The Knot's 2021 Real Weddings Study, the average wedding guest list size in the U.S. is 105. Research from Zola suggests that wedding planning is a huge cause of stress, with 43 percent of couples saying that wedding planning put a strain on their relationship.
It can all be a recipe for disaster, according to the brother's experience that is. "My sister made it clear that she wanted an intimate wedding and since my girlfriend isn't a wife she didn't consider her family," he wrote, adding in a comment that he's even paying for the wedding.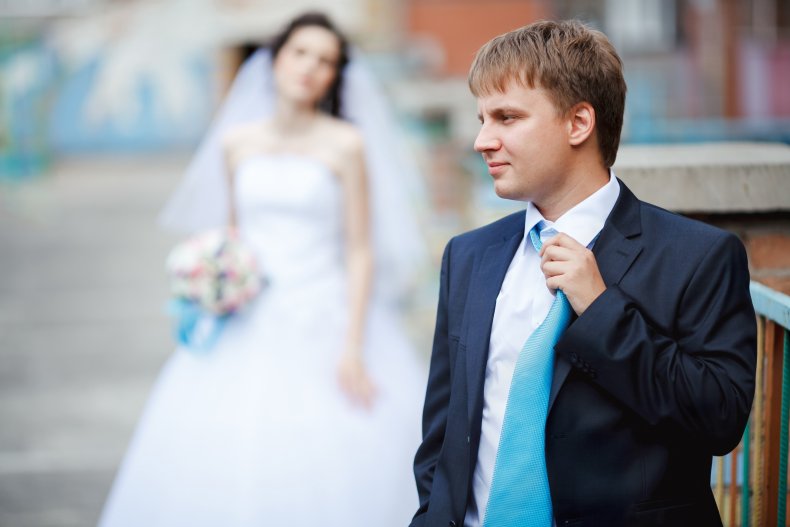 "My first reaction was that it's fine since it's her wedding so I didn't RSVP. She called me to ask why I didn't and I was confused but it turned out she wanted me in the wedding but not my girlfriend. I told her to forget about it and she was crying and raging since i'm her only brother and since dad isn't in the picture. I'm supposed to be the one giving her away. I said a firm no."
The sister seemingly changed her mind, albeit reluctantly, according to the brother. For him, it wasn't enough and he still chose to reject the invitation, much to the anger of the entire family.
Despite his own family being left upset by the decision not to attend, internet users were instead left backing the idea.
One user, who gained over 10,000 votes for their comment, wrote: "11 years: that's family, and to not invite is just rude. You are not breaking anyone's heart - your sister made a choice and so did you."
"Sure, it's up to her who's invited but... If you and your girlfriend are together for 11 years, that's longer than some marriages. A relationship that's definitely serious enough to be acknowledged by family and friends," said another.
Another Reddit user said: "Her wedding, her choice. Your time, your choice. When you insult someone, there are consequences. You have been with your spouse three times longer than she has been with hers. Good on you for having your spouse's back.
The brother remained adamant that he will not be attending, with or without his partner. "It's already decided and I'm content," he said.
Newsweek reached out to u/CharlieKellyq, but wasn't able to verify the details of the case.
Has a wedding come between your relationship with a loved one? Let us know via life@newsweek.com. We can ask experts for advice, and your story could be featured on Newsweek.