Jussie Smollett Trial: Brothers Allegedly Hired to Stage Attack to Appear in Court
As Jussie Smollett stands trial from Monday, amid accusations he faked a racist and homophobic attack on the streets of downtown Chicago, two siblings are expected prove crucial to the outcome.
Former Empire star Smollett had alleged that in January 2019, he was attacked by two men who doused him with bleach and placed a noose around his neck as they yelled that he was in "MAGA country," in apparent reference to former President Donald Trump's campaign slogan, "Make America Great Again."
In a twist worthy of Smollett's melodramatic TV show, brothers Abimbola and Olabinjo Osundairo—known as Abel and Ola, respectively—later alleged that they had been paid $3,500 by the actor to stage the attack so that the star could land a pay rise for his role as Jamal Lyon on Empire.
Smollett was arrested on February 21, 2019, on 16 counts of filing a false police report, charges to which he pleaded "not guilty." The charges were dismissed on March 26, 2019 without public explanation.
However, an investigation into why the charges were dropped was launched in August 2019, with a grand jury returning a six-count indictment against Smollett, accusing him of lying to police.
He has pleaded not guilty to the felony disorderly conduct, a class 4 felony that carries a sentence of up to three years in prison.
At the center of the trial are the Osundairo brothers, who served as extras on Empire and had maintained contact with Smollett afterward.
While they are expected to portray the actor as the director a grand hoax, Smollett's attorney has alleged that Abimbola told Olabinjo to attack the star to prove Abimbola was not gay.
The brothers flew out to Nigeria hours after Smollett reported that they had been attacked. When they returned to the U.S., they were arrested and later released without charge.
Prosecutors said in February 2019 that Abimbola became friends with Smollett in the fall of 2017, after meeting on the set of Empire, where Abimbola served as a stand-in for a character portraying Smollett's character's love interest on the show.
One of the brothers had become a personal trainer for Smollett, according to an attorney for the actor. According to the Chicago Sun-Times, it has also been alleged that Abimbola had, on occasion, sold Smollett the drug ecstasy.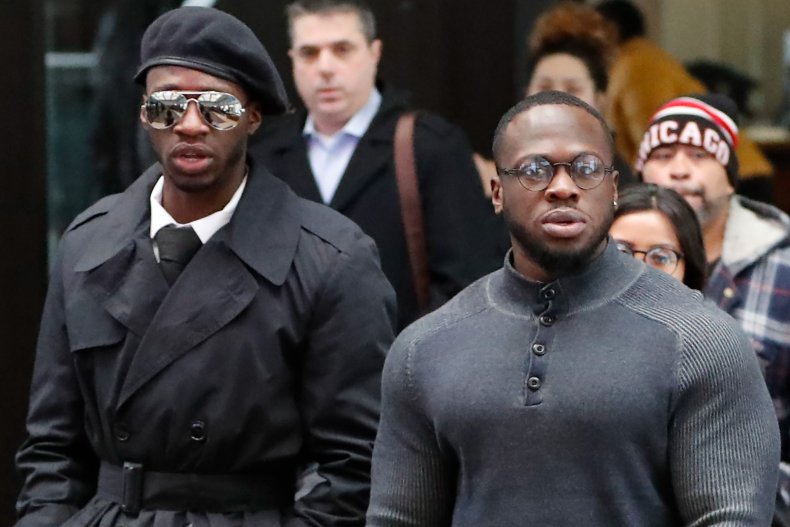 Citing court records, the Sun-Times also reported that Olabinjo was charged with attempted murder in a 2011 stabbing in Chicago. He is said to have reached a plea deal with prosecutors, pleading guilty to aggravated battery, for which he was sentenced to two years' probation and ordered to pay a $674 fine.
The Sun-Times additionally reports that the brothers filed for bankruptcy in September 2016, after collectively owing more than $120,000 in student loans.
According to the newspaper, they launched a party and decoration business in 2015 called The B's Osundairo, which operated out of a South Side Chicago building owned by their parents.
After "operating at a loss," the business was dissolved in May 2018, the Sun-Times cited court and state business records as showing. Olabinjo Osundairo reportedly went on to co-found a home remodeling company in 2017.
The brothers—who played college football at Quincy University, according to the school's website—had built a social media presence for themselves through their numerous bodybuilding posts on social media.
Videos uploaded on an Instagram account appearing to belong to Abimbola Osundairo show that he has also ventured into boxing.