Brown Bear Mauls Alaska Man to Death While Clearing Trail Near Property
A man was found dead after being mauled to death by a bear on Wednesday, while clearing a trail in the Kenai Peninsula of Alaska.
"Based on preliminary samples that were found at the site, we believe this was a brown bear attack," said Cynthia Wardlow from the Alaska Department of Fish and Game (ADFG) to Anchorage Daily News.
The man was on a trail on Chugach National Forest land, off Hope Highway, around a mile from his home. His wife became worried when their dog returned home but the man did not, said Alaska state troopers.
"His wife became concerned when he was overdue, and their dog, which had been with him, returned home alone," said a representative.
Family and friends in the local area found the man's body on the trail, around a 45 minute walk from the man's residence. The area is not vehicle accessible.
Emergency services hiked to the location of the attack and reached it by 10.30pm, but had to leave the scene until the following day due to accessibility issues. "Troopers will be investigating and recovering the victim today," said Cooper Landing Emergency Services on their official Facebook account.
"Please respect this victim and their family and the troopers who are hiking in to this difficult, dangerous and tragic scene."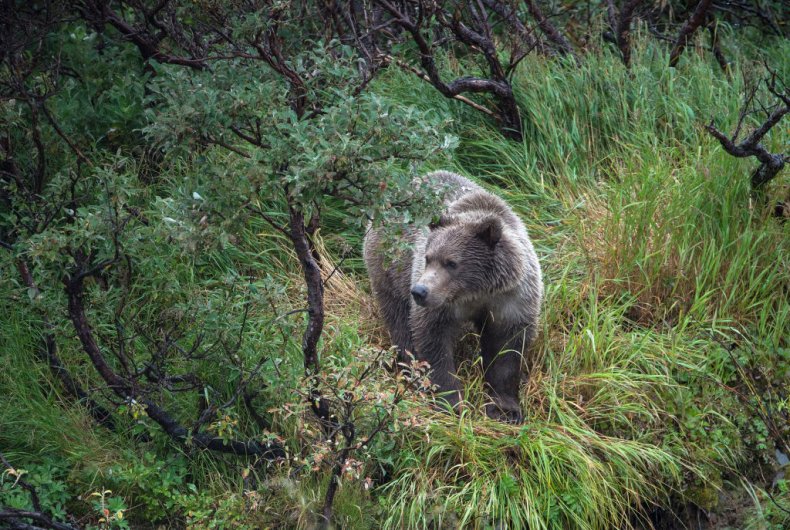 The ADFG is conducting a full investigation in to what happened, but troopers reiterated in a statement the man had "wounds consistent with a bear attack". To determine the exact species of bear, officials will search for evidence of hair, paw prints and animal excrement at the scene.
"Continue to be bear aware," urged Cooper Landing Emergency Services on Facebook, "bears in the area have been very active in residential areas as well as at the Russian and Kenai River".
Newsweek has contacted Cooper Landing Emergency Services and Alaska Department of Fish and Game for further comment.
On Monday, a Montana man also suffered a brown bear attack near his home. He was charged at, thrown into the air by the bear, and suffered lacerations to his hand, arm back and shoulder. The man survived, but is being treated in hospital for his injuries. The man's wife saved him by turning on the engine of her truck and driving at the bear.
The Montana Fish, Wildlife & Parks (MFWP) biologists and wardens are currently searching for the bear responsible for the attack.
"We continue to search the area for the bear, but the likelihood of finding the bear decreases dramatically everyday after the attack. It's a big area and there are other bears in general vicinity," MFWP representative Greg Lemon told Newsweek.