Brown Bear Spotted in Northern Spain National Park for First Time in 150 Years
A brown bear has been spotted in the northwest of Spain for what is thought to be the first time in 150 years.
The bear wandered past camera traps set up by a film crew, local reports say.
The crew of Montaña ou Morte (Mountain or Death) released footage of the bear grazing and rubbing itself again tree trunks in O Invernadeiro national park in Galicia, an autonomous community in northwest Spain, last week.
"The specimen, a male between 3 and 5 years old, is the first to be filmed in the area and probably the first to pass through this region in the last 150 years," Zeitun Films said in an accompanying statement.
According to Zeitun Films, the park's environmental agents have said the bear almost certainly spent the winter in O Invernadeiro and likely arrived from the Sierra de O Courel Mountains, a region north of the park.
The sighting suggests years of conservation efforts have paid off and allowed a brown bear to find a suitable habitat in the park. It also indicates the possibility of populations of brown bears establishing themselves in O Invernadeiro in the future, while highlighting the success of populations in the O Courel area.
Zeitun Films have said clips of the bear will be used in the film.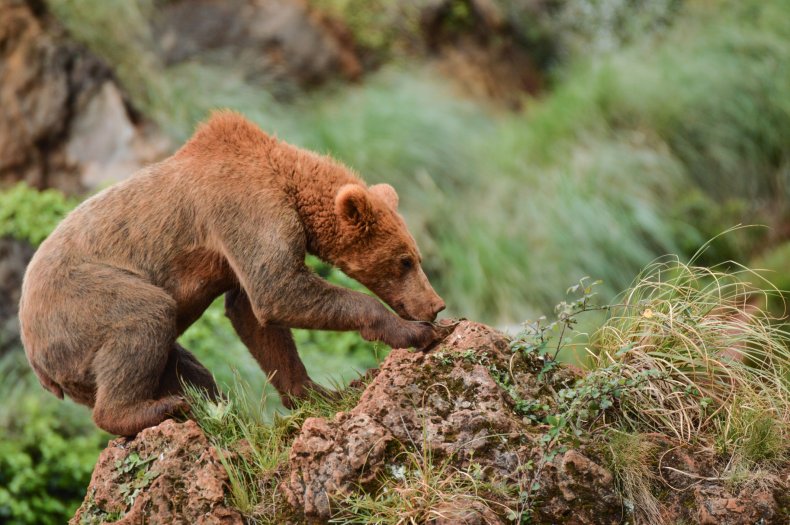 According to the European Wilderness Society, Cantabrian brown bears of the Cantabrian mountains in northern Spain are one of two populations of brown bears living in southwest Europe, the other inhabiting the Pyrenees mountains in Spain and France.
Though they remain on Spain's endangered species list, the population seems to have experienced something of a revival in recent years and numbers appear to be growing, thanks in large parts to conservation efforts.
Human interference saw numbers plummet to 70 to 80 individuals in the 1980s, the AFP reports. Today, there are thought to be approximately 320 to 350 Cantabrian bears, and the species has become a major tourist attraction for the region. The bears have even been seen crossing borders and venturing into new territory.
Last year, government officials reported on the first brown bear sighting in Portugal in over 100 years after a specimen was observed in the Montesinho Natural Park and Braganca commune.
According to the AFP, it is thought that the bear had arrived from the Cantabrian Mountains in north Spain and crossed the border into Portugal.