Ivy Leaguers Want Their Campuses To Be 'Sanctuaries' From Trump Deportations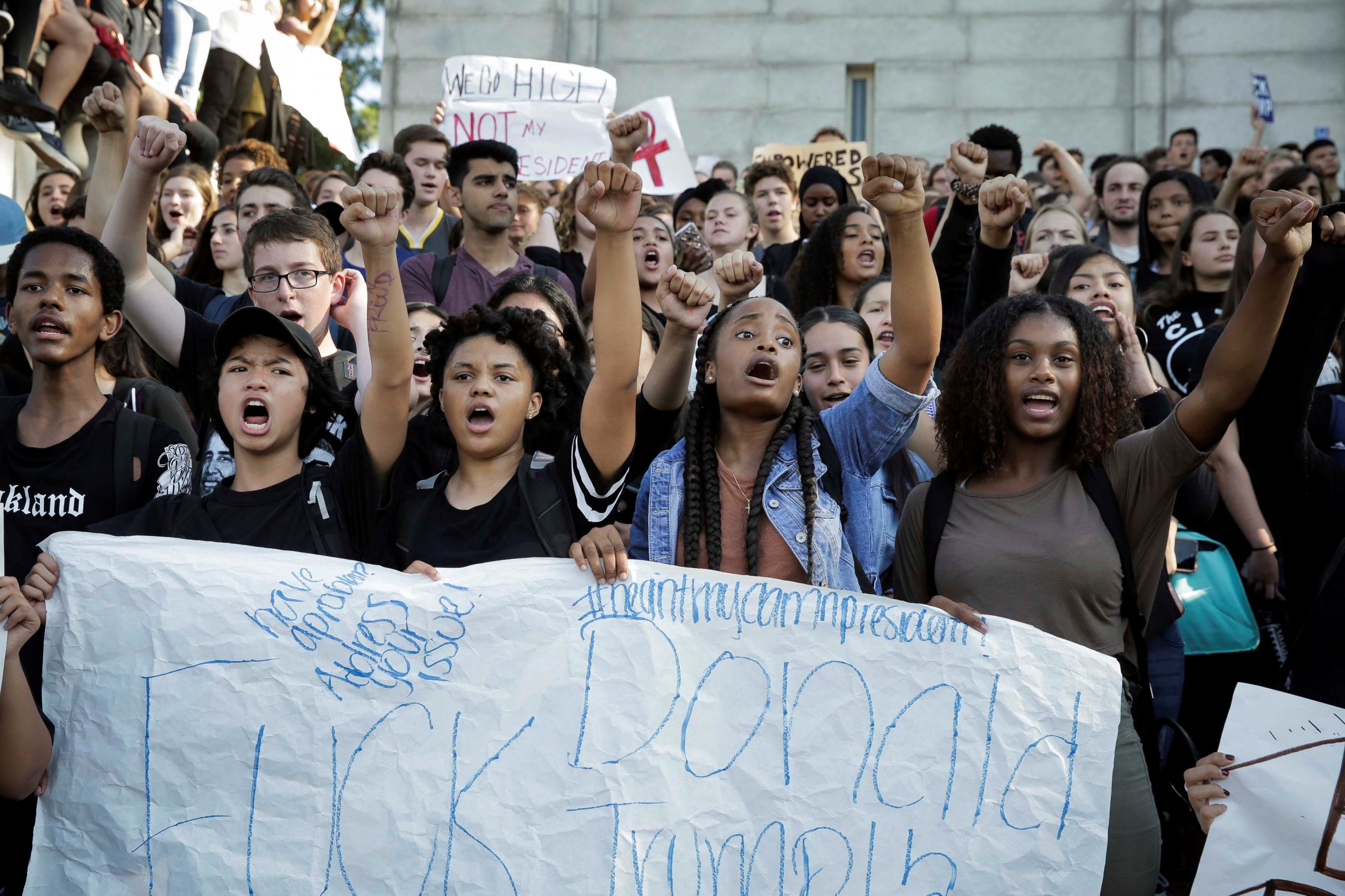 Updated | Students, faculty and alumni from top schools, including Brown, Harvard, Yale and Columbia, are calling on school leaders to make each of their campuses a "sanctuary" for people who could face deportation under the policies of President-elect Donald Trump. Community members at the Ivy League schools are among those at colleges and universities across the country taking action following Trump's election.
"We have reason to believe that Providence Police officers cannot enter the campus without permission of the University," says a Brown University faculty letter, which employees at the Providence, Rhode Island, school sent to administration officials on Friday; it was published online in the student newspaper Monday. "Given that many students, staff members and their families are directly affected by this issue, we urge the University to immediately work to develop a protocol for the University serving as a sanctuary campus." The letter includes 168 faculty member names.
Brown alumni are planning to issue a similar letter on Monday. That version, which unlike the faculty one will mention Trump, has more than 2,400 signatures, according to Maria Camila Bustos, one of the organizers and a recent Brown alumna.
"Many of us felt that because we're not on campus, we cannot demonstrate. But because we're alums, we have a voice," says Bustos. She says alumni began circulating a draft of the letter late on November 9 or early the next day after learning that faculty members were planning their own effort. "It went explosive, I think, through Facebook, through Twitter," Bustos says.
A draft of the alumni letter begins, "In the wake of the presidential election, we, the undersigned Brown alumni, strongly urge you to take immediate steps to make Brown University a sanctuary campus for students, staff, and their family members who face deportation under President-elect Donald J. Trump's proposed policies."
The alumni letter continues, "Trump's presidency puts the undocumented members of our community at unprecedented risk. The threat to students and workers requires a concrete and tangible response from the University; words and symbolic gestures would not suffice." Alumni from class years as far back as 1966 have signed the letter.
"For us, it's not just a normal election where you have a right-wing candidate," Bustos says. "You're electing someone who knowingly said horrible things about minorities and marginalized groups…. To us, it's a really scary moment in our democracy."
Students, faculty, staff and alumni at Harvard drafted a similar letter to administrators last week. "What does the election of Donald J. Trump mean to the undocumented students currently enrolled at Harvard?" the draft said. "We urgently demand that you directly support our undocumented students at the College and in graduate programs."
The letter outlined a list of demands, including hiring a dean and assistant dean of equity, diversity and inclusion; creating a resource center for students without documentation; establishing a budget for helping those students; hiring a mental health professional who specializes in helping people facing immigration and deportation matters; and making an on-campus church a sanctuary "for students facing deportation proceedings."
Another letter, signed by hundreds or thousands of Yale students and alumni, contains almost identical language to the one by students at Brown. Community members at top schools outside of the Ivy League, such as Stanford and Oberlin, circulated nearly identical letters, too.
As the letters note, United States Immigration and Customs Enforcement issued a 2011 memo stating that immigration arrests, interviews, searches and surveillance should not occur at "sensitive locations such as schools and churches...unless (a) exigent circumstances exist, (b) other law enforcement actions have led officers to a sensitive location...or (c) prior approval is obtained." Elsewhere on the ICE website, the agency says that "enforcement actions at or focused on sensitive locations such as schools, places of worship, and hospitals should generally be avoided."
However, in an emailed statement, Brown University Vice President for Communications Cass Cliatt said, "Based on consultation with legal counsel, we understand that private universities and colleges do not have legal protection from entry by members of law enforcement or Immigration and Customs Enforcement."
Cliatt added, "Brown is very serious in its commitment to supporting undocumented members of our community, and we continue to provide them with as much information as we can make available regarding the law and potential outcomes if policies change under the new administration."
In a post-election interview on 60 Minutes, which aired Sunday, Trump said he planned to first secure the U.S. border and deport immigrants without documentation who had committed crimes. That could number 2 million or 3 million people, he said. He added that he would later "make a determination" about noncriminal violators of immigration law.
Under President Barack Obama, as of fiscal year 2015, ICE had "removed" nearly 3 million people, according to agency data. About half of those people were noncriminal violators of immigration law.
Following the election, young people in the U.S. are especially concerned about the future of the Deferred Action for Childhood Arrivals (DACA) program, which grants a two-year work status and exemption from deportation to people who immigrated to the U.S. before they turned 16 and were under 31 as of June 15, 2012. After two years, people with that status can apply to renew it. Obama started that program as an executive action in 2012, and Trump has indicated he might try to overturn it. As of January 2016, 820,000 immigrants with this status had received deferment.
A letter by Columbia students focuses on DACA. "We are aware that Columbia has many DACA students, both undergraduate and graduate students," the letter states. "What will happen to them when DACA is canceled and they fall out of status?"
Students at colleges and universities have been protesting since the election. Others have focused on healing. The University of Michigan Law School hosted what it called a "post-election self-care" event, which involved "activities such as coloring sheets, Play-Doh, positive card-making, Legos and bubbles," according to a since-deleted event page.
"The Law School has provided a wide range of resources for students following the election, primarily academic events responding to our students' request for faculty guidance and engagement about what this election means for the legal landscape generally, for their professional futures, and for the future of the country," Michelle Rodgers, a spokeswoman for the law school, said by email. "The event last Friday, in which a small number of students participated, was organized by another campus unit, the Counseling and Psychological Services office, and functioned as an opportunity to de-stress during lunch."
A "cry-in" reportedly took place at Cornell University, and at Tufts University, students reportedly coped with the election outcome by doing arts and crafts. At Yale, an economics faculty member apparently made an exam optional after hearing "from students who are in shock over the election returns."
Not all faculty members are taking such actions. "In the spirit of dealing with the wounds of those feeling grief and unbearable angst over the election, Kim [Kardashian]'s tragic Paris robbery, the heart-wrenching Brangelina break-up or other similar tragedy, I would like to do my part," Texas Tech University Professor Terry McInturff wrote in handout to students last Thursday. "While I can't offer 'arts and crafts' or a 'therapy dog,' the Energy Commence Department has arranged for free hugs from our therapy boa constrictor."
McInturff tells Newsweek, "In class, I don't care what you feel. Outside of class, I might. But I care what you think."
One Iowa lawmaker told the press on November 11 that he planned to investigate how much taxpayer money schools were spending on "cry zones and for all these different safe zones [where] you can talk about your feelings" about the election. He said he planned to propose a "Suck It Up, Buttercup" bill, which would multiply that fiscal amount by three and withhold it from future school budgets.
This article has been updated to include information about post-election efforts at Yale, Columbia, Stanford and Oberlin.