Browns OC Supports Baker Mayfield's Criticism of Former Coach Hue Jackson
Cleveland Browns offensive coordinator Freddie Kitchens defended quarterback Baker Mayfield's critique of former head coach Hue Jackson.
Kitchens said he didn't have a problem with the quarterback's comments, including an Instagram response in which he called Jackson "fake."
"I promise you this: Baker's not going to blow smoke up anybody's ass," Kitchens said Thursday as the Browns prepared to face the Texans in Houston on Sunday. "So if he said it, that's what he feels. And I'm standing behind Baker Mayfield."
Mayfield stood by his critique of Jackson on Wednesday and responded to those who questioned his maturity.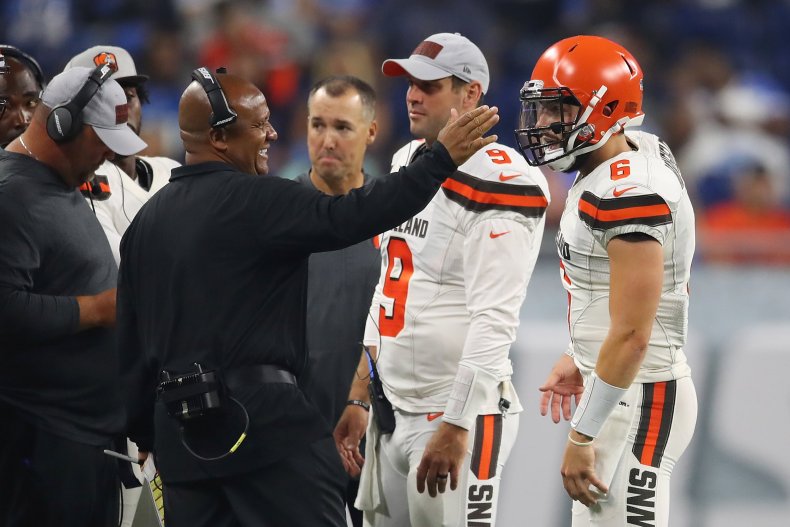 "People get maturity confused with me being 100 percent comfortable in my own skin," Mayfield said. "So that's absolutely how I am. I've always been that way. It's not immature. It's me being exactly who I am every day, being that same guy for our team, and I think that's very important right now."
Mayfield acknowledged that the "fake" comment was directed at Jackson, but didn't explain why.
"There were just things that happened inside the building that I'm not going to get into detail with," Mayfield said Wednesday. "It's in-house information."
Jackson, who was fired by Cleveland last month, accepted an assistant coaching position with the Cincinnati Bengals earlier this month. The Browns defeated the Bengals, 35-20, on Sunday and Mayfield admitted that he took his former coach's decision to suddenly join a division rival personally.
The quarterback acknowledged that he understood putting the word "fake" into the public realm without explanation would cause controversy, but he still declined to provide details. Mayfield also said that he's going to share his opinion, as he's always done and people shouldn't be surprised by his actions.
"People took it as me personally attacking Hue," he said. "That's not it. It's the fact that I get to have my own opinion on how [the move to Cincinnati] transpired, and he gets to do what he wants. That's how it is.
"Although I'm an athlete, I'm not a cookie-cutter quarterback. Never have been, never will be. I speak my mind. That's how I am. I didn't like the move and people don't have to care.
"I'm not looking for anybody's approval. I don't regret any of it."
Mayfield, who was selected No. 1 overall in the 2018 NFL Draft last spring, has played extremely well since Jackson and former offensive coordinator Todd Haley were fired. The rookie has completed 74 percent of his passes with nine touchdowns, one interception and a 129.5 passer rating, while the Browns have won two of three games since the coaching change.