A martial artist following in the footsteps of kung fu legend Bruce Lee has made a name for himself in China by setting 10 Guinness World Records in two years.
All but one of Xie Desheng's records were achieved with his favorite weapon, the nunchaku, which he has used to light and extinguish matches and candles, or swat away record numbers of ping pong balls. Last December, Guinness' Beijing office recognized him for hitting 35 table tennis balls in one minute during a live-streamed performance.
Xie, 28, was inspired by Lee's iconic films as a teenager. He bought a pair of nunchaku from a supermarket in 2009 and began watching endless hours of movie footage at internet cafes in Chaozhou, a coastal city roughly 200 miles east of Hong Kong, where his action hero had died decades earlier at the age 32.
Xie would eventually leave his Guangdong hometown in order to master the nunchaku, learning from professionals and beginners alike in five different provinces before settling in Shanghai in 2016. He took odd jobs to make ends meet and competed successfully in a number of martial arts tournaments in the interim.
Speaking to Newsweek this month after receiving his latest Guinness certificate—for extinguishing 28 candles with a roundhouse kick last October—Xie described an often lonely journey as he chose kung fu over higher education and the prospect of stable income.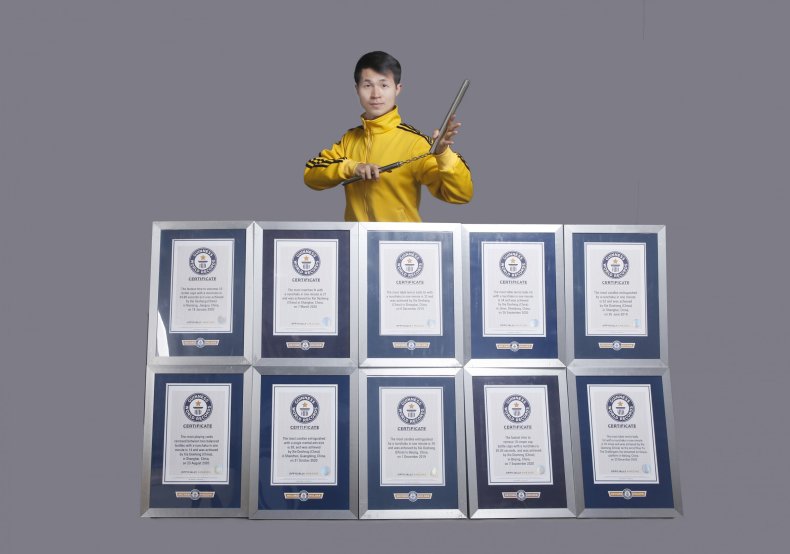 He is now a martial arts instructor teaching both children and adults, including paramilitary members of Shanghai's People's Armed Police. Still, he has not stopped traveling to learn and compete
"I had a lot of regrets in my life, but they stimulated something inside that made me want to become stronger," Xie said. "Martial arts struck me like a bolt of lightning."
"It was only after I stepped into the martial arts world that I realized how challenging it would be," he added. "I've had my ups and downs, and was even shunned by some of my peers. But that didn't stop me from wanting to become a martial artist."
In 2019, Xie saw an opportunity to put his skills to the test through the Guinness platform, where participants from all walks of life constantly break world records and even create some of their own. In June that year, he put himself in the record books by extinguishing 52 candles in one minute using his nunchaku—a feat he would smash just six months later when he put out 70.
The past 24 months have seen him embark on an endless quest to better his own achievements. Five days after his second candle challenge, he created his first table tennis record by batting away 32 balls in 60 seconds using a pair of nunchaku.
He managed 34 nine months later, before a Guinness World Records adjudicator watched him hit 35 ping pong balls in one minute in Beijing last December. Xie revealed he has already broken that record, too, but he is waiting for Guinness to verify it.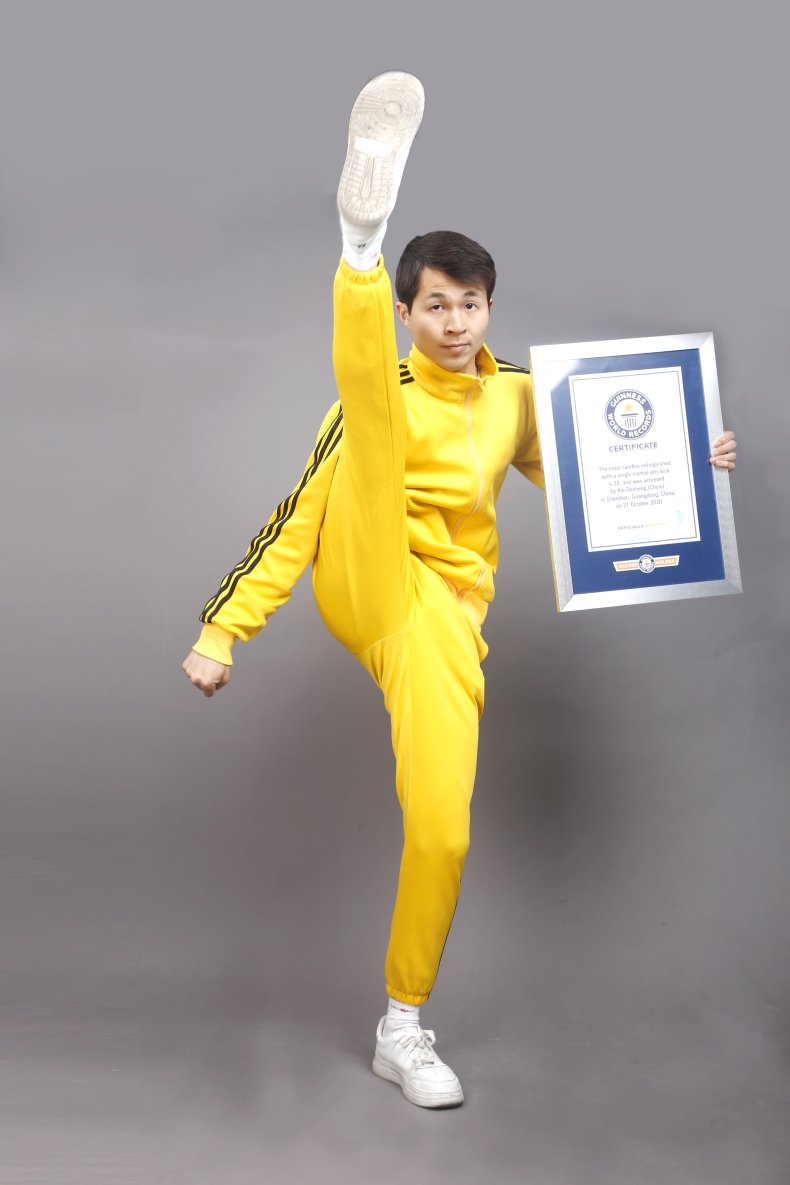 Meanwhile, Xie continues to think up different ways to set nunchaku records. His other achievements include unscrewing 10 bottle caps in 34.80 seconds, removing 14 playing cards between balanced bottles and lighting 21 matches in one minute.
His only non-nunchaku record was created on October 31 last year, when he produced a Chuck Norris-style martial arts kick to extinguish 28 candles.
What keeps Xie's Guinness records passion going? "I want to prove martial arts in a scientific way," he said, "and challenge the limits of the human body."
His achievements saw him receive an invitation to show off his skills on the Great Wall in Beijing last month, a moment he considers to be the pinnacle of his career so far. Part of his mission, he states, is to promote Chinese martial arts.
Xie says kung fu is entering schools and attracting more and more youth. The trend also is evident in the number of local and national martial arts competitions happening every year.
He plans to create a martial arts gym of his own and hopes to help train more instructors. And like his icon, he wants to one day appear on-screen.