Bruce Lee 'Be Water' Doc Shows Racism Was Another Epic Fight For The Martial Arts Legend
Last night, ESPN aired an exceptional profile on the iconic martial artist, Bruce Lee, in the riveting sports documentary, Be Water. Director Bao Nguyen's timely examination of Lee's Hollywood career explores how racism became a continuous obstacle that tried to keep him from achieving stardom.
The film's title comes from an adage Lee often invoked, "Now water can flow or it can crash. Be water, my friend." For this 30 for 30 series installment, Nguyen interviewed Lee's Game of Death co-star Kareem Abdul-Jabbar, his daughter Shannon Emery Lee, and wife Linda Lee Cadwell. Though he found success in Hong Kong with The Thunderstorm and The Orphan, Lee struggled getting noticed by American audiences.
In the late '60s, Lee landed the supporting role of Kato, the masked crime-fighter, in The Green Hornet. In Hong Kong, due to his extreme popularity, Lee was marketed as the lead and the ABC drama was renamed The Kato Show. Nadra Nittle of NBC News emphasized Hollywood's troubled history of "marginalizing people of color," which pigeonholed Lee into "playing sidekicks." Though the Hollywood system had put him down, Lee attempted to dismantle the stereotypical views of Asians and picked out only lead roles for himself.
Just a year ago, Enter the Dragon fans were torn over the Chinese actor's portrayal in Quentin Tarantino's Once Upon a Time in Hollywood. In the controversial fight scene, viewers could not believe that Lee (portrayed by Mike Moh) would have lost a street fight to stuntman Cliff Booth (Brad Pitt). Audiences were also up in arms about Lee being portrayed as an arrogant and selfish jerk. In real life, Lee studied philosophy at the University of Washington. Shannon, the daughter of the martial arts legend, detested the movie's "uncomfortable" depiction of her father, per The Wrap.
Nguyen told Newsweek how Lee's legacy continues to live on, "For many people of color particularly Asian Americans like myself, Bruce Lee was the first time they saw themselves being portrayed as the hero onscreen. There were other Asian Americans actors that came before him but Bruce's camera presence and charisma surely set him apart. In addition, his early, tragic death has immortalized him into a sort of symbol."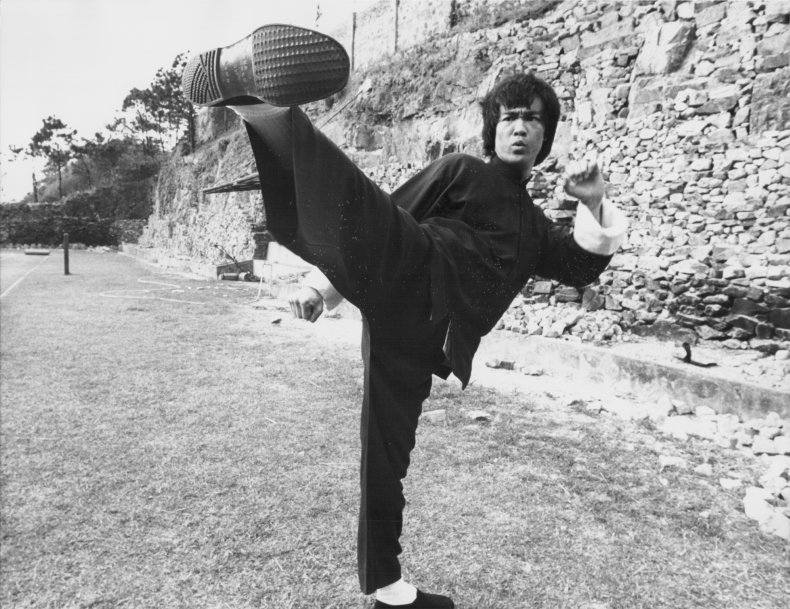 "A symbol for the underdog, for the underrepresented, and for the unlikely hero. This symbolism has helped him to be part of the cultural zeitgeist today where his name and image are constantly referred to in music, film, and all aspects of pop culture - from Robert Downey, Jr. wearing a t-shirt with Bruce's image in Avengers: Age of Ultron to rappers who are constantly 'kicking it like Bruce Lee' in their lyrics. A human being lives and dies but a symbol is forever," continued Nguyen.
27 years ago, Lee was awarded with his own star on the Hollywood Walk of Fame. The legendary martial artist was able to beat the naysayers and conquer America in his own way.