WWE Announces Bruce Prichard to Replace Eric Bischoff as SmackDown Executive Director
Eric Bischoff's tenure as executive director of SmackDown has ended before it really began.
WWE announced Tuesday that Bruce Prichard, who has served the promotion in a variety of roles over his 40-year career, will replace Bischoff as the new executive director of the blue brand.
According to the official WWE press release, Prichard will "oversee the creative development of Friday Night SmackDown on FOX and ensure integration across all platforms and lines of business."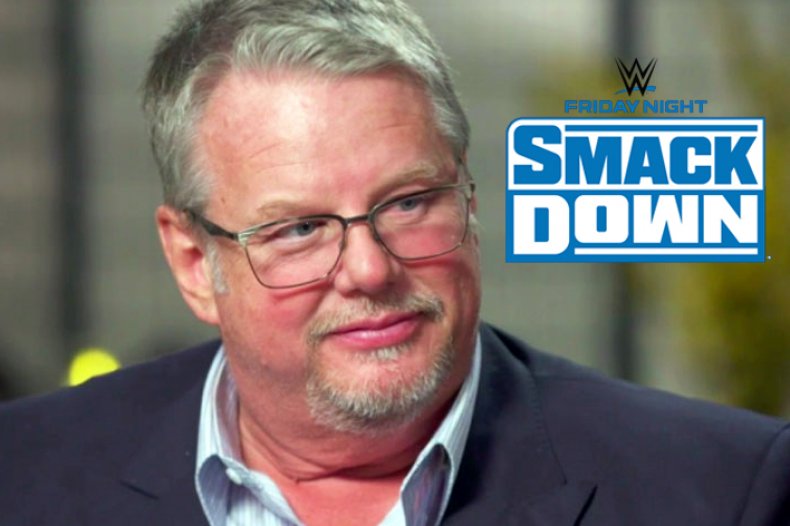 The role of executive director was formed in June when WWE Chairman and CEO Vince McMahon announced the new roles and appointed Paul Heyman and Bischoff to run Monday Night RAW and SmackDown Live, respectively.
Heyman remained a part of the WWE over the years on-and-behind the camera, which made his transition to the Executive Director of Monday Night RAW relatively seamless. However, the same could not be said about Bischoff who admitted that he was not familiar with the current product and that he would not be involved with SmackDown immediately in the same way Heyman was with RAW.
A July report stated that Bischoff would "most likely" not be involved in the creative process, but instead act as an "interface with the various departments in the company and Fox." It's unclear whether Bischoff will remain with the company in some capacity, but we will update with more information as we get it.
Prichard may best be known for his on-camera role as Brother Love, but has spent numerous years as a backstage producer and agent. After spending the last decade away from the promotion, Bruce Prichard was hired back to the company in February 2019 as a part of the creative team.
Bruce Prichard also has his podcast that he co-hosts with Conrad Thompson named Something to Wrestle with Bruce Prichard.
Eric Bischoff is the former President of World Championship Wrestling (WCW), the promotion that rivaled the then WWF during the infamous "Monday Night Wars." For 83 weeks - from June 1996 to April 2018 - Bischoff would shepherd WCW's flagship show, Monday Night Nitro and defeat Monday Night RAW in the ratings.
Bischoff would become a part of the WWE as the Monday Night RAW General Manager from 2002-2005 and make sporadic appearances in the company since, most recently at the RAW Reunion show in July.
What do you think of the move? Do you believe Prichard will do a good job with SmackDown? Let us know in the comments section.