Bruce Springsteen Listens to Kanye West: What Other Tracks Topped The Boss's iTunes Playlist?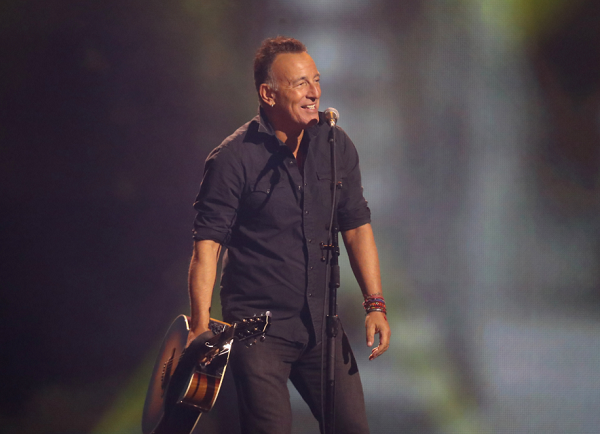 If you've experienced the common frustration of searching through iTunes, Tidal or Spotify for the perfect soundtrack for your morning commute, stress no more. If it's good enough to get the Boss going, it should be good enough for you.
Rock star Bruce Springsteen recently shared his iTunes playlist during an interview with Variety. Although filled with mostly contemporary rock, folk and country music artists, there were a few surprises among his top 18, including rapper Kanye West.
Springsteen told the magazine that he was a big fan of West's 2016 album, The Life of Pablo, saying, "I thought that was an amazing creation, especially the arrangements."
He went on, "I go back and forth, but I'm always looking for something new that's inspiring. I'm so well versed in all my old standards—you can always find something new in them—but I've mined them pretty well over the years. There's a lotta good songwriting and tons of good music being made."
Music still excites the 68-year-old, and he considers this an exciting time in music. "The trick today is you really have to search for it to find it. But I listen quite a bit, and it still holds that sacred place in my life. A great song is always inspirational—it makes you want to be great. So I'm always on the lookout."
Springsteen's other iTunes favorites include Lana Del Rey, whom he said he "loves"; the National; Lucinda Williams; Brian Fallon of Gaslight Anthem; Steve Earle; and Lin-Manuel Miranda's Hamilton soundtrack, which Springsteen called "an incredible creation."
Although Taylor Swift didn't make his top 18, the E Street Band frontman said he was impressed with her work, which he discovered following a concert he attended with his daughter, Jessica Rae Springsteen.
"It was a fantastic show. [Swift's] audience experiences her songwriting very, very personally, and I think she's speaking to [them] very personally. As far as craft, [her songs are] well built; they're very, very sturdy, and the records are too. I admire the modern record-making craft and modern songwriting," he said.