Bruce Springsteen Says Donald Trump Will Win Again in 2020: 'I Don't See Anyone Out There'
Bruce Springsteen thinks President Donald Trump is in for another term if the Democrats don't find a good opponent quickly.
The legendary rocker and long-standing Democrat told The Sunday Times Magazine the party needs a politician who can connect with blue-collar voters to win over an increasingly divided country.
"I don't see anyone out there at the moment…the man who can beat Trump, or the woman who can beat Trump," Springsteen said. "You need someone who can speak some of the same language [as Trump] … and the Democrats don't have an obvious, effective presidential candidate."
Known for his poetic lyrics on the challenges of everyday life, the New Jersey star shares a large base of fans with Donald Trump, The Sunday Times Magazine reported. But unlike the Boss—whose songs are replete with scenes of working class American life—today's Democratic party fails to strike a chord with blue collar voters.
Although many have touted the recent midterms as a "blue wave," Springsteen argued the election wasn't quite the win the Democratic Party needed.
"It was nice to get the House back, but I'd like to have seen a much more full-throated [rejection] of the past two years," he told the magazine. "The country is very divided right now—there are a lot of people drinking the snake oil. So it's a very difficult time here in the States.
"We've come too far and worked too hard. Too many good people paid too high a price to allow this."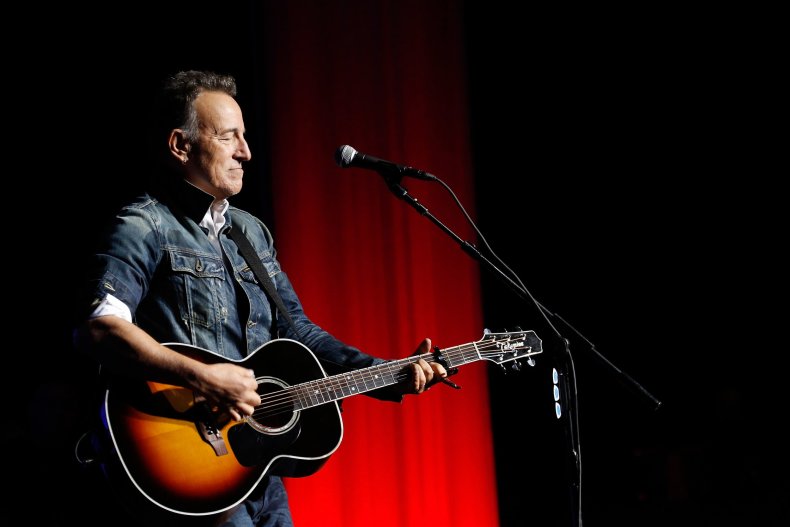 Known for an extensive back catalogue of hits including Born to Run and The River, Springsteen has been active on the American music scene since the 1960s. One of the best-selling artists in the world, the rocker continues to perform sell-out tours and release albums on a semi-regular basis.
Although Springsteen's music is synonymous with cars, manual labor and the American flag, the rocker admitted he'd "never held an honest job," in his life. "I've never seen the inside of the factory, and yet it's all I've ever written about," he told The Sunday Times Magazine.
Pressed on whether he would consider a run himself, Springsteen said that although he had solid political connections—President Barack Obama gave him the Presidential Medal of Freedom in 2016—rock stars don't [make good politicians]. "At the end of the day, you're just a musician with a loud mouth."