Bruce Springsteen Thought Trump Would Win the 2020 Election in 2018
It's no secret that Bruce Springsteen leans left when it comes to politics. But that doesn't mean he's confident that President Donald Trump will be replaced. In 2018, Springsteen predicted Trump would win a second term, even if he wasn't on board with it.
"I don't see anyone out there at the moment ... the man who can beat Trump, or the woman who can beat Trump," Springsteen explained in an interview with Esquire in 2018. "You need someone who can speak some of the same language [as Trump] ... and the Democrats don't have an obvious, effective presidential candidate."
Former Vice President Joe Biden wasn't officially running for president at the time of Springsteen's comments. In 2018, Biden was beginning to fundraise for future plans, according to Politico, but wasn't able to easily sway democratic donors who weren't sure if he'd actually make a run for the White House
Biden hopped onto the campaign trail in April 2019, officially, and Springsteen has spent much of 2020 showing his endorsement for the Democratic hopeful. In a conversation with Rolling Stone that was published in September, Springsteen revealed that he took a liking to Bernie Sanders and Elizabeth Warren during the primaries. He didn't have anything bad to say about Biden, though.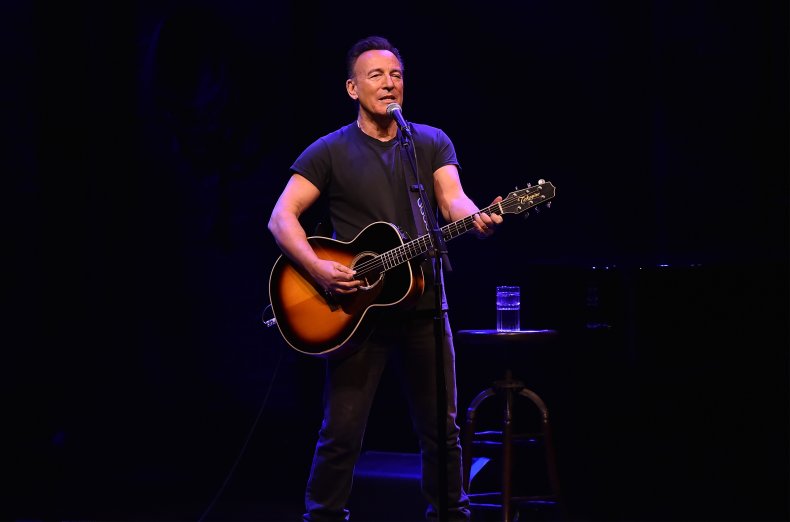 "The power of the American idea has been abandoned," Springsteen said. "It's a terrible shame, and we need somebody who can bring that to life again... I think if we get Joe Biden, it's gonna go a long way towards helping us regain our status around the world."
The Boss also put his endorsement behind the Democratic party when he revealed a new music video for his 2002 song "The Rising," during August's Democratic National Convention.
It's unclear how Springsteen feels about Biden's real chance of winning over Trump in the general election on November 3. Newsweek reached out to Springsteen for comment, but his publicity team denied the request.
Springsteen's democratic endorsements go back to the Barack Obama administration, too. He apparently performed a "secret acoustic set" at the White House in 2017, Rolling Stone reported, as a sendoff to the Obama family after eight years in office.
Obama also awarded Springsteen with the Presidential Medal of Freedom in 2016. While awarding the musician, Obama said that Springsteen created albums that were "all anthems of our America, the reality of who we are and the reverie of who we want to be."