Nine September Albums to Look Forward to, Featuring Bruce Springsteen, Bon Iver and More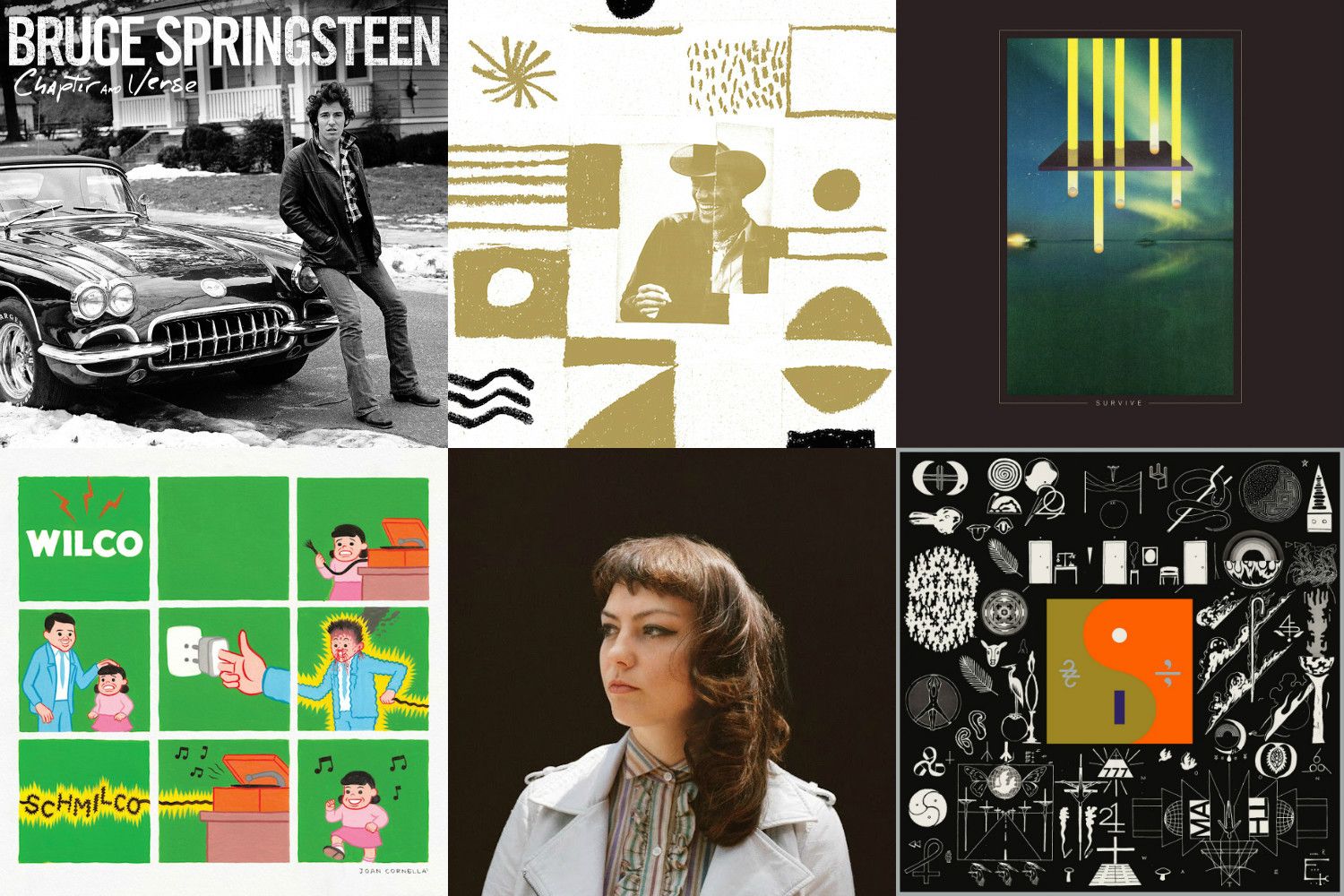 Though August's crop of album releases may have been the thinnest we've seen in 2016 (apologies to Frank Ocean), September's slate of new LPs is looking particularly bountiful. It makes sense. The songs of the summer are losing their luster. Fall tours are about to begin. It's the perfect time to release a new album, and this year some of our favorite artists are scheduled to deliver in a big way. Here are the forthcoming releases we're most looking forward to dropping the needle on as summer turns to fall.
Angel Olsen, My Woman
Release Date: September 2
Label: Jagjaguwar
It feels wrong to label Angel Olsen a "singer-songwriter" like other singular artists who perform under their own names. Olsen does indeed write songs and then sing those songs, but she is such an undeniable, heart-and-soul-melting force that we wouldn't dare put her in the same category as some gentle crooner plucking an acoustic guitar. This was true for her 2014 breakout album Burn Your Fire for No Witness, and it is especially true for its follow-up, My Woman, which is somehow even better than its predecessor. From the opening seconds of lead-off track "Intern," to "Shut Up Kiss Me," to "Sister" (above) and beyond, Olsen's voice is confident and controlled, as well as spilling over with emotion and urgency. She is perpetually on the edge of something, teetering in a precarious position between enlightenment and despair, and totally owning it.
La Femme, Où Va le Monde
Release Date: September 2
Label: Disque Pointu
La Femme's 2013 debut album, Psycho Tropical Berlin, was 14 tracks of pure dance-rock adrenaline accented by sultry French vocal lines. The Paris-based collective's balance of electronic elements with traditional instrumentation brings to mind LCD Soundsystem, only La Femme is far more haunting, tripped out and, somehow, at the same time, quite lovely. If the title track to Où Va le Monde is any indication, their sophomore album will be just as pleasantly infectious as their debut. If you like to dance, do not miss them live.
Wilco, Schmilco
Release Date: September 9
Label: dBpm Records
There was a time, 12 or 15 years ago, when Wilco got grief for taking themselves too seriously. No longer. From its Nilsson-inspired title to its goofy album art and brief runtime, Schmilco might be the most laid back LP in Wilco's discography. The songs are largely acoustic—a far cry from last year's Star Wars—but full of odd charm, from the buzzy chaos of "Common Sense" to the surprisingly sweet "We Aren't the World (Safety Girl)."
Allah-Las, Calico Review
Release Date: September 9
Label: Mexican Summer
The Allah-Las are a quintessential summer band, which is why it's a shame that their third full-length album is due out just as we're entering pumpkin spice season. September should still be nice, though, so we've got about a month to enjoy the band's ultra-chill, '60s-inspired psych-folk while the sun is still asserting itself. The Los Angeles four-piece's sound is anything but in a hurry, tailor-made for long days at the beach when you want to be hypnotized by the surf and the sand and nothing else. It is music could have come from nowhere else but California, and Calico Review effortlessly glides in step with the languid, dulcet rhythms of the band's hometown, a place where, as it turns out, summer never really ends.
Nick Cave and the Bad Seeds, Skeleton Tree
Release Date: September 9
Label: Bad Seed Ltd
We haven't heard Nick Cave's Skeleton Tree yet. Nor have you—the post-punk king of darkness operates in secret, and his 16th(!) studio album is closely under wraps until next month, when it will be released in tandem with a film, One More Time With Feeling, that's being screened all over the world for one night. (There haven't even been any advance singles.) But 2013's eerie Push the Sky Away was a fascinating new approach for the one-time Grinderman frontman, and Skeleton Tree is likely to be a powerful statement in light of the 2015 death of Cave's teenage son.
Against Me!, Shape Shift With Me
Release Date: September 16
Label: Xtra Mile Recordings
No hyperbole: Against Me!'s Transgender Dysphoria Blues was one of the very best rock albums we've heard this decade. Since then, Laura Jane Grace's LGBT activism and documentary series have introduced the defiant punk group to a much larger audience. We've gotten a taste of the follow-up with the melodic "333" or "Crash," which is definitely not a cover of that Dave Matthews Band song.
Bruce Springsteen, Chapter and Verse
Release Date: September 23
Label: Columbia
Bruce Springsteen's latest album is a companion to his forthcoming autobiography, Born to Run, due out September 27 from Simon & Schuster. A dozen and a half tracks, five of which have not been previously released, trace the iconic musician's decades-long career from the 1960s—Springsteen recorded "Baby I" and "You Can't Judge a Book by the Cover" with the Castiles as a teenager—to more recent songs like "Wrecking Ball" from the 2012 album of the same name. In between, there are classics like "Born to Run," the title track from the album that lent its name to the autobiography, and "Born in the U.S.A." from 1984. The book and album together promise a kind of self-curated retrospective catering to devoted fans as well as those who see this as an opportunity to acquaint themselves with "the Boss" from New Jersey.
Survive, RR7349
Release Date: September 30
Label: Relapse Records
Any band that has enjoyed even a small amount of success has caught a lucky break or two along the way. Austin synth group Survive's big break was especially strange. In 2015, they were contacted by two filmmaking brothers who were looking for someone to score a TV series they created. The music needed to be very '80s, it needed to be dark, and it needed to invoke the supernatural. Survive came through on all three fronts. Their haunting electronic rhythms lent Netflix's Stranger Things the eeriness it needed to become the most talked-about show of the summer. Survive is an actual group with its own original music too, and their latest album couldn't be coming out at a better time. We have a feeling they may have picked up a few extra fans since their last release.
Bon Iver, 22, A Million
Release Date: September 30
Label: Jagjaguwar
It's hard to know what to expect from an album whose track list begins with the songs "22 (OVER S∞∞N)" and "10 d E A T h b R E a s T ⊠ ⊠," includes "666 ʇ" and ends with "____45_____" and "00000 Million." The first two, which have been released ahead of Bon Iver's third studio album, titled 22, A Million, are both familiar and not. There are hints of the mellow, introspective, soft-sung lyrics of For Emma, Forever Ago and the band's self-titled sophomore effort. But there also some more electronic, less human elements that put another layer between the listener and singer-songwriter Justin Vernon's words. It's been more than five years since the 2011 Bon Iver and the going hasn't been easy, according to Vernon's friend and former bandmate Trevor Hagen. "This spectacular upheaval of life after these albums provoked an inner storm, a mental sickness of anxiety for Justin. Of course it did. The dream had taken on its own life. It all came to a head on an empty Atlantic beach. I bore witness to my best friend crying in my arms, lost in a world of confusion and removal. Justin could barely even talk. It was only days before, on a misguided solo trip to an island off the coast of Greece, that he had recorded the opening words of 22, A Million, 'It might be over soon,' into a portable sampler," Hagen wrote in an essay posted to the Bon Iver website. The new album's 10 songs, he says, "are a collection of sacred moments, love's torment and salvation, contexts of intense memories, signs that you can pin meaning onto or disregard as coincidence."