Brunei Laws Punishing Gay Sex With Death Come Into Force As Celebrities Urge Boycott of Legendary U.S. Hotels Owned by Sultan
The internationally condemned laws punishing gay sex and adultery with stoning to death come into force Wednesday in the small Southeast Asian kingdom of Brunei.
The new penalty for sex between men and adultery will be enforced across the oil-rich nation, where homosexuality was already illegal. Lesbian sex is punishable by up to 10 years in jail and 40 lashes, according to the BBC. The draconian punishments have sparked international outcry and a celebrity-led boycott.
Brunei, where two-thirds of the population of about 430,000 are Muslims, instituted the Islamic laws in 2014. The laws caused international uproar, boycotts and calls for divestment, and the nation delayed rolling out the punishments. But the country's attorney general announced at the close of 2018 that the statutes allowing extreme penalties would be enforced starting April 3, in accordance with a strict interpretation of Islamic law.
"Brunei must immediately halt its plans to implement these vicious punishments and revise its penal code in compliance with its human rights obligations. The international community must urgently condemn Brunei's move to put these cruel penalties into practice," Rachel Chhoa-Howard, Amnesty International's Brunei researcher, said in a statement to Newsweek before the laws came into effect.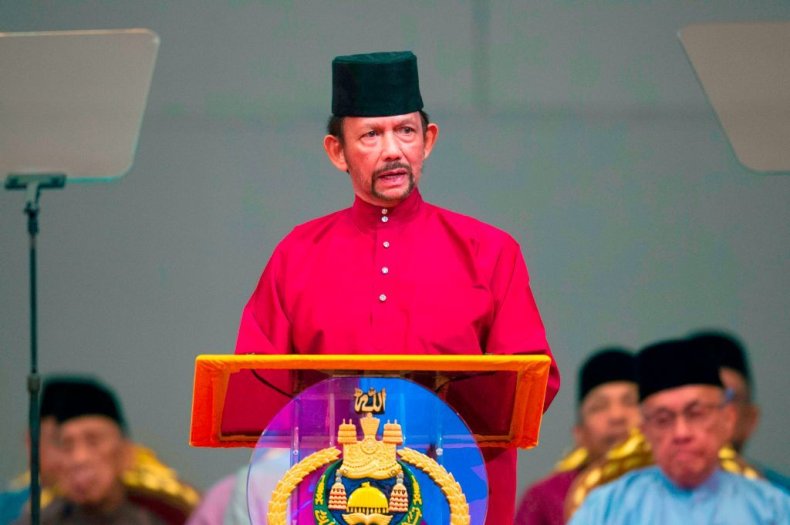 Sex between two men or an unmarried heterosexual couple is punishable either by death by stoning or by 100 lashes, the Australian broadcaster ABC reported. To be punished under the law, the parties involved must either confess to the so-called crimes or be condemned by four witnesses. A punishment of imprisonment for seven years or a flogging of 10 lashes is reserved for individuals convicted of sodomy or adultery by other evidence.
Brunei's new Islamic-inspired laws also mandate corporal punishment for robbery and drinking alcohol. Women who give birth out of wedlock or have abortions also face jail time.
The United Nations derided the laws on Monday. "I appeal to the government to stop the entry into force of this draconian new penal code, which would mark a serious setback for human rights protections for the people of Brunei if implemented," the U.N. high commissioner for human rights, Michelle Bachelet, said in a statement.
Celebrities including George Clooney and Elton John have called for a boycott of the Dorchester Collection of luxury hotels owned by the Brunei's sovereign wealth fund and inextricably linked to the billionaire Sultan of Brunei following the announcement of the brutal anti-gay laws.
Despite the condemnation, Brunei's leaders have remained obdurate. "Brunei Darussalam is a sovereign Islamic and fully independent country and, like all other independent countries, enforces its own rule of law," Sultan of Brunei, Hassanal Bolkiah, who also acts as the country's prime minister, said in a recent statement.