Is Bruno Mars's Music Cultural Appropriation? Activist Sparks Twitter Debate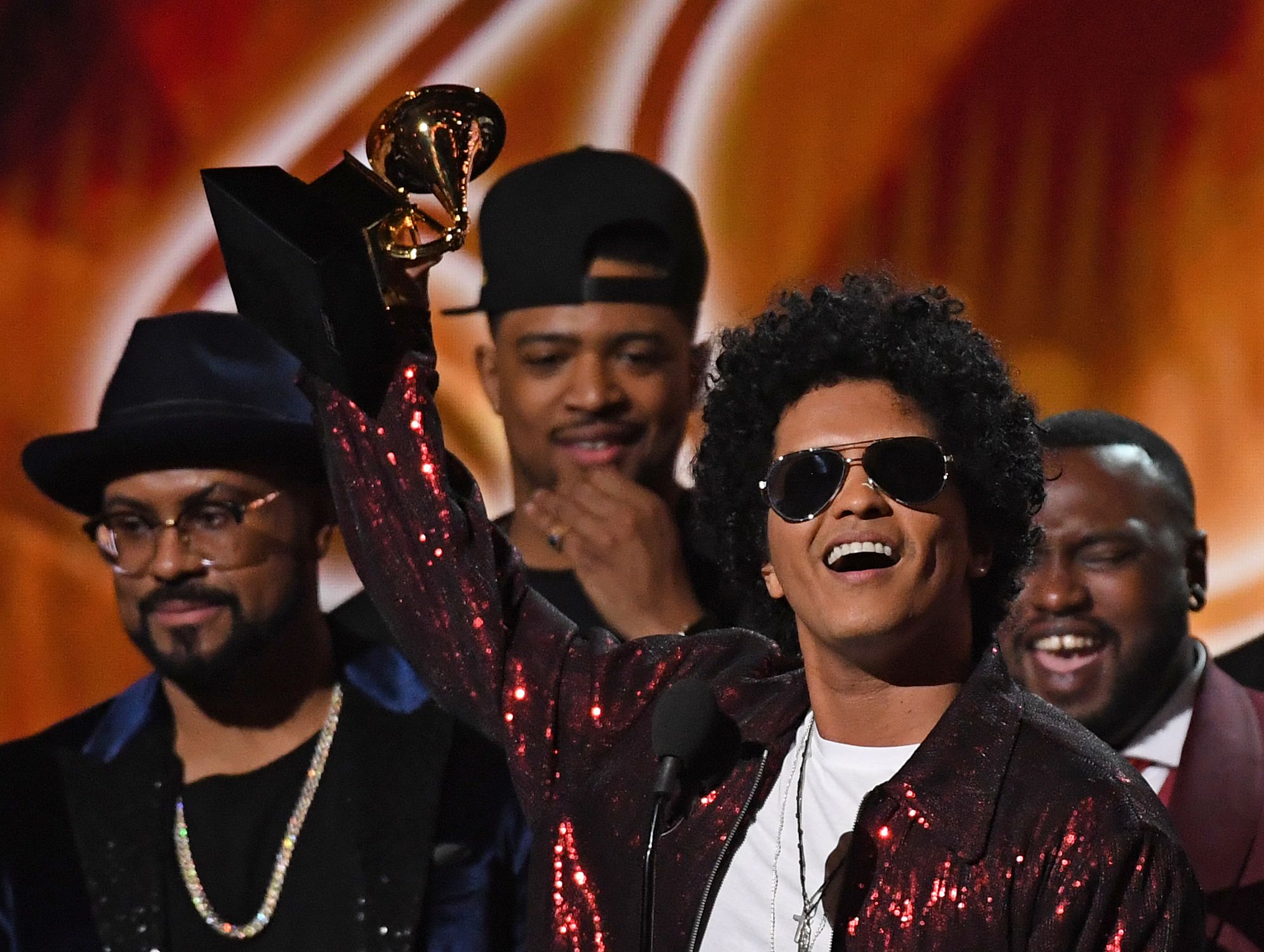 Bruno Mars is often mistaken for African-American. In fact, the 32-year-old Grammy-winning artist is multiracial. His mother is Filipino, and his father is half Puerto Rican and half Ashkenazi Jewish (a Jewish person whose ancestors are of Eastern European origin). He was raised in Honolulu, Hawaii.
Though Mars is not a descendant of any part of Africa (that we know of), it's easy to see why many assume the racially ambiguous singer is part-black: His music is infused with R&B, funk, soul, reggae and hip-hop—traditionally African-American genres. Is Mars any different from Justin Timberlake, who has long been dogged by accusations of cultural appropriation for his R&B songs, just because he isn't white?
Writer, activist and cultural critic Seren Sensei doesn't think so. "Bruno Mars 100 percent is a cultural appropriator. He is not black, at all, and he plays up his racial ambiguity to cross genres," Sensei said in a video for The Grapevine, a web series that features panels to discuss African-American issues.
A clip of Sensei's argument about Mars went viral on Twitter on Friday, sparking a lively debate. It wasn't long before "Bruno Mars" was trending, with more than 50,000 users tweeting about the artist.
The backlash to Sensei's argument was fierce. "So Bruno Mars is culture appropriating now? Are you guys kidding me?" wrote one user. "Take that same energy you have to be mad at Bruno Mars and bring it over to Tekashi, Post Malone, Lil Pump, etc," wrote another.
Prominent culture critics also jumped in with disapproval. New Yorker writer Doreen St. Félix tweeted, "I just don't know if the zero-sum condemnation that cultural appropriation implies is a useful framework anymore."
But Sensei is not backing down. In an email to Newsweek, the 30-year-old writer, whose work has appeared in Nylon and Riot Material, said she stood by every word in the video and was happy she'd gotten people talking about it. "It's important to have the conversation outside of the usual dichotomies of Black/White racism because non-Black persons of color can also practice anti-Black racism," Sensei wrote. "We need to address what that means."
Sensei used "Black" with a capital B, referring to the African diaspora rather than the color, as explained by Lori Tharps in her 2014 New York Times op-ed. Newsweek has left her spelling and usages intact.
In the Grapevine video, Sensei points to Michael Jackson as a black artist Mars has borrowed a bit too much from. "I don't believe that Michael Jackson in this day and age would be able to get to the point that he got to previously," she said, "because people have realized that they prefer their black music and their black culture from a non-black face."
Gene Demby of NPR's Code Switch was a particularly vocal critic of the video, refuting Sensei's point and pointed to successful black artists like Beyoncé. "There was vigorous debate in his heyday about whether [Jackson] was making black music that was palatable for white folks," Demby tweeted. "And also aren't all these arguments in this video about Bruno Mars negated or complicated by the fact that the biggest pop star in the world is a Black woman?"
Sensei, who, like Demby, lives in the D.C. area, said that while she understood the point the NPR host was trying to make, she found it "moot." (She also addressed that point when it was brought up in the Grapevine discussion. The full, two-part video is nearly an hour long.) Sensei sees the Grammy's album of the year award as a metric of white acceptance of black artists: Bruno Mars won this year, but Beyoncé has never won. (Jackson, it should be noted, took the award home for Thriller in 1984.)
"Black artists are relegated to the—pardon my French—nigger section of the Grammys, like 'urban contemporary,' while non-Black artists are in the 'serious' sections," Sensei told Newsweek. "They throw us a bone and expect us to cheer."
This isn't the first time Sensei called out the "24K Magic" singer, and it likely won't be the last. "There's been a question of whether or not he's a cultural appropriator for quite some time now; it's just really bubbled over since his Grammy win," she said. "Generally speaking, we focus solely on white appropriators. Yet artists like Bruno who are persons of color, but aren't Black, muddy the waters a bit."
In the modern era of racial politics, where artists like Katy Perry, Justin Bieber, Miley Cyrus and others are held accountable for borrowing from non-white cultures, it's worth including Mars in that conversation. Perhaps this debate signals a need for more nuance when it comes to the topic of cultural appropriation—or maybe, as Sensei believes, it's simply time for Mars to face the ire his white peers are all too familiar with.
As for critics who say African-Americans have bigger fish to fry than Mars getting funky uptown? "Bruno is someone who, in my opinion, is willingly benefiting from his racial ambiguity in order to utilize the system of white supremacy to get ahead. That makes him an agent of white supremacy, and that makes this a BIG FISH."