Experts: Boost Social Services, Coordinate Security to Stop Terror Attacks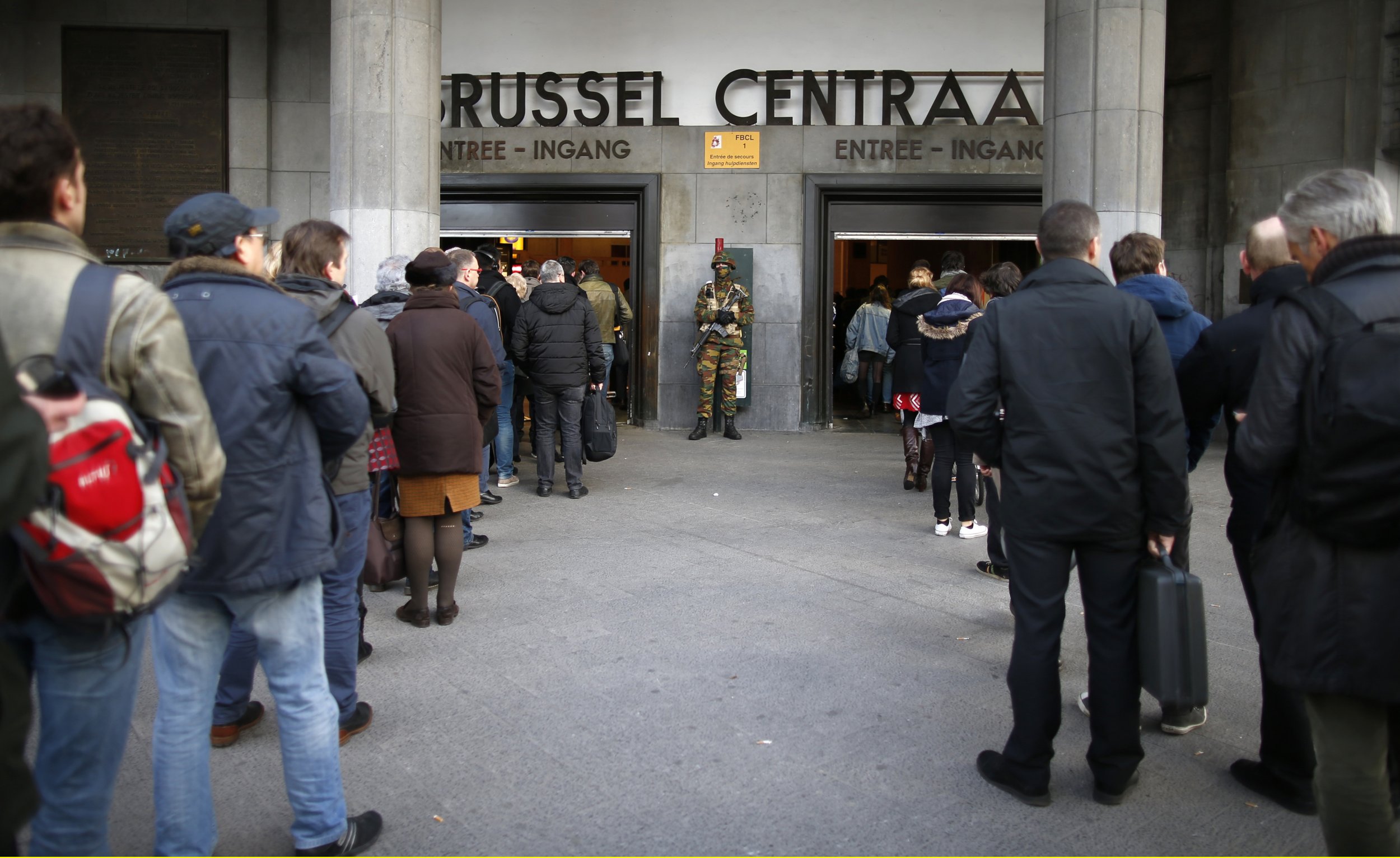 In the immediate aftermath of Tuesday's attacks, those in Brussels and beyond began looking for people to blame. For some, identifying the suspects and putting a name to the shadowy attackers became a priority. Others, on the far right, blamed Europe's high levels of immigration. But many here in Brussels knew exactly whom to point the finger at—their government.
Although it's only two days after bombs ripped through Brussels's Zaventem airport and Maelbeek metro station, experts have already come forward, authoring pieces about the failings of the Belgian security services. Anonymous people within the intelligence sector have talked about how underfunded they are. The consensus seems to be that Belgian officials messed up.
To some extent this is true. It took them four months to find and catch Salah Abdeslam, a suspect in the Paris attacks last November. Although French authorities put the city on lockdown in the immediate aftermath of the attacks and later said he was probably in Syria, Abdeslam was finally apprehended in his home neighborhood of Molenbeek, in Brussels.
Given that the Belgian government knew an attack was likely, analysts have pointed out that heightening security around airports and metro stations would have been a prescient step to take. Worse still was the news that the el-Bakraoui brothers, who helped carry out Tuesday's attacks, were known to the police.
But now, with the terror threat level still at its highest and police warning that further assaults may happen, it is perhaps time to answer a far greater question: How does Belgium stop a second attack from happening?
Coordination, Investments Are Vital
"The difficulty is that this is such a huge problem to tackle," says Serge Stroobants, the Brussels representative for the think tank the Institute for Economics and Peace. "Firstly, we need to invest more in our justice and security departments and a hell of a lot more in social services."
With those three sectors adequately staffed with sufficient resources, Stroobants explains, they can work on tackling the problem from different angles.
Stroobants also says the amount of coordination between the different layers of government needs to change. And Brussels has more layers of government and security forces than most.
The capital is protected by six police forces and governed by federal, state and communal levels of government, each with French-speaking and Flemish-speaking sectors. "We need greater coordination to make sure every level is addressed by the right power," Stroobants says.
But he's quick to point out that coordination needs to happen at a larger level as well. "I don't think this problem is too big to solve," he says. "But what Europe needs to do is become a more integrated continent, working better on a daily basis."
In a meeting room at the headquarters of think tank Friends of Europe, Pauline Massart, deputy director, security and global Europe, echoes Stroobants's thoughts. "It comes down to three things," she says. "Recruiting the right people into the security services, massively improving funding for grass-roots organizations and more European integration in countering terrorism."
Massart agrees that the Brussels police are badly funded, though maybe not underfunded. "They don't have the necessary resources—Arabic speakers, people who speak the language of the communities where these extremists come from," she adds.
Improving the climate for grass-roots organizations is essential, she says. "There's only so much security forces can do. We need to empower civil society groups more," Massart says. "And we should be investing in public infrastructure in areas like Molenbeek, Schaerbeek [where the Brussels and Paris attackers came from]."
Both Stroobants and Massart make strong suggestions, but there is no denying that they are complex—and expensive. A truly integrated Europe, tackling terrorism as one, may take years, as will recruiting the right people into the Belgian security forces. Funding for disadvantaged communities and intelligence services may prove difficult to find.
"We're in this for the long haul," Massart says. "Our citizens need to be as protected as possible, and that means stopping the breeding of extremism."