Brussels Attacks: Europe's Turmoil is Putin's Gain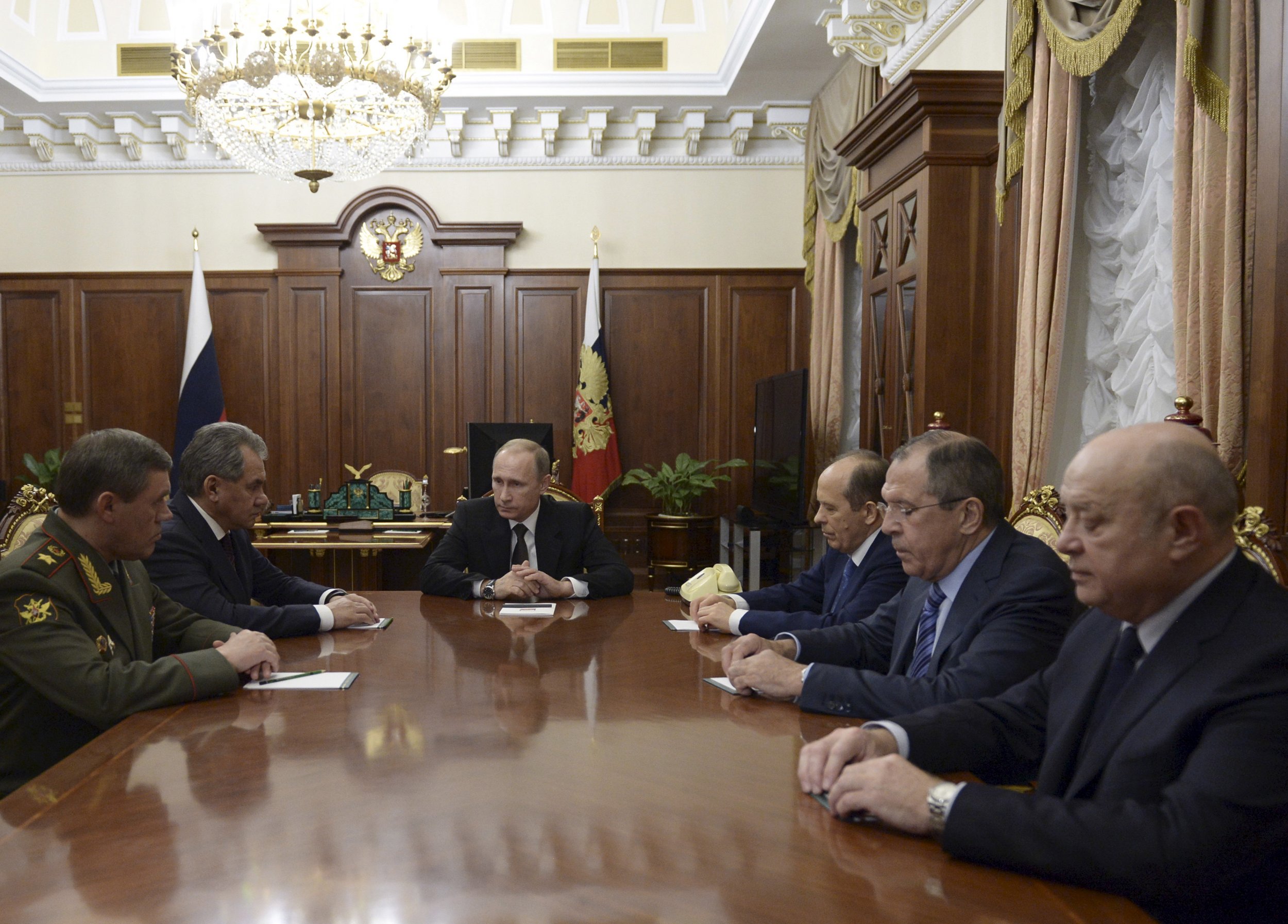 The devastating attacks in Brussels last week have left Europe and the United States shaken. Fears of further violence are compounded by the perceived risks stemming from the Islamic State militant group (ISIS) and the massive refugee crisis, contributing to a general sense of instability and divisiveness. NATO commander General Phil Breedlove has already stated that Russia is "weaponizing" refugee migration to destabilize Europe, and now it remains to be seen if the fallout from the Brussels attacks will benefit the Kremlin and President Vladimir Putin's regime.
The looming threat of terrorism detracts attention from Russia's policies towards Ukraine. More than two years of conflict—from Moscow's annexation of Crimea to its shadow war in eastern Ukraine—has cost Russia dearly in terms of economic sanctions and international isolation. The sanctions coupled with the low global energy prices since 2014 have tanked the Russian economy and the rouble. Russia has been looking to end sanctions and position itself as a potential partner to the West in the fight against ISIS. The new focus on extremism may create an opportunity for Russia to lobby against sanctions, especially when the EU will consider whether to extend them again this fall.
The instability in Europe may also give Russia a window to try to consolidate its gains in eastern Ukraine where Moscow-backed militants have established separatist territories around Donetsk and Luhansk. On March 16, the separatist leaders of the so-called Donetsk People's Republic (DNR) began issuing their own passports . The territory's militant leader Alexander Zakharchenko called the move "a very important step toward building statehood. " Indeed this is an attempt to solidify and formalize the territory's separatist status and will likely be followed the spread of Russian passports in line with Moscow's previous strategies of "passportizing" foreign separatist territories such as Moldova's Transnistria, Georgia's South Ossetia and Abkhazia, and Ukraine's Crimea. Overall, it signals that Russia is unlikely to uphold the ceasefire agreement signed by Putin in February 2015 and will continue undermining Ukraine's territorial integrity, which may be easier if Europe and the U.S.'s attention is focused on fighting extremism.
On the same day that the Brussels attacks shook the world, Russia also sentenced Ukrainian pilot and member of parliament Nadiya Savchenko to 22 years in prison. She is accused of complicity in the murder of Anton Voloshin and Igor Kornelyuk, two journalists working for Russian state television who died in an artillery strike during the conflict in east Ukraine in June 2014. Savchenko has consistently denied the charges, and the trial has been dismissed in Ukraine and internationally as politically motivated. The Brussels attacks have drawn public attention away from her sentence, though leaders like U.S. Secretary of State John Kerry continue to press her case on his visit in Moscow.
Beyond Ukraine, the threat of terrorism and the fears linked to mass migration of refugees, has boosted anti-immigrant and anti-refugee sentiment in Europe, increasing the popularity of far-right political parties. It is no secret that Moscow's closest allies in Europe are found among the far-right, nationalist, anti-EU and anti-NATO politicians and parties including from the United Kingdom to Germany to Greece to Bulgaria. Such European far-right parties have supported Russia's annexation in Crimea and its policies in Ukraine. Just last month, France's far-right National Front party reportedly asked Russia for a 27 million euro loan ($30 million) for the 2017 election campaign. It had already received a 9 million euro loan from a Russian bank in 2014. The National Front's leader, Marine le Pen, denied that financing from a Russian-owned bank would influence the party's policies.
More broadly, the threat of Islamic extremism in Europe gives additional leverage to Russia's self-proclaimed role as the defender of traditional Christian values from the "liberal" and "decadent" Europe and U.S, and as the defender of Christians from radical Islam in Syria or beyond. For instance, the Kremlin-aligned Russian Orthodox Church described Russia's military intervention in Syria as a "holy battle" to protect Christians.
In the U.S., fears surrounding the spread of extremism has colored political sentiment and increasingly dominated the rhetoric on foreign policy in the presidential campaign. Republican frontrunner Donald Trump has proposed a non-interventionist foreign policy for the U.S. and questioned the need for NATO. Democratic frontrunner Hillary Clinton countered that "Putin already hopes to divide Europe. If Mr. Trump gets his way, it'll be like Christmas in the Kremlin."
The tragic events in Brussels, and the urgent need for European countries and the U.S. to focus on diverting future terrorist attacks and tracking down radicals, should not completely overshadow other foreign policy priorities. Russia has clearly emerged as challenger to the post-Cold War order and it will seek to exploit the EU's current troubles and America's distraction with the presidential campaign and the focus on ISIS. Difficult times such as these make a one-track foreign policy a dangerous choice for the U.S, the EU, and their allies.
Agnia Grigas is a nonresident senior fellow at the Atlantic Council and a Truman National Security Fellow. She is the author of Beyond Crimea: The New Russian Empire. Follow her @AgniaGrigas.