Brussels Residents Wary But Not Surprised by Attacks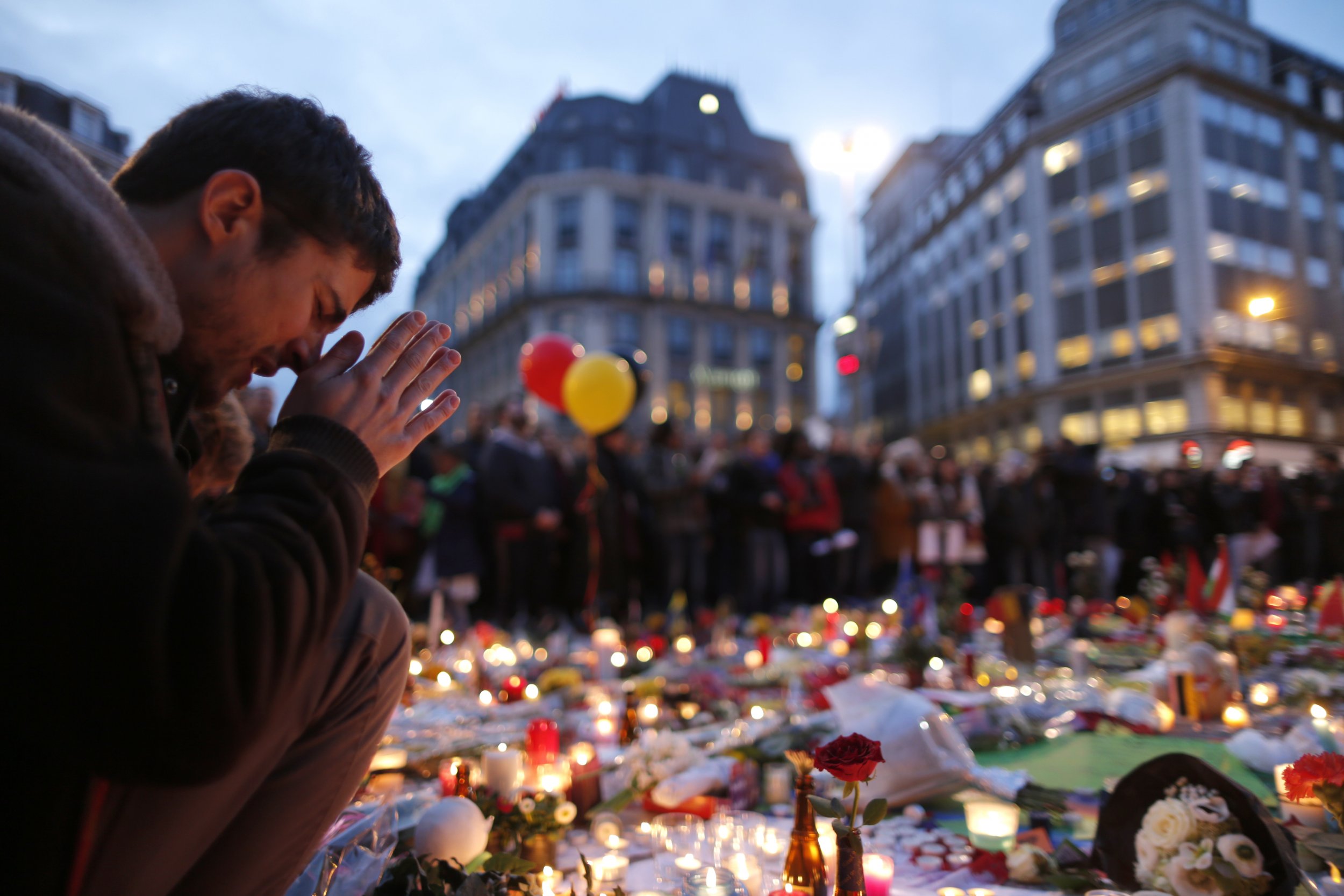 Evening in central Brussels, and the full horror of Tuesday's attacks was clear. At least 31 people lay dead while a further 300 remain injured. A few people were drinking in bars, going outside for cigarettes. There was little of the defiance of Paris, following the attacks there November 13.
Then, Parisians flocked to the bars, vowing "tous en terrasses," promising that despite the militants' assaults, they would continue to eat and drink outside the city's bars and restaurants, in defiance of their oppressors.
This time, young men who had sworn allegiance to the Islamic State militant group, also known as ISIS, the same group behind the Paris attacks, targeted hard, not soft targets. They didn't seek out the city's pleasure-seekers but its business people and commuters, those taking the metro to work or flights out of the capital.
"When they caught Salah Abdeslam [one of the alleged Paris attackers], I thought things seemed calmer," says 23-year-old Boubacar Sow. Having experienced Brussels in lockdown while police hunted for Abdeslam, he thought his arrest meant the city was safe. "I still wasn't surprised though," Sow adds. "After Paris, an attack on Brussels seemed inevitable. No country in Europe is safe."
While Sow was adamant that the militants are the only people responsible for what happened on Tuesday, he said his government needs to stop its involvement in foreign conflicts. "Why are we involved in Syria and Iraq," he says. "It's just giving the terrorists an excuse to attack this country."
At a bar across the street, Jonas Bylund and his friend Marie—who asked that Newsweek not use her last name—were still shaken by what happened. For Bylund, who lived in Brussels for 20 years before moving to England, Tuesday's events came as a total shock. "The explosions were at the metro station I used to use and at the airport I know best in the world," he says. When he arrived in Brussels, Bylund admitted, he chose to walk over taking the metro.
Marie agreed with him. "I feel weird about the whole thing. I want life to go on, but the threat level is at four [the highest level]." Even before the attacks, she says, she was already worried something might happen. "News reports and indications from the government suggested we might be attacked. I didn't want to fly for work, but I couldn't tell my clients that I didn't feel like going to the airport."
Like many in Brussels, they were struggling to make sense of how this happened. "Maybe the intelligence services need more staff," Marie says. "It doesn't seem as efficient as it is in other countries."
But, she added, there are problems within Belgian society too. "There are certain parts of Brussels I wouldn't go to at night, Molenbeek is one," she says. "Youth unemployment there is at 40 percent, and the local imams say they cannot get through to these kids." Maybe, Bylund suggested, the educational system needs to be changed—Marie seemed less convinced.
The bar closed early, and they were called inside to pay their tab. Outside a bar keeping later hours stood Olivier and Veronique Noël Lefevre. Unlike Marie and Jonas Bylund, they had no suggestions as to how Belgium could stop such attacks. It's not up to the educational system, nor the intelligence services, they said. "Nobody can do anything," says Olivier Noël Lefevre. "You're facing someone who's ready to die to take order."
"It will come slowly everywhere—remember you've had the same kind of events in Madrid [March 11, 2004] and London [July 7, 2005]," he says. "I strongly believe that there's no solution because it's totally unmanageable. You cannot protect every building."
The Noël Lefevres headed back inside the bar but with none of the forced joie de vivre of Parisians in November 2015. After witnessing three European capitals fall victim to militant attacks, the last one twice, they seemed resigned to Brussels's fate. For them it was never a question of if but when.