Brussels Suicide Bomber Identified As Foiled Plot Revives Memories of ISIS Assaults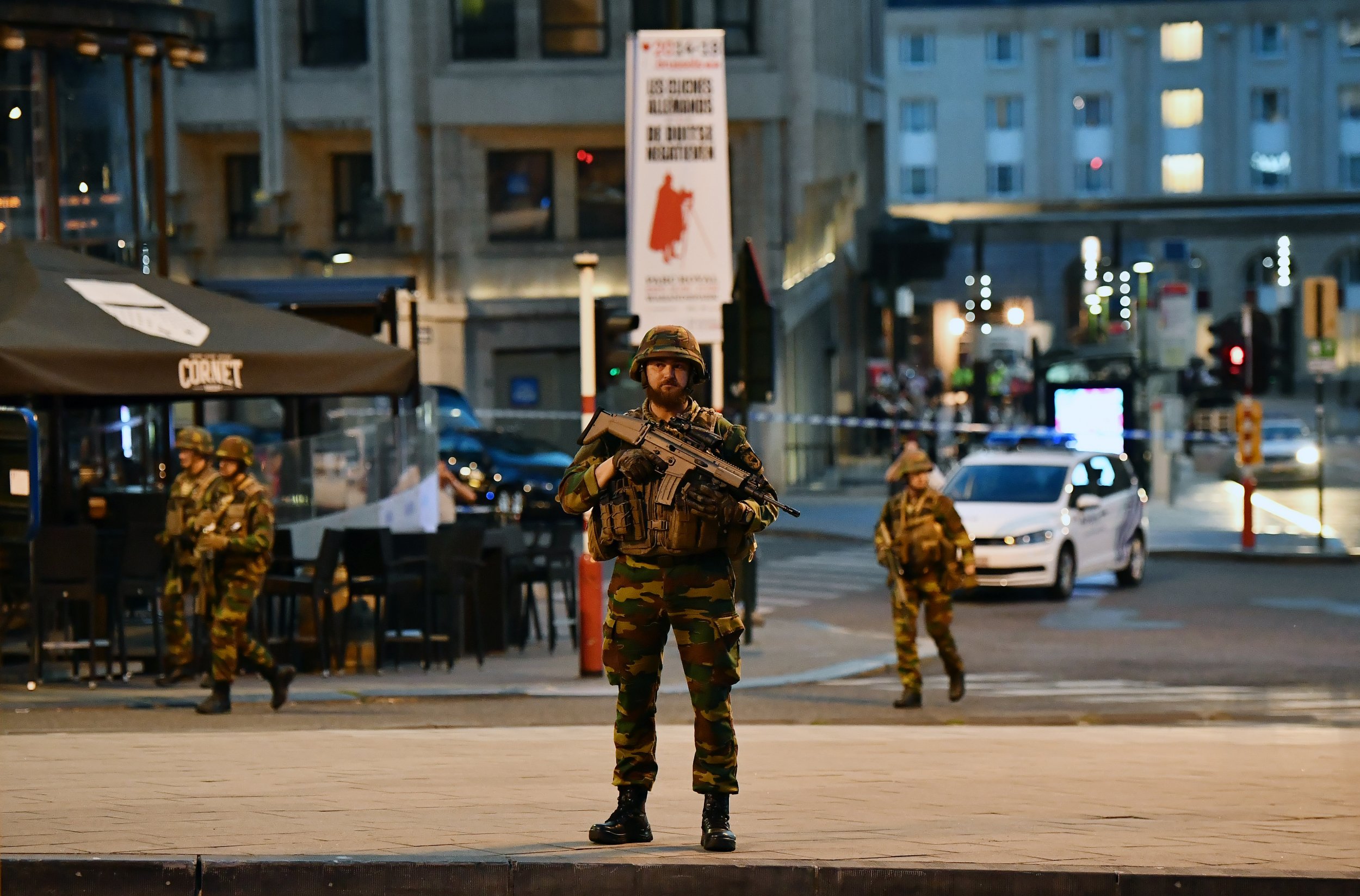 Updated | Belgian authorities have identified the suspected suicide bomber foiled at Brussels central station on Tuesday night, the country's police spokesman confirmed to Newsweek.
The man set off a nail bomb in a bag before police shot him dead in what authorities are treating as a suspected extremist attack, officials said late Tuesday. Images shared on social media showed a fireball at the Central Station in the Belgian capital.
Belgian federal prosecutor Eric Van Der Sypt told a news conference that the attacker was a 36-year-old Moroccan national, giving his initials as O.Z. He said earlier reports of the man wearing a suicide belt were incorrect. The explosive device in his suitcase contained nails and gas bottles.
"He was not known to the authorities for any terrorism connection," Van Der Sypt said. "It could have been much worse. It is clear that he wanted to cause more damage than he did."
Newsweek subscription offers >
His suitcase exploded, and then he ran away "in pursuit of the station master." His bag then detonated a second time, but not fully. He returned to the hall where his bag was, shouting "Allahu Akbar," or God is great, before a soldier opened fire and killed him on the spot.
"Attacker identified but for the moment no further details because the investigation (is) ongoing," Peter DeWaele, a Belgian federal police spokesperson, said.
The attack caused commuters to flee the station that sits near the famous Grand Place. The device only caused a small explosion, suggesting that it was a poorly made device.
"All of a sudden I heard a bang, looked over and saw this thing burning," Remy Bonnaffe, the man who captured the image of the explosion, told Reuters.
Newsweek subscription offers >
"And at first I thought, maybe it's just a regular explosion, an electronic device or whatever," he said. "But when I heard the second explosion I started to get in instinct mode."
The blast, which caused no injuries or deaths, revived memories of the Islamic State militant group (ISIS) suicide bomb assault in March 2016 on Maalbeek metro station in Brussels and the city's international airport. The triple suicide bombing left 32 people dead.
It also exposed Belgian security services to criticism that they had missed leads that could have prevented the attacks.
The city, home to the European Union and NATO headquarters, has been on high alert since the attacks. The ISIS cell that launched the November 2015 Paris attacks also came from Brussels, several from the suburb of Molenbeek.
The Brussels attacks occurred just days after a four-month international manhunt for the lone remaining Paris attacks suspect Salah Abdeslam, who had returned to Molenbeek from France, just yards from his family home.
Belgian newspaper Le Soir reported Wednesday that the foiled suicide attacker was 37-years-old and came from Molenbeek, widely considered to be the suburb where radicalization is rife and that poses a serious problem for Belgian security services. He was not known for links to extremism, it said. Police are searching residences in the area. Soldiers remain deployed at sensitive sites around the city.
No group has claimed responsibility for the attack but the incident came in the Islamic holy month of Ramadan, when ISIS has called for an increase in attacks. The group considers jihad in this period to bestow greater rewards after death.
Brussels Suicide Bomber Identified As Foiled Plot Revives Memories of ISIS Assaults | World