Brutal Video Shows Man Fighting, Biting Female Raleigh Police Officer During Arrest
Six North Carolina police officers who were filmed repeatedly punching and striking a suspect with a baton will not face any charges, after authorities said bodycam footage showed they used a necessary amount of force to detain the man.
Wake County District Attorney Lorrin Freeman announced that no charges will be filed against the Raleigh police officers after the department released a total of 10 bodycam and dashboard videos to the public, showing the arrest of Frederick Darnell Hall on August 17.
The footage released by police shows Hall repeatedly throwing punches at the officers before wrestling one to the ground. He also repeatedly bites an officer in the leg while they are trying to handcuff him.
During this time, officers repeatedly hit Hall with a baton and use a stun gun to try and detain him. The force launched an investigation into the incident after a clip posted on social media showing the six white officers beating the black suspect went viral.
Newsweek subscription offers >
"While this incident is unfortunate and troubling to watch, law enforcement officers are authorized under the law to use force to stop an attack when necessary," Freeman said in a statement, reports WRAL.
"In this case, officers twice attempted to subdue Mr Hall by using a Taser prior to using other force. The actions of the officers involved in this incident do not rise to the level of criminal assault."
Officers were called to Garner Road and Martin Luther King Jr Boulevard after receiving a report of an unoccupied car left on the busy road with music playing loudly. When they arrived at the scene, they found Hall, who appeared to be an "altered state" with no shoes or shirt, reports Associated Press.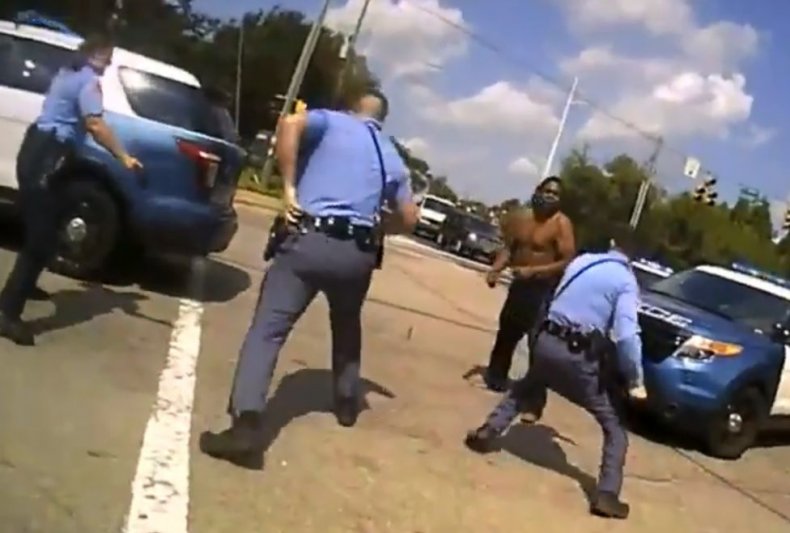 Newsweek subscription offers >
Hall then proceeds to fight off several of the officers at once while they try to bring him under control. After officers eventually force him on the ground, Hall can be seen biting down on a female officer's leg and refusing to let go.
Raleigh Police Chief Cassandra Deck-Brown said it is important that police released their own footage of the arrest as the eyewitness clip that went viral did not "fully and accurately depict the incident."
"In the spirit of providing a more complete picture of the difficult situation faced by our officers, and promoting transparency and trust in the criminal justice system, RPD feels it is important to make this footage available to the public," Deck-Brown said in a statement, reports The News and Observer.
Hall was later charged with resisting a public officer and assault on a government official.
Brutal Video Shows Man Fighting, Biting Female Raleigh Police Officer During Arrest | U.S.