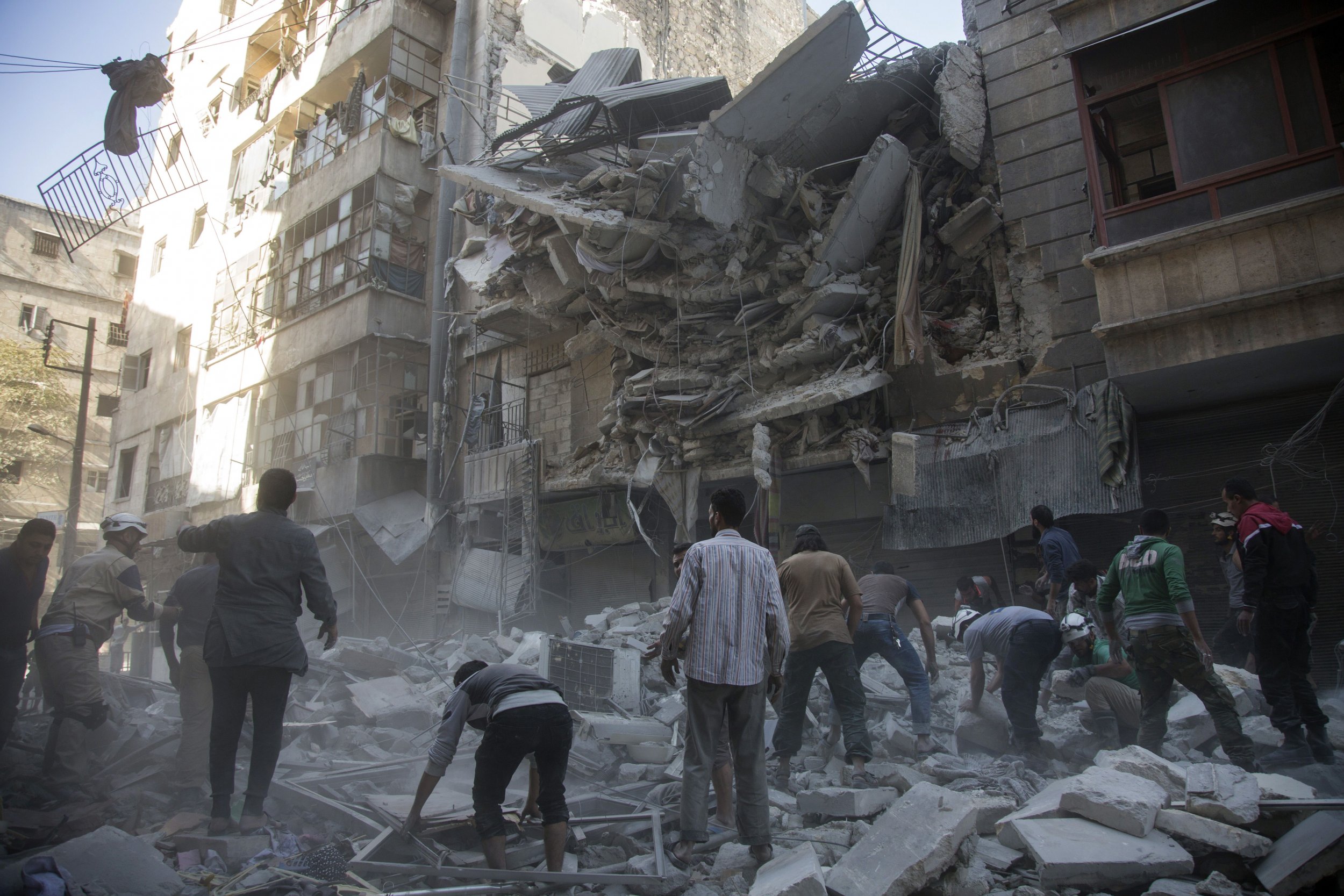 The collapse of the latest Syrian ceasefire agreement in recent days brought a ferocious escalation in the bombardment of Aleppo last weekend. At least 173 civilians were killed, predominantly in Aleppo city and governorate according to the Violations Documentation Center, an independent Syrian human rights group.
On Saturday, texts and calls from people trapped in the besieged city described sustained, horrifying attacks with an aim that could be summarized in one word: obliteration.
The most worrying call I received was from Ghina*, now a mother-of-two after losing her third child in an airstrike on Aleppo city a couple of months ago. The sound of bombing echoed in the background as she pleaded for help before the line cut off. I tried calling back but to no avail. I knew it could have simply been a network failure yet I could not help but imagine the worst; that she was killed in an airstrike.
I later discovered that Ghina and her two remaining children were alive, but an airstrike had severely injured her and destroyed their home.
The battle to win control of Aleppo has seen the governorate subjected to relentless bombardment by the Syrian government and its ally, Russia. Time and again the Syrian government has attacked schools, residential buildings, hospitals and medical facilities but more horrifically the civilian population directly. The question is, why?
The Syrian government, with Russia's support, has without a doubt used air power to deliberately inflict suffering on civilians, routinely bombing densely populated civilian areas and buildings. For several years, there's been a clear pattern of government bombardment as a means of punishing populations in areas controlled by the armed opposition. But there is more to it than that. Over the past year, Amnesty International has documented a pattern of deliberate attacks on hospitals in the north of Aleppo governorate in what appears to be part of a military strategy to empty towns and villages of residents, in order to pave the way for ground forces to advance.
It is this same strategy that Syrian government forces are now using to gain control of Aleppo city. The city's besiegement—coupled with the impotence of the U.N. Security Council and others—has empowered Russia and the Syrian government to attack civilians with impunity and leave only one option for Aleppo residents to escape the horror, forcing them to evacuate to government-controlled areas. Once the city is emptied of people, the government can seize control and claim victory. It did this last month too in Daraya, near Damascus, which the remaining inhabitants reluctantly agreed to completely evacuate after four years of brutal siege and bombardment.
Aleppo city resident Mayada* told me she is afraid to die but does not want to leave the city she has called home her entire life. Her neighborhood was subjected to three aerial attacks over the weekend, despite being almost a kilometer away from the front line.
Another resident spent his weekend evacuating the injured. He said: "I was in the car about to evacuate another injured friend from an aerial attack on al-Mashhad neighborhood when I heard the sound of an warplane and then the window glass shattered on us. I heard a series of small explosions that went on for almost a minute. I waited for another 10 minutes before I drove to the hospital…It turned out that the bomb dropped was a cluster munition. More than 40 people were injured with shrapnel."
Activists and residents of Aleppo city said that incendiary weapons as well as cluster munitions were used in the latest round of attacks. These claims could not be independently verified but Amnesty International and other human rights organizations have previously documented the use of these weapons in Aleppo and elsewhere in Syria.
Saad*, a media activist in Aleppo city, refused to describe what he witnessed as his anger and frustration seethed. Besides the bombardment itself, he was irked by US Ambassador Samantha Power's speech at the U.N. Security Council, accusing Russia of "barbarism."
"We only hear statements, speeches, apologies and empty threats from the U.S.," he said. "The only solution they have for us [is] ceasefire agreements. I think it is very clear by now that this is not the solution that will save our lives; it is killing us every time it fails."
Many Syrians understandably feel frustrated with the international community's colossal failure to protect civilians from the horrifying abuses.
The appalling catalog of war crimes and crimes against humanity committed by the Syrian government in Aleppo has caused bloodshed and human suffering on a mass scale for years, and its repercussion are felt well beyond Syria and the Middle East. But the world has failed to take action.
Ceasefire agreements have not protected civilian lives or ended atrocities. The U.N. Security Council has adopted a series of strong resolutions which, if enforced, could have halted, or at least reduced, attacks on civilians and sieges on civilian areas, and facilitated humanitarian access.
Targeted sanctions and an arms embargo could still give these resolutions some teeth. And a referral of the situation to the International Criminal Court could at least send the signal that those ordering mass atrocity crimes will face justice.
Speeches decrying the inhumanity of the ongoing war crimes are not enough.
Ghina, Mayada and Saad's lives—and the lives of hundreds of thousands of other civilians trapped in Aleppo and elsewhere in Syria—depend on the international community finally doing something to stop further war crimes and punish those responsible.
*Names have been changed to protect the identities of those quoted.
Diana Semaan is a Syria campaigner for international rights group Amnesty International.