Bryan Callen, Co-Star of Chris D'Elia's Now-Canceled Netflix Show, Is Facing Sexual Misconduct Allegations
Just weeks after comedian Chris D'Elia was accused of sexual misconduct by a number of women, his friend and fellow comedian Bryan Callen is now being accused of sexual assault.
An actress and comedian is alleging that Callen raped her in 1999, Los Angeles Times reported on Friday.
In addition to her accusation that Callen held her down and forced her to engage in intercourse with him more than 20 years ago, three other unidentified women described instances of alleged sexual misconduct from Callen, including one woman who accused the comedian of pinning her against a wall in an American Apparel fitting room and kissing her against her will in 2009.
Another woman, who claimed she was in a four-year affair with Callen during his marriage to estranged wife Amanda Humphrey, said he commented that women have a "biological, primal desire to be raped" during a conversation they had in 2016. And the fourth woman, who is also a comedian, accused Callen of asking her to perform oral sex on him, in exchange for money and stage time during a comedy show.
Callen, who made his TV debut during an appearance on MADtv in 1995, categorically denied all of the allegations to the Los Angeles Times.
In a statement provided to Newsweek, Callen claimed he has "never raped, forced myself upon a woman nor have I offered to trade stage time for sex." He also said that the allegation stemming from 1999 is "demonstrably false."
"We went to my place. We got intimate and began to have sex at which point she looked at me and said 'wait, I don't want to just be a one night stand.' I immediately stopped and we spoke about her expectations and our 5-year friendship," Callen said in his statement. He also said that, several days later, the actress and comedian called him "and we recapped our evening and hung up as friends."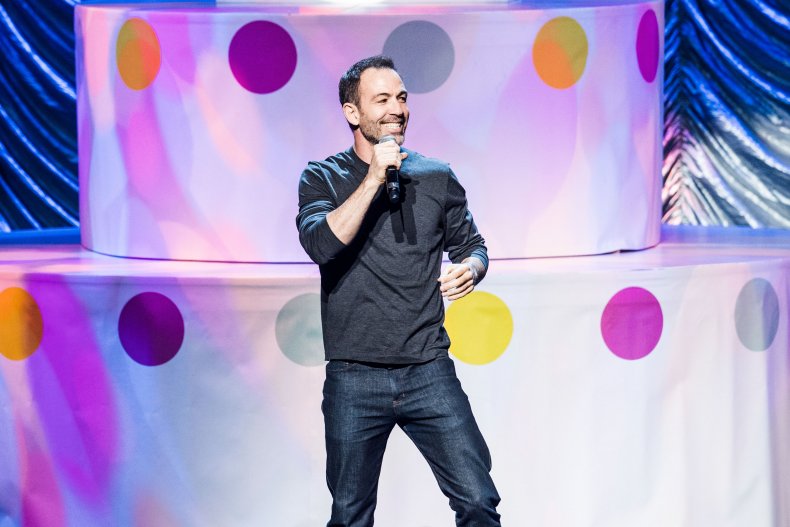 Elsewhere in his statement, Callen added, "I know the truth. And I can only hold my head up high, remain true to myself, my family, my audience and know that I will not allow the cancel culture to subvert what I know and as importantly, what these women know, is the truth."
The accusations against the 53-year-old actor—who has appeared in dozens of titles, including 7th Heaven, Sex and the City, The Goldbergs and Wedding Crashers—come several weeks after the aforementioned sexual misconduct allegations against Callen's friend, D'Elia.
Until recently, the pair were slated to star in an upcoming prank show for Netflix. However, the streaming giant canceled the untitled nonscripted series following the accusations against D'Elia. Production of the show had not yet started at the time of the show's cancelation.
Newsweek has reached out to Netflix for further comment, but did not hear back in time for publication.
In June, multiple women came forward with accusations that D'Elia had behaved in sexually inappropriate ways toward them. Some of the women said they were still underage when D'Elia first expressed interest in them over social media. The Undatable star denied the allegations, claiming that he only engaged in consensual relationships with women and had never "knowingly" pursued a minor.
In the immediate wake of D'Elia's controversy, Callen came to his friend's defense.
On Callen's podcast, The Fighter and the Kid, the comedian said he had "never seen or heard of [D'Elia] doing anything illegal."
"This is shocking to me as I'm watching this happen. I don't know what to think, and I don't know what to say," Callen said on an episode that was released on June 18. "But I'm going to say it again: I have never personally heard or seen anything illegal. That's all I can say, and right now I have to believe that because he's still a friend."
Updated 7/31/2020, 2:30 p.m. EDT: This article has been updated to include additional quotes from Callen's statement.