Bryan Cranston and Annette Bening have revealed they decided to change a few things about the personalities of the real-life couple they portray in their new movie Jerry & Marge Go Large.
The Oscar-nominated duo star in the new Paramount+ Original movie, which tells the story of the Michigan couple who found a mathematical loophole in the lottery and used their winnings to help their small town.
Both Cranston and Bening met their onscreen counterparts in preparation for the project.
"They're very authentic and real. There's no pretence. They are who they are. They don't try to cover up anything in a sweet way," Cranston told Newsweek, describing his interpretation of Jerry and Marge Selbee.
In the mid 2000s, retired Jerry spotted a way in which he was almost guaranteed to make money from the Michigan lottery.
After telling his wife about his discovery, the pair spent years making money from the venture, eventually pulling in more people from their small town to get in on the action.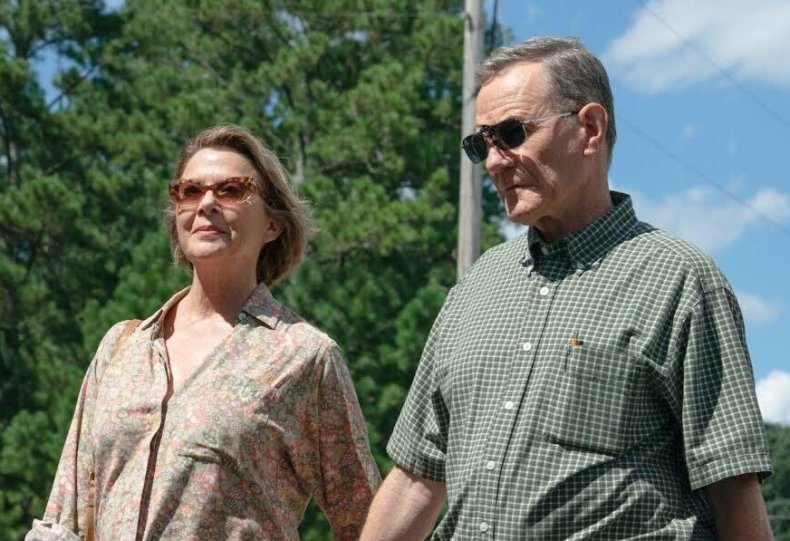 While the real life story is sounds perfect for a big screen adaptation, Cranston said that he and Bening did have to change minor details about the real life married couple.
"We kind of role reversed them in the movie what they are in real life." He continued, "In real life, Jerry is a little more outgoing and gregarious than Marge. And I think in the movie, we kind of switched that a little bit and Marge is a little more vibrant and outgoing and risk-taking while Jerry is a little more staid and, taciturn, if you will."
Lead stars Cranston and Bening didn't just get their real life characters for Jerry & Marge Go Large, they also got to know each other inside and out too.
The two TV and movie veterans shot the movie in July 2021, and almost a year later their playful banter hadn't waned, finding in each other a friendly co-star and a consummate professional.
"He's a real pro, Bening said. "I knew a little bit about him [Cranston] and he had a good reputation."
"Did you check me out?" Cranston asked Bening.
"I did. I completely did my research—no, I didn't." She continued, "I had met him before and I knew he was professional. You know, professionalism does matter when you're working with people.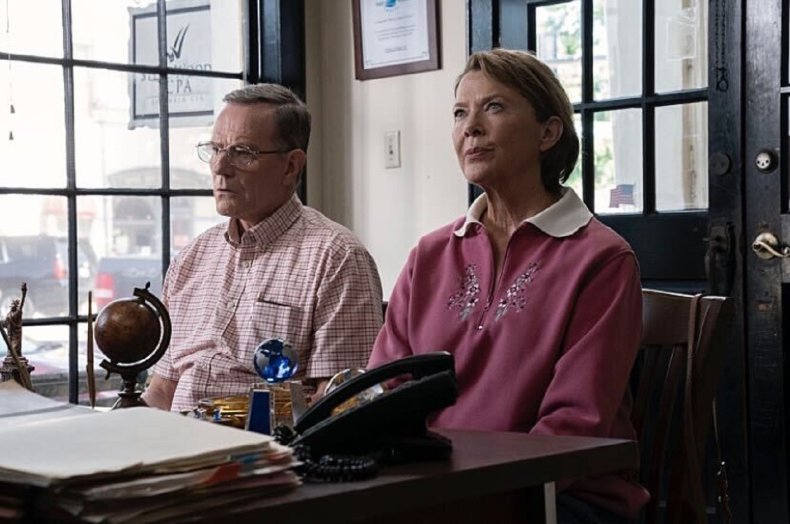 "It's a lot of fun to make movies, but it's also hard. It's a lot of work and you're working long days.
"So when you have somebody you can hang out with and have a good time like we did, that makes a huge difference."
"We're both very similar in that approach," Cranston added. "We feel very fortunate about our careers but also it's like, 'let's go to work. Let's be on time. Let's have a good attitude and respect everybody and laugh'. Then when we're done, go home and it's like 'oh, that was a nice day'."
"He's a big ham. He's hilarious," Bening said.
Cranston explained why it's necessary hilarity. "Sometimes on the 14th hour, you need to pull something out that creates a laugh, so that you can get a little energized to finish your day strong and go home."
Also starring alongside the titular duo is talk show host, sitcom creator, stand-up and actor Larry Wilmore. He stars as Jerry's "curmudgeonly" accountant, but Wilmore explained why that was actually a bit of a stretch for him.
"I don't have time to be a curmudgeon in real life. It takes too much time to un-curmudgeon yourself." He continued, "Having said that, it's fun to play a curmudgeon. Not only that, I've never said the word curmudgeon so many times in one setting." He added that he just wanted that to be "on the record" for Newsweek.
Since Jerry & Marge Go Large is set in a small town in Michigan, the enclosed atmosphere of the set helped the cast bond too, much to Wilmore's delight.
"There was a camaraderie amongst us, it was so much fun. I had known Bryan Cranston before when I was doing The Bernie Mac Show" -- which Wilmore co-created -- " and he was doing Malcolm in the Middle. They were shooting right above us and I would see him all the time."
Wilmore was also reunited with his co-star from The Office in the movie. "Rainn Wilson, I worked with him for the first three seasons so being reunited with him was so much fun. So there was a family atmosphere on the set anyway.
"Thanks to the material as well," he recalled laughing, "We could ad-lib a lot and just have fun with it and do that kind of thing, so it was great."
Jerry and Marge's storybecame known nationally after journalist Jason Fagone wrote an article about them headlined "Jerry & Marge Go Large."
Jerry & Marge Go Large the movie will be available to watch exclusively on Paramount+ from Friday June 17, 2022.