Bryce Harper Rumors: Odds For Washington Nationals Free Agent Suggest He Could Switch Teams
Prized free agent Bryce Harper could be on the move, rumors and odds from bookmakers suggest on Monday, the day after the 2018 World Series wrapped up.
The longtime Washington Nationals star—he debuted with the team in 2012 and has played in D.C. ever since—will almost assuredly be pursued by a number of franchises. But if oddsmakers are to be believed, the Philadelphia Phillies—a team itching to buy up a star—might just be the squad to land Harper.
Odds Shark tweeted out the latest odds on Harper's next team, via oddsmaker Bovada, and Philly was the favorite. Here is the entire list of teams:
-Phillies EVEN
-Chicago Cubs +300
-Washington Nationals +400
-San Francisco Giants +750
-New York Yankees +800
-Los Angeles Dodgers +850
-Boston Red Sox +1500
-Los Angeles Angels +1500
Harper's agent, Scott Boras, has ramped up the velocity of the rumor mill with comments that seemed to suggest the outfielder has made his decision.
"We know who the team is," Boras told the YES Network. "It's already completed and done, but Bryce has told me that he wanted to tell you personally."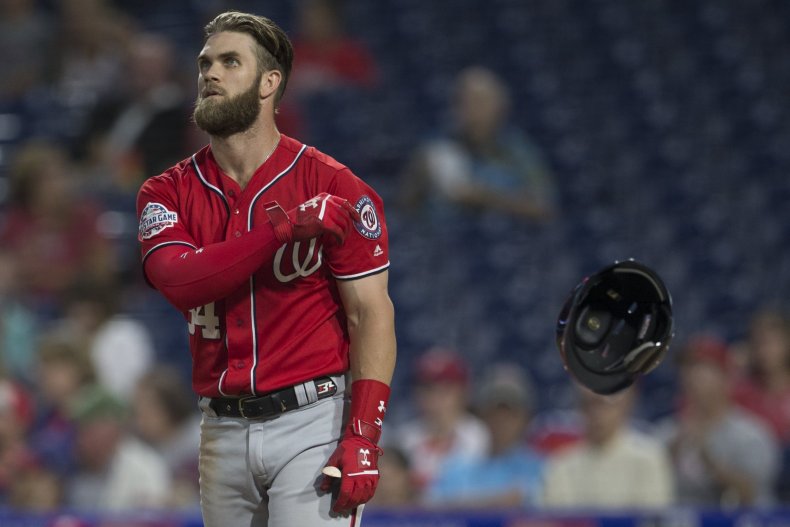 It's worth noting Boras—a high-profile super-agent—could be working up a bit of fiction with those comments to draw attention to his client.
It's somewhat surprising the Phillies are even-money favorites to land Harper in the offseason. The franchise has been rumored as potential big-spenders, but one might expect the usual suspects—the New York Yankees, L.A. Dodgers and Chicago Cubs, for instance—to be the big players in the Harper sweepstakes. Not long ago, the Cubs had even odds to land the star.
It's not clear what has changed to now have Philly as the favorites but folks around the league will certainly take notice. Teams can start negotiating with free agents on Saturday—so, for now, all everyone can do is wait.