Golfer Bryson DeChambeau does not regret not getting vaccinated against coronavirus, despite the fact that a positive COVID-19 test cost him a place at the Tokyo 2020 Olympics.
The 2020 U.S. Open champion was included in the initial four-man USA team for the Olympics along with eventual gold medalist Xander Schauffele, Justin Thomas and two-time major winner Collin Morikawa.
He was subsequently replaced by Patrick Reed when he was forced to withdraw after testing positive on July 23.
DeChambeau had not been vaccinated prior to the Tokyo Olympics.
Speaking on Wednesday ahead of this week's WGC-FedEx St. Jude Invitational at TPC Southwind in Memphis, Tennessee, he attributed to not wanting to take the vaccine ahead of those who need it most.
"The vaccine doesn't necessarily prevent it from happening," he was quoted as saying by ESPN.
"I'm young enough, I'd rather give it [the vaccine] to people who need it. I don't need it. I'm a healthy, young individual that will continue to work on my health.
"I don't think taking the vaccine away from someone who needs it is a good thing. My dad is a perfect example. He got it [the vaccine] early on because he's a diabetic. People like that need to get it. My mom got it. I don't want to take away that ability."
Asked whether he would get vaccinated if given the chance, DeChambeau replied: "Now as time goes on, if it [the vaccine] is mainstream, really, really mainstream, then yeah."
The 27-year-old said he had tested negative before and after traveling to England for The Open Championship, which was held between July 15 and 18. A week later, however, a COVID-19 test came back positive.
"It was bound to happen," he said.
"Unfortunately, it happened that week. The odds are you get tested enough, you travel around, it's going to happen.
"I tried to take all the necessary precautions to not contract it, and unfortunately on Friday [July 23] I tested positive. I tested positive a few times [in the aftermath]. You can't do anything about it."
Data released by the Centers for Disease Control and Prevention this week, showed 90 percent of COVID-19 cases in the U.S. consisted of non-vaccinated people.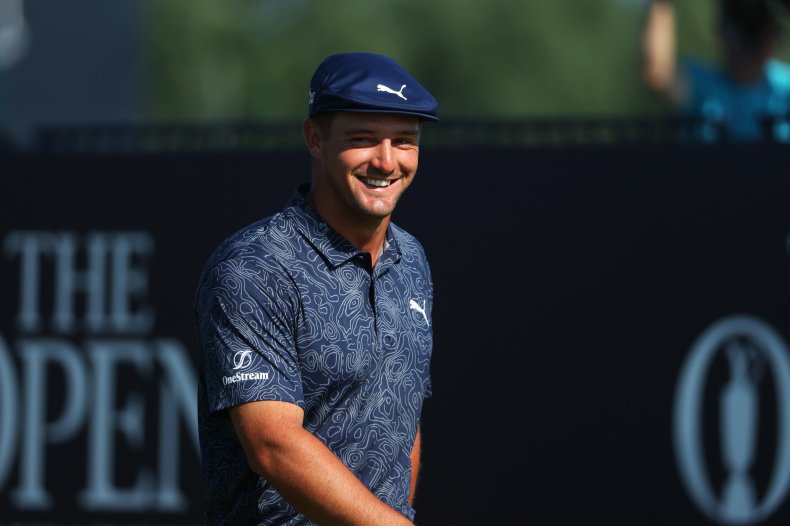 The Floridian said he was asymptomatic and underwent a further test to ensure the first test was not a false positive.
"They didn't think it was a false positive, they just wanted to be sure," he added.
"I didn't feel anything for two days. All of a sudden, started to feel tired. Started getting fully better two or three days ago. For the most part, it's funny, you stay at home and you quarantine for so long, you just feel tired. You're not doing anything."
The American, who will play the first two rounds at TPC Southwind along with world No. 2 Dustin Johnson and Australia's Cameron Smith, estimated he lost approximately "eight to 10 pounds" due to the virus.
DeChambeau's trademark booming drives may be a thing of the past for the foreseeable future until he makes a full recovery.
"I'm just going out and trying to get through a whole week and feel comfortable, and then do it again and get my golf swing in a place where I'm comfortable," he explained.
"So maybe some lower expectations this week."
According to William Hill, DeChambeau's nemesis, Brooks Koepka, is a 12-1 favorite to win the WGC-FedEx St. Jude Invitational, followed by Morikawa and Jordan Spieth at 14-1.
Fresh from his Tokyo heroics, Schauffele is 16-1, while Johnson and Thomas are 18-1 and 20-1 respectively.