BTS Fans Demand Comedian Alex Williamson Be Fired After He Defends 'Xenophobic' TV Segment on K-Pop Group
They want an apology from Australia's Channel 9, too
The BTS Army—dedicated fans of K-pop group BTS—have called for an Australian comedian to be fired after he supported what they said were racist and xenophobic remarks about the band, which aired on Australian television. The conversation started trending on Twitter Wednesday as fans amplified the hashtags #channel9apologize and #FireAlexWilliamson, seeking an apology from the broadcaster, and for the comedian to be punished.
The clip aired on Australian pop culture show 20 to One. The show is formatted as a countdown that examines celebrities and advertisements that have gone viral.
The segment was shared on Twitter by @incorrectjeon on Wednesday. In it, the band was called the "18th biggest band you've never heard of" in a countdown by the show.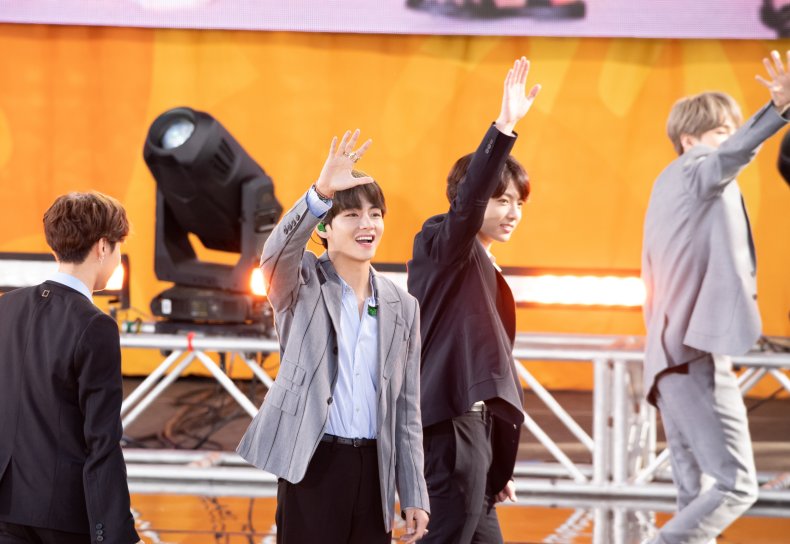 Fans argue the segment trashed BTS by mocking their music, which is mostly in Korean and showed clips of the group members singing poorly. Panelists also asked if the band's speech at the United Nations was about "hair products." (Actually, it was about the band's Generation Unlimited movement, launched in collaboration with UNICEF, which urges kids and teens to "find their voice" and stay in school to find employment.) Some fans were also upset by comments from Hollywood blogger Perez Hilton, who said he once questioned if the group members were gay.
Though Williamson wasn't one of the panelists, fans were particularly miffed by his response to the outcry about the segment. The host answered fans' request for an apology with a loaded tweet on Wednesday, which directly quoted @incorrectjeon's video and comment explaining the offense.. "Shut the f*** up c*** it ain't racist they just don't give a f*** about boy bands who are designed solely to extract $ from the hip pocket of 14yo's. I'll always revel in the genuine talents of South Korean professors such as Cheon Jinwoo. F*** these c****."
The comedian made things worse by saying he'd be joining BTS. "After careful consideration I am hereby nominating myself to be the 8th member of BTS, thankyou for your unwavering support. I will make you c**** proud with my generic vocals xoxox good night."
This response didn't sit well with the BTS Army, who have since lumped the goal of getting Williamson fired to their vocal uprising against Channel 9. Other K-Pop "stans" (or fans of other groups) are standing in solidarity against the offensive comments.
Twitter user @RKIVE_KOYA said there's a longer history to Willamson's controversial comments. "It's even more than just defending BTS," the hashtag's creator explained. "We are women, poc, and members of the lgbtq before we are fans and we want him held accountable for these racist and predatory comments."
@RKIVE_KOYA started a thread filled with screenshots of Williamson's past tweets, many of which included racist, sexist and anti-LGBTQ comments. Some of the tweets joked about rape and sex with underage girls. He even "joked" about being a father who had sex with his own daughter.
Other comments in the Channel 9 conversation have pointed out this isn't the first time 20 to One has made misleading or derogatory comments about K-pop artists and fans, pointing toward a false story that drugs had been found in the dressing room of the girl group BLACKPINK.
This article has been updated to include @RKIVE_KOYA's twitter thread and comment. The photo caption has also been edited for clarity.