BTS, Supported by Army of Fans, Beat Kanye West and Ariana Grande as the Most Tweeted-About Celebrities of 2018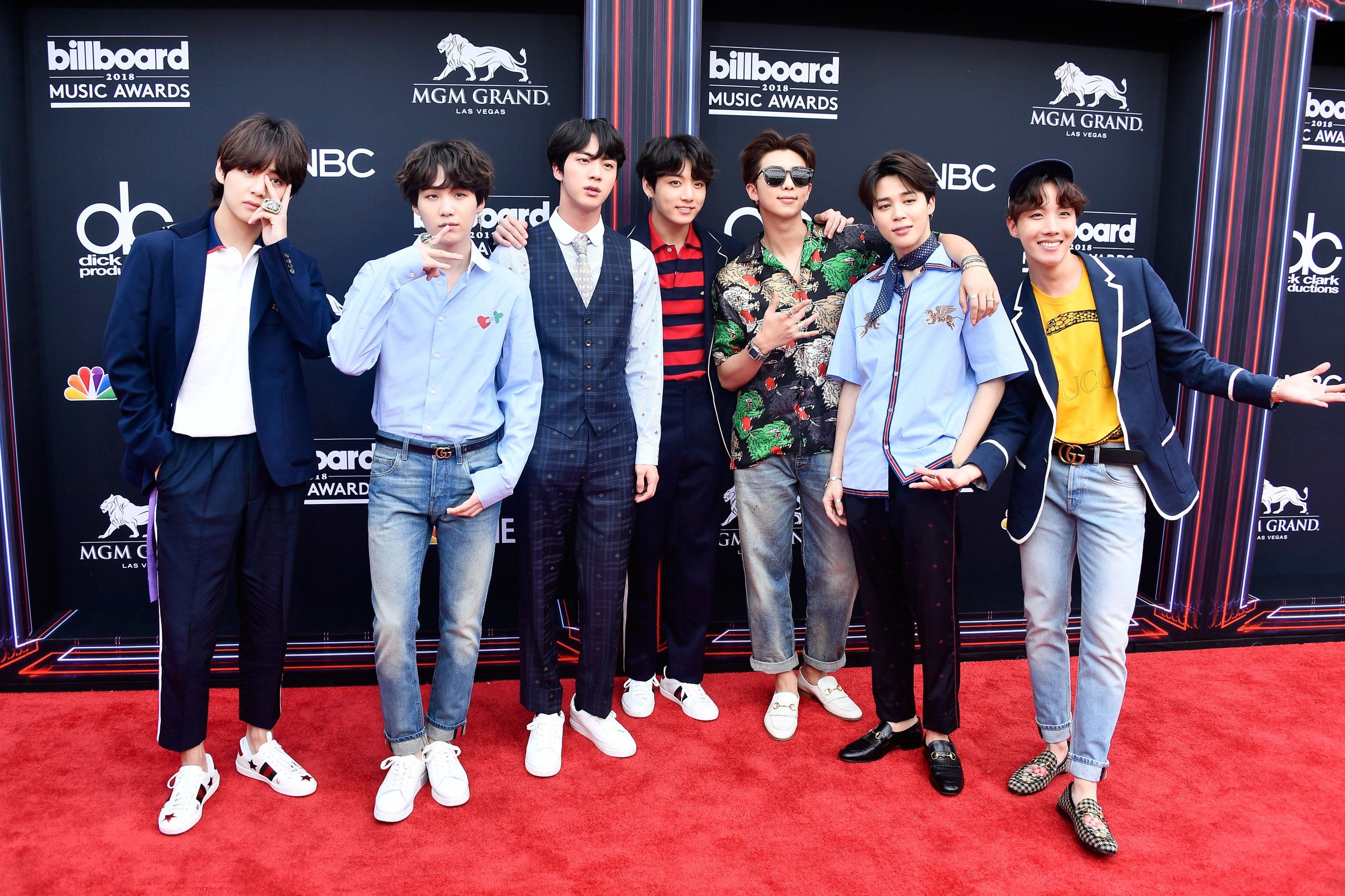 Twitter announced the most-tweeted about celebrities in 2018, and K-pop group BTS falls into first place with the most mentions. The group was followed by Lebron James and Kanye West, who stole second and third place on the list according to Vogue.
BTS also claimed the 2017 crown for the most tweeted about celebrities, and this year's most tweeted-about musicians.
The lists are as follows:
Most Tweeted About Celebrities:
1. BTS (@BTS_twt)
2. LeBron James (@KingJames)
3. Kanye West (@KanyeWest)
4. Drake (@Drake)
5. EXO (@WeareoneEXO)
6. Ariana Grande (@ArianaGrande)
7. Cardi B (@IamCardiB)
8. Beyoncé (@Beyonce)
9. Jimin Park (@Jiminpark07)
10. Nicki Minaj (@NickiMinaj)
Most Tweeted About Musicians:
1. @BTS_twt
2. @KanyeWest
3. @Drake
4. @WeareoneEXO
5. @ArianaGrande
6. @IamCardiB
7. @Beyonce
8. @Jiminpark07
9. @NickiMinaj
10. @Rihanna
The BTS Army, the group's dedicated following, are responsible for skyrocketing the K-pop group to first place through tagging the group's account and sharing the tweets with common hashtags #ARMYARMYARMY and #Army. Both "BTS" and "Army" have been officially trademarked by Big Hit Entertainment.
2018 was a particularly impressive year for the musicians, who released three full-length albums, FACE YOURSELF, Love Yourself: Tear and Love Yourself: Answer. Love Yourself: Tear has received a Grammy nomination for "Best Recording Package."
With the three albums, as well as the rest of their musical catalog, BTS also became Spotify's most-streamed artist of 2018, according to Spotify Wrapper stats, reported by Forbes. The group's track "Fake Love" was also the most streamed K-pop track on the platform, boasting 175 million plays.
The group was also the first Korean group to reach 1 billion streams on Apple Music, which was announced in November, according to Forbes.
Other celebrities on the list had career highlights spoken about on Twitter. Kanye West released his album "Ye" to mixed reviews, but mainly made conversation because of his close relationship with President Donald Trump. West attended the signing of the Music Modernization Act with Trump, where the two talked personal and politics in front of a room of reporters. West was a vocal Trump supporter, who was often seen sporting a Make America Great Again hat, until he announced he'd been "used."
"My eyes are now wide open and now realize I've been used to spread messages I don't believe in," he wrote on the platform in October. "I am distancing myself from politics and completely focusing on being creative !!!"
Ariana Grande was also spoken about heavily on the platform, mostly for her relationships with comedian Pete Davidson and the late rapper Mac Miller.
Grande ended the year releasing the music video for her surprise-dropped single "Thank U, Next," which mentions both Davidson and Miller. The song's music video was celebrated on social media, and broke the Vevo streaming record.