BTS Fans Celebrate New Song 'A Brand New Day' With Zara Larsson Ahead of Mobile Game Release
BTS fans were treated to a new collaboration on Friday, when the Korean group dropped a new song from their upcoming mobile game. The track, titled "A Brand New Day" features Swedish singer Zara Larsson, and fans are already loving every second of it.
The BTS Army, which is what the group's fanbase call themselves, vocally praised the single on Twitter Friday. Search for the track's name on Twitter, and your feed will be flooded with excitement and enthusiasm for the new track from the upcoming BTS World mobile game.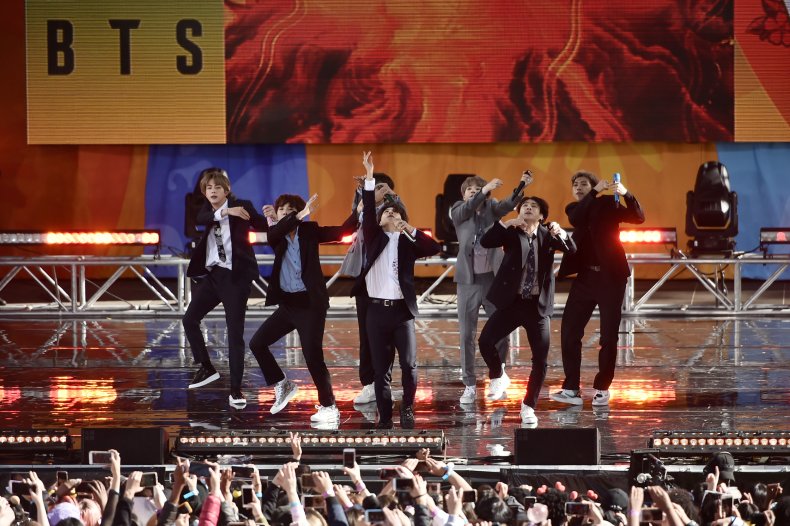 From endless love for the group to major props for Larsson's contribution to the track, fans had a lot to say. Many tweets claimed they'd already had the song playing all day, and intend to continue with the listening throughout Friday. Some also spoke directly to Larsson and called her voice angelic and powerful.
This is the second single from the upcoming game soundtrack. The first was a song called "Dream Glow," which featured pop singer Charli XCX. The full album will be released on June 28.
BTS World allows fans to become BTS' manager via their mobile devices. Made by Korean developer Netmarble, the game promises to host hours of original content, including videos made by the band. The game aims to make fans feel like they're interacting with BTS directly through their devices
Fans of the group were thrilled with the plot when it was first announced, and created a series of humorous memes about believing they are truly BTS' manager. Some joked they'll use their in-game credentials to get into concerts and backstage when BTS tours in their city.
It appears collaborations may be a new trend for BTS. Recently, they teamed up with American musician Halsey on track "Boy With Luv," a leading track from their 2019 album release, MAP OF THE SOUL: PERSONA. The group has seemingly become close friends with Halsey, who also appeared in the video.
BTS is one of the fastest growing musical groups worldwide. They have 20.4 million followers on Twitter, and seem to trend often, as their fan base is strategically vocal to promote the groups work.
BTS World will be released on mobile devices globally June 26. Fans can pre-register now on the BTS World website.