BTS Christmas Performance at SBS Gayo Daejeon Has Fans Wishing For a Holiday Album
BTS spread holiday cheer with their festive performance at the 2019 SBS Gayo Daejeon festival at Seoul's Gocheok Sky Dome on Wednesday.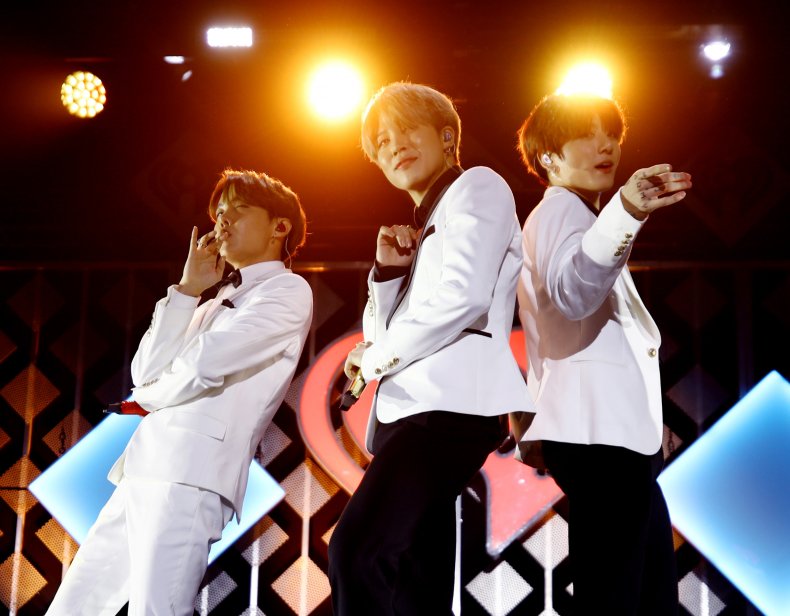 A lit up stage decked out in holiday colors with presents, candy canes and fake snow made for the perfect setting for the annual music festival, which also included appearances from K-Pop stars like GOT7, MONSTA X, AOA, NU'EST, Red Velvet, MAMAMOO, Seventeen, TWICE, ASTRO, Stray Kids, A Pink, Oh My Girl, NCT Dream, NCT 127, GFriend, Kim Chung Ha, ITZY, N. Flying, and TXT.
However, it was the superstar K-Pop group BTS—comprised of members Jungkook, Jimin, Suga, Jin, RM, J-Hope and V—who stole the show with their melody of holiday carols, which included songs like "Feliz Navidad," "Jingle Bell Rock," "Silent Night" and "Santa Claus is Coming to Town." The group's legion of fans, known as the BTS ARMY, was particularly moved by Jungkook's solo performance of "O Holy Night."
As expected, the group's holiday performance sparked joy in South Korea and beyond as thousands of people took to social media to thank BTS for celebrating the Christmas season. Fans were so thrilled with the band's rendition of classic carols that many flooded Twitter with wishes for a BTS holiday album.
"Where do I sign the petition for a BTS Christmas album?" one user wrote on Twitter.
Another was appalled fans have gone the whole holiday season without getting a Christmas album from the group. "How did we go without a Christmas album from BTS," the tweet read.
Fans were also excited by the performance of a little girl as she danced alongside the group in many scenes throughout the night. Although there were some viewers who couldn't help but to feel a twinge of jealousy by all the attention she got from BTS.
"There are 2 types of ARMYS after seeing this," one Twitter user wrote, "Army 1: I'm jealous af of that child. Army 2: I'm ready when you're ready Jimin, how many do you want? #BTSatGayoDaejun #ChristmaswithBTS @BTS_twt."
While a BTS holiday album this year seems unlikely, the group does seem to be working on something new. BigHit Entertainment, BTS' record label, hinted at the guys going back on the road next year in a Twitter post on Monday. The group members' reflections are featured in the photo, which reads "TOUR" at the very bottom. BigHit captioned the post, "April 2020."
In the fall, Jimin teased a new BTS project. "We're working on our next album now, and I think we'll be able to put out an even better album than you're expecting," Jimin said at the 2019 MAMA Awards. "Please look forward to it a lot."
See a few more fan reactions to BTS' holiday concert below.