BTS Song 'Dynamite' Watched Over 25 Million Times on YouTube in Just 2 Hours
K-pop supergroup BTS have broken the internet—again.
With the release of their new single "Dynamite," the band has broken a YouTube record for the biggest music video premiere, drawing in more than 25 million views in just two hours.
The video went live at 12 PM EST, pulling in three million concurrent watchers, according to YouTube's live counter, though some reports place the number at closer to four million.
Exact figures are yet to be released by the video platform but BTS are on track to beat the record set by fellow K-pop group, Black Pink, who drew a record-breaking 1.65 million concurrent viewers for the release of their single "How You Like That" earlier this year.
"Dynamite" is BTS' first all-English song not released in conjunction with another artist. It is released as a digital single ahead of the release of their new album later this year.
To coincide with the release, band members RM, Jimin, V, Suga, Jin, Jungkook, Jimin, and J-Hope held a press conference from South Korea.
Per Metro.co.uk, band member Suga described "Dynamite" as "disco pop with a very fun cheery vibe and it sends a message of happiness and confidence."
He said: "It is very bright and cheerful so I'm sure many people can dance to it. It's a very fun song."
RM explained: "The release of "Dynamite" wasn't our plan at all. We had been working on our album and aiming to release it in the second half of this year, and when you're preparing the album, you record a lot of songs.
"We came across this song "Dynamite." As soon as we heard it, we thought it was really fun and exciting, and it was a song we really wanted to try. It just made us feel good when we heard it, we could just dance to it."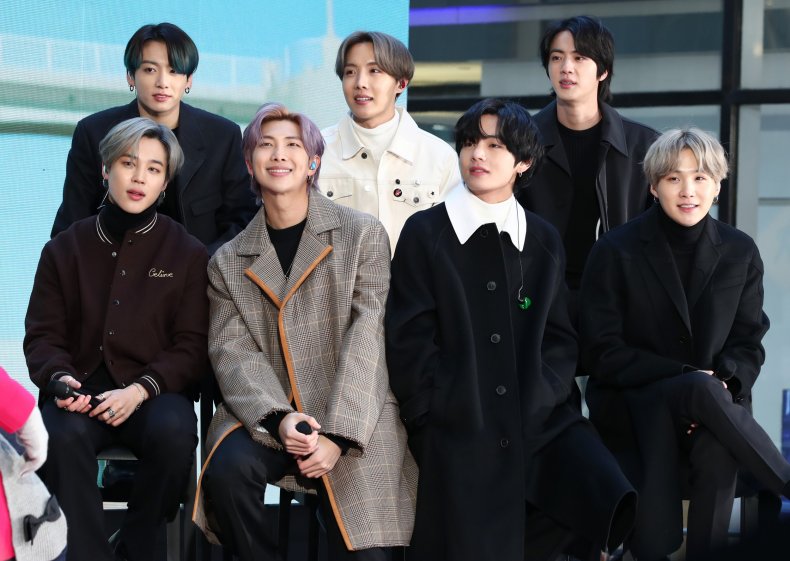 He added: "We really wanted to share this feeling with the fans as soon as possible and share this energy. I want to share this song with as many people as possible."
Asked about their success in the charts, Jin said it's "always an honor" regardless of how well a song does.
"It means many people listen to our song, many people like our song," he said. "Everytime we see this report card, it always excites us, and that doesn't change no matter what that rank may be."