BTS End Successful 2018 With Shocking Message To Fans At MBC Gayo Daejejeon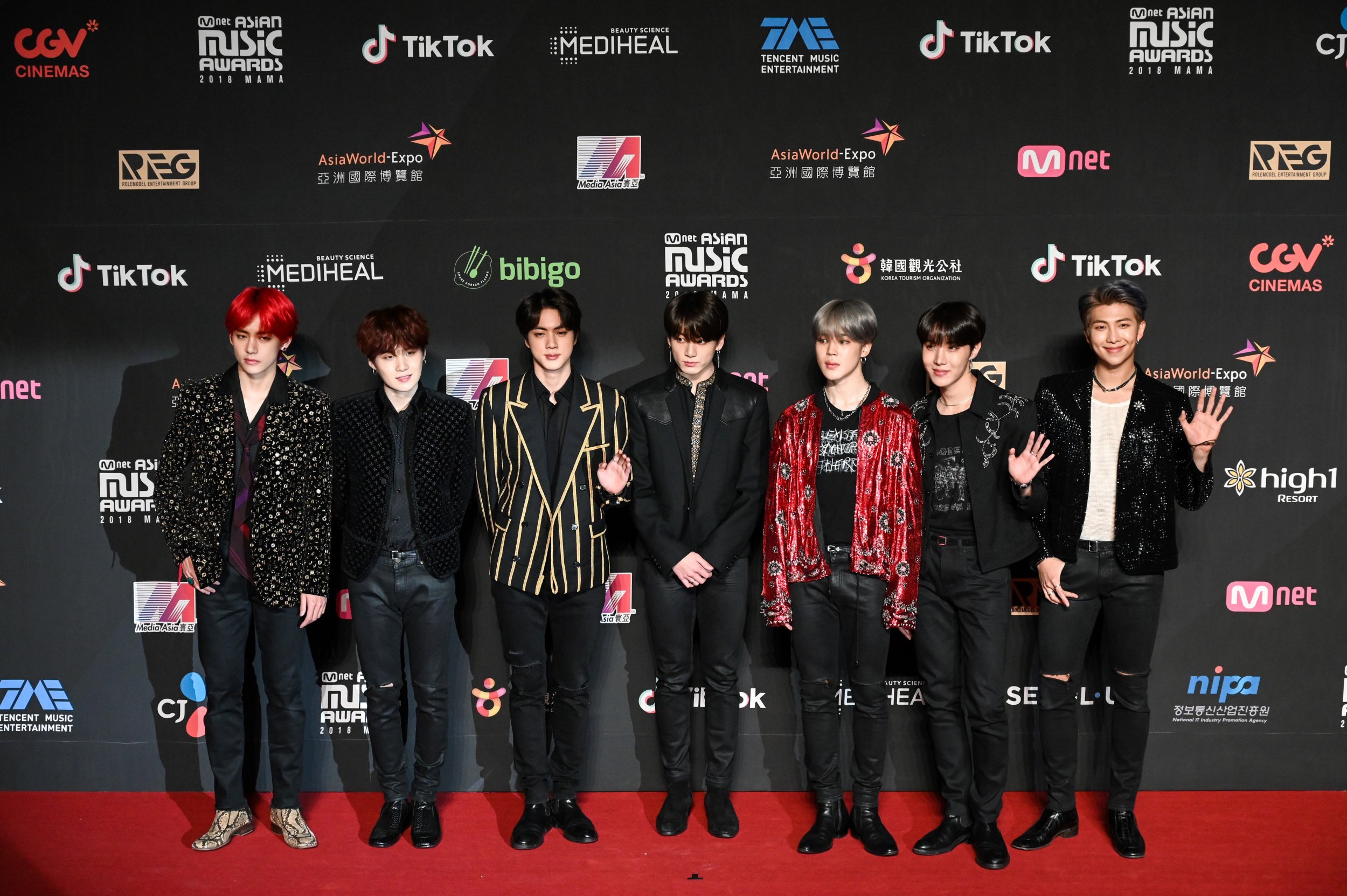 Mega-famous K-pop group BTS ended their successful 2018 year on a note of love and gratitude with a surprising message to fans, which many didn't expect. The boy band appeared at the end-of-the-year music extravaganza, MBC Gayo Daejejeon, on Monday to perform their song "MIC DROP," which appeared on one of their 2018 albums, Love Yourself: Answer.
The song, which teases the idea of dropping the mic at the end of a great performance, left fans expecting the mic to actually fall as the song concluded. Instead of a real mic drop, the band exposed a scroll with writing on it, dedicated to their fans.
"BTS, many blessings of the new year, ARMY," the scroll read, acknowledging their ultra-dedicated fanbase who calls themselves the BTS Army. Their comments can often be found on Twitter with the hashtag #Army of #ARMYARMYARMY. The fan base skyrocketed BTS to the top of the leaderboard for most tweeted about musicians and celebrities in 2018. They were also given the title in 2017.
Fans rejoiced at the thoughtfulness of the band for taking their last appearance of 2018 to send love to their supporters. "THIS IS SO CREATIVE & PRECIOUS, THEY'RE ALWAYS THINKING ABOUT US AT ALL TIMES," tweeted Twitter user @3shells1991.
Another saw it as a perfect way to bridge 2018 to 2019. "THE ABSOLUTE BEST WAY TO END 2018 AND START 2019," wrote @taehyungsrarity.
The streamable concert rings in the new year and allows viewers to celebrate with their favorite K-pop artists. As the time changed from 2018 to 2019, fans also flocked to comment on BTS's behavior when 2019 finally arrived. The group huddled together in a group hug and began jumping in circles as other performers and hosts on the stage announced the new year.
"2018 ends with a group hug and starts with a group hug. I love this family.. Really," wrote Twitter user @taehly.
In 2018, BTS released three full-length albums, which appeared as a series. FACE YOURSELF, Love Yourself: Tear and Love Yourself: Answer. The albums, which were all released in 2018, were nominated for the Best Recording Package Grammy Award. The Grammys will take place on February 10, 2019.
In addition to the possible Grammy ahead of them and their Twitter recognition, BTS also became the most streamed artist on Spotify in 2018. Their listening boasted a whopping 175 million plays. They were also the first Korean group to hit 1 billion streams on Apple Music, according to Forbes.