BTS Fans Encourage Others To Let K-Pop Group Relax Without Fear of End As Band Enters 'Period of Rest'
BTS fans are supporting their favorite K-pop group in the best way they know how: by giving them space. The ultra-famous group announced on Sunday that they'd be taking a much-needed period of rest and relaxation. This comes after the seven-member group released a whopping three albums in 2018 alone, and another in 2019.
A hiatus can mean a number of things for a music group. It can mean a break is necessary for the health and happiness of the group members, which would make sense in the case of BTS, who seemingly hasn't stopped creating music since they first began. In other cases, a hiatus may mean a band is struggling with internal issues and doesn't know which direction to go. That seemed to be the case with British boy band One Direction, who announced their break in August 2015. Fans watched as members of the group slowly started their own solo projects, and no reunion has happened.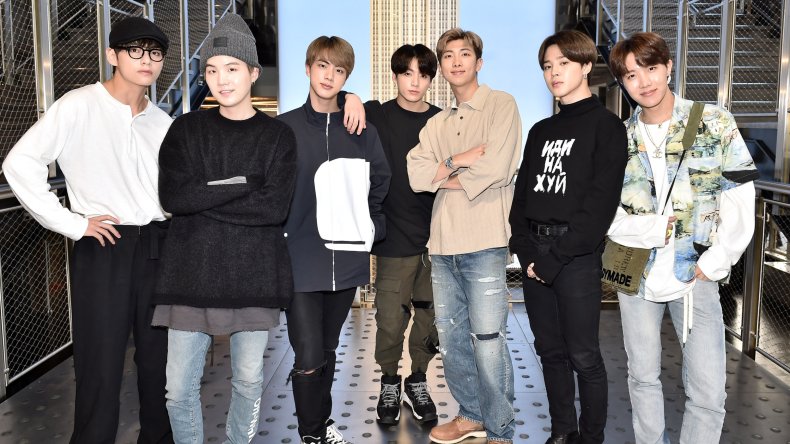 BTS Fans are confident the K-pop stars aren't in the midst of an internal struggle, though, and are asking other fans not to worry. While a handful of BTS stans flipped out on social media at the news of their favorites taking a break, most have asked for cries of worry to calm, and rallied in support of the boys' decision to take a moment of rest.
Memes and tweets comment on what to do if fans see a member of BTS in public during their hiatus. Jokes claim all fans should pretend they don't see the member, and turn away to give them space. The conversation seemingly aims to respect the boundaries BTS has instated by calling off their current work, and allow each member privacy to live their life without the spotlight for a while.
Other fans joked the group's "Love Yourself" campaign may also be able to take a break while the band rests. The campaign aims to inspire fans of the group, and onlookers, to unapologetically love who they are and work to be the best version of themselves.
BTS announced their hiatus through their label, Big Hit Entertainment's, Twitter account on Sunday. The announcement was released in both English and Korean. "We would like to announce that for the first time since their debut, BTS will be going on an official and extended period of rest and relaxation," the announcement read.
The release explained the period will allow them to "recharge and prepare to present themselves anew as musicians and creators." It also explained the group will get a chance to behave as normal 20-somethings for a while, without the pressure of performing or releasing bundles of music. The message also says the group will "return."