BTS' Grammys Snub Sparks Anger From Fans: 'Scammys'
Disappointment after awards shows is an unavoidable reality for some, but the 2022 Grammys prompted a wave of sadness among BTS fans, who believe the K-pop supergroup was snubbed.
This year, the South Korean heartthrobs were up for Best Pop Duo/Group Performance for their No. 1 hit "Butter," but in one of the night's shockers, they lost out to Doja Cat featuring SZA who took home the award for the hit "Kiss Me More."
Also nominated in this category were Tony Bennett & Lady Gaga, Justin Bieber & Benny Blanco, and Coldplay.
BTS' snub has prompted a wave of anger and frustration from the group's loyal fans—who are known collectively as the ARMY.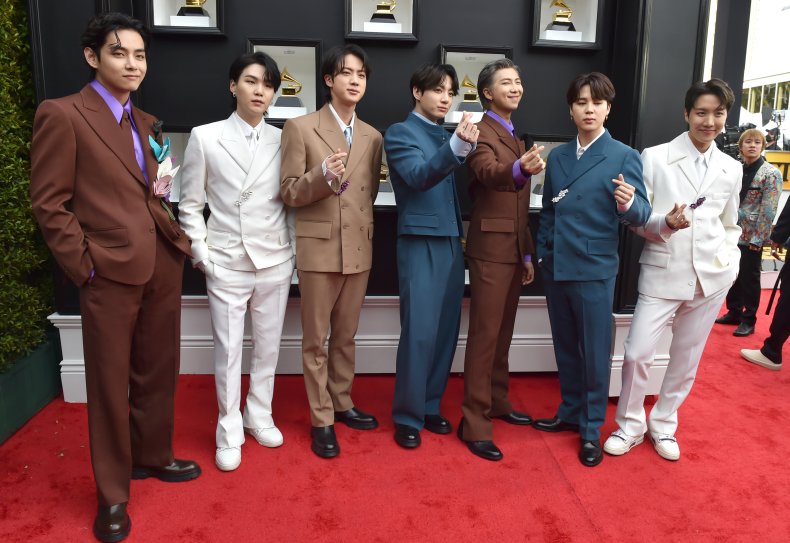 Fans have been expressing their feelings at their favorites losing out via the #Scammys hashtag, which is trending on social media on Monday morning.
"BTS IS AND ALWAYS WILL BE THE WINNER FOR ARMY. #scammys," reads one tweet.
While another disgruntled fan added: "I'm literally speechless. Bts is straight carrying the industry rn and they do this s*** again??? #scammys."
Another fan tweeted: "#OurProudBTS You make us proud, my beautiful boys. We are right behind you today and always. #boycotthegrammys #scammys."
"It's hard having to see them loss something they deserved to win #scammys #nohatetotheartists," said another.
BTS, which consists of members Jin, Suga, J-Hope, RM, Jimin, V, and Jungkook, was also nominated in the same category for the track "Dynamite" last year, but also lost out.
Coldplay frontman Chris Martin even recently said he was rooting for BTS to scoop the award despite being nominated himself in the same category.
"Of course [I'm rooting for BTS], man," Martin said interview with Exa 96.9 FM, a radio station, per NME. "I love them. I love those guys and I just wish them good things, always."
The 64th Grammy Awards were held at the MGM Grand Garden Arena in Las Vegas, Nevada this year and BTS performed "Butter" live before their loss.
The James Bond-esque performance also sparked a massively viral moment when band member V flirted with singer Olivia Rodrigo in the crowd and Jungkook swooped down from the ceiling.
Doja Cat and SZA accepted the award for Best Duo with the award being the former's first-ever Grammys win.
"I like to downplay s***. But this? It's a big deal," she said tearfully.
The rapper received a total of eight nominations this year.
"Kiss Me More" was also up for Song of the Year and Record of the Year, while her album, Planet Her was nominated for Album of the Year and Best Pop Vocal Album.