BTS on Jimmy Fallon: Best Moments From 'Tonight Show' Takeover
Jimmy Fallon has got company on The Tonight Show this week, as every night he is joined by K-pop supergroup BTS.
The band kicked off their week-long residency Monday night just as their hit "Dynamite" retook the No. 1 ranking on the Billboard Hot 100 list. The track has a staggering 14 million U.S. streams and 153,000 downloads last week.
Monday night's show kicked off with Fallon's usual monologue before BTS' members— RM, Jin, Suga, J-Hope, Jimin, V and Jungkook—performed a pre-taped version of "Dynamite" alongside Fallon and his house band, The Roots.
BTS will be performing every night this week on The Tonight Show, but an interview with the group won't be aired until Wednesday.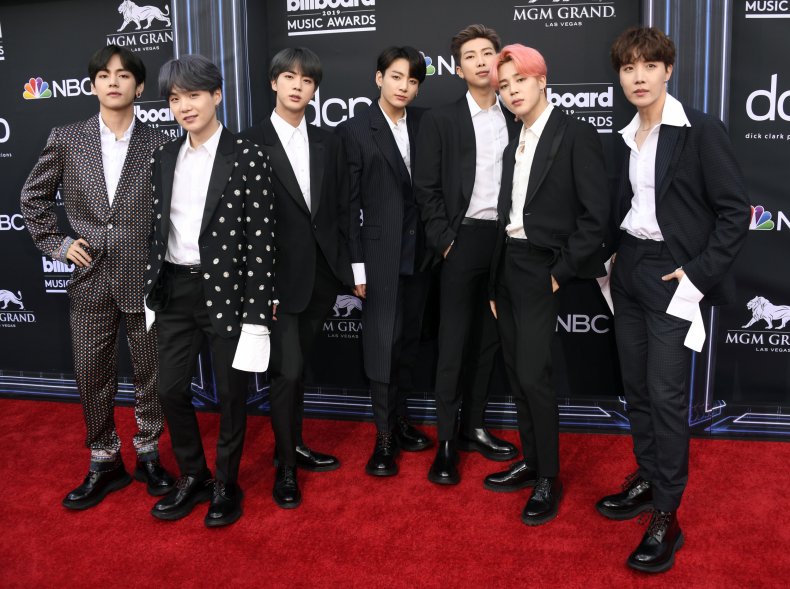 "We love having BTS on the show," Fallon said in a press release. "These guys are incredible, and you just know they're going to go above and beyond to make their performance unforgettable. Last time we had them on we took over Grand Central Terminal, so we had our work cut out for us to top that."
"I'm so excited to have BTS back on the show. We just started the new season and we're working on a lot of really exciting things," Fallon told Entertainment Weekly.
"One thing that is important to us at The Tonight Show is showcasing talent and creatives, so what better way to kick things off than a full week with them. And this is just the start," Fallon added.
Highlights from the first night of BTS' Tonight Show Residency
"Idol" Performance
BTS performed their 2018 hit "Idol" and although they were not in the studio due to coronavirus restrictions, the performance was recorded from another location. The K-pop heartthrobs unveiled a new version of the track from their 2018 album Love Yourself: Answer.
The performance was streamed live on The Tonight Show Starring Jimmy Fallon YouTube, with over 260,000 viewers watching live. The backdrop was Korea's royal Gyeongbok Palace.
"Dynamite" Performance
The boys joined Fallon and The Roots for an a cappella version of their latest hit single, "Dynamite."
Jungkook's Man Bun
An honorable mention for the opening night of BTS' residency has to go to Jungkook's hairstyle which elicited quite the response from fans.
The Tonight Show airs at 11:35 p.m. ET on NBC.