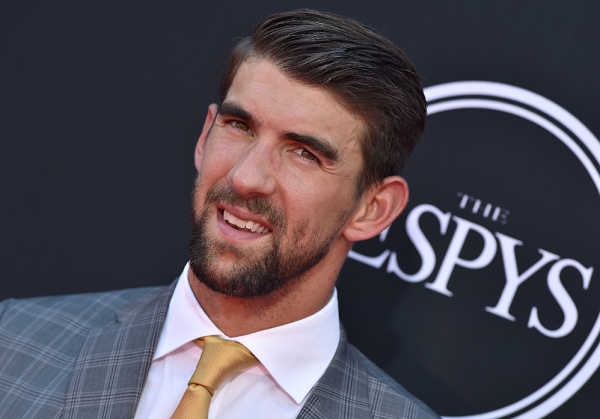 Olympian Michael Phelps earned 28 medals during his professional competitive swim career. Twenty-three of them are gold. He's also broken seven world records and one Olympic record. Yet, BTS fans believe bandmember Jungkook could outswim Phelps.
The Map of the Soul: Persona singer shared a video of himself swimming laps in a pool on Wednesday morning, sparking immediate pandemonium from the bands' millions of followers. Jungkook appears to be swimming in a hotel pool, likely getting in his last laps before the group starts the next leg of their world tour in Brazil on Saturday. BTS concluded their stateside tour in New Jersey on Sunday.
In the video, Jungkook swims from one end of the pool to the other, in seemingly record time. While it's unclear how long the pool was, it only takes him about 15 seconds to complete one lap.
His speed impressed many of the band's fans online, and many of them compared his skills to that of the Olympic medalist Phelps.
There were some who suggested Jungkook could even beat Phelps if the two were to compete in a swimming race.
The odds of a match between the pair seems unlikely considering Phelps retired from competitive swimming following his awe-inspiring final win at the 2016 Olympics in Rio de Janeiro. Phelps, who was 31 years old at the time, claimed his fifth title in the Olympics that year after winning the 4x100-meter medley relay by a hair. Swimming the butterfly, Phelps set a new Olympic record after completing with a time of just 3:27.95.
The only person to beat one of Phelps records thus far was 10-year-old Clark Kent Apuada, who won the 100-meter butterfly at the Far West International Championship in California last July. The young swimmer, whose nickname is Superman, broke Phelps' 1995 record by one second after finishing with a time of 1:09:38.
Since retiring, Phelps, a father of two, has focused on his family and water conservation. He also uses his platform to spread mental health awareness.
Phelps opened up on his own battles with mental health in front of an audience at the fourth annual conference for behavioral health advocacy group Kennedy Forum in January. He revealed the struggles with depression he faced after every Olympic win, and said he contemplated taking his own life.
Phelps journey with therapy and treatment inspired him to use his own story to help other people. "I know it's something that changed my life and saved my life and allowed me to be able to be where I am today, enjoying the platform of talking about something that's so important," Phelps, who was honored with a Morton E. Ruderman Award in Inclusion on Tuesday, told the Associated Press.