BTS 'No Pants' Stalker Allegedly Follows K-Pop Band Everywhere They Go
It's no secret the BTS Army are dedicated and loyal, however, one fan has allegedly taken her love of the K-Pop icons to obsessive levels. The private Instagram account of a female sasaeng—the Korean term for an obsessive, stalker—was outed on Tuesday. Images and videos featured on the account revealed the woman had followed BTS during every stop of their world tour and had appeared on the same flights at the group, sleeping in the same hotel as well as snapping pictures of bandmembers without their consent, according to a report by Korean music site All K-Pop.
The unidentified woman is referred to as "No Pants" by BTS fans due to the many times she's been spotted at the band's events without pants on. It's believed the woman was put on Big Entertainment's blacklist—a list of those banned from attending BTS shows and concerts or being in close proximity to group members—after she was discovered stalking the band in January. However, the sasaeng's Instagram page @starherin, which features photos of "No Pants" near the band, included private images of several BTS members taken over the last few months.
The Instagram account was first exposed by BTS fan and YouTube user JUNGSHOOKED, All K-Pop reported. In the video, private pictures of band members were depicted on @starherin's Instagram page as well as photos of the group at airports and every concert and event BTS has performed at since January, including the Grammys and Billboard Music Awards.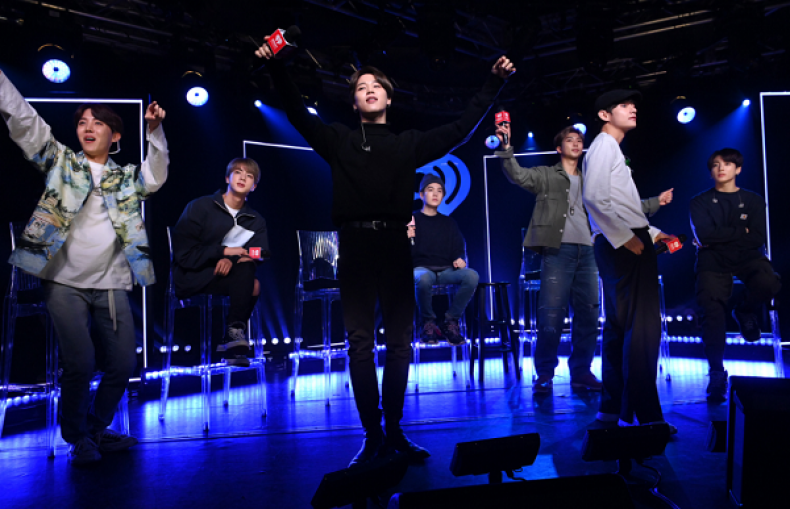 Fans of the group took to social media to advocate for better security for BTS.
This certainly won't mark the first time BTS fans have campaigned for heightened security for the group regarding "No Pants." They called on Big Entertainment to increase the group's security after a person thought to be "No Pants" was spotted in J-Hope's V-Live video on the eve of his birthday in February. The fan opened the door to a room where the singer was recording, snapped a picture, then closed the door, causing fans to worry the person was a stalker.
However, Big Entertainment released a statement noting the person in J-Hope's video was not the sasaeng. "We have confirmed that the person in question was not a sasaeng fan, but a member of the agency's staff. Outside people could not possibly have entered," the record company said in a statement to Hollywood Life.
BTS isn't the only K-pop group that's experienced severe instances of stalking. K-Pop group EXO were nearly kidnapped by an obsessed fan disguised as the band's driver following a concert in 2017. Meanwhile, several members of Super Junior were involved in a horrific seven-car accident due to a car chase involving a sasaeng in 2007.