BTS Star Jimin Shares Heath Update After Appendicitis, COVID Diagnoses
BTS star Jimin has shared an update with fans on his health, after it was revealed that he had been diagnosed with acute appendicitis and COVID-19.
On Monday, the "Dynamite" singer's management company, Big Hit Music, revealed that the K-pop sensation was "recuperating" in hospital after undergoing an operation as he also battled mild symptoms of the novel coronavirus.
Jimin has since updated concerned fans on the status of his recovery, saying in a post shared on Korean social media platform Weverse that he believes he may soon be discharged from the hospital.
"Everyone, you must have worried a lot right? I am recovering well!" Jimin wrote in his post, which was translated from Korean to English by Allkpop.
"I'm sorry to have worried you," he said in a follow-up post. "But, I think I can be discharged soon! I am recovering well too and I am eating all three meals a day. Please wait for just a little, I will return quickly after recovery!"
Earlier this week, a statement from BTS' management revealed that the star was admitted to hospital after an onset of pains.
"Jimin experienced sudden abdominal pain along with a mild sore throat on January 30 in the afternoon," read the statement. "He visited a hospital emergency room for thorough examination, and also took a PCR test."
"Jimin was diagnosed with acute appendicitis, and was tested positive for COVID-19," the statement went on. "He underwent surgery following physician advice early morning on Monday, January 31.
"According to the medical staff, the surgery was successful and Jimin is currently recuperating after his procedure. He will be receiving a few days of in-patient treatment for COVID-19 in conjunction with postoperative care.
"He is currently experiencing a mild sore throat but is making a speedy recovery, and had no contact with the other [band] members during the infectious stage."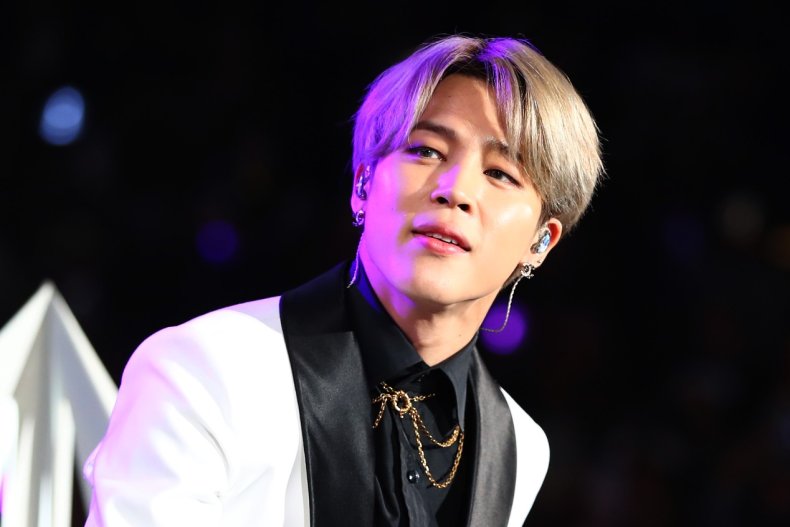 Over the Christmas holiday, it was revealed that BTS members RM, Jin and Suga had been diagnosed with COVID-19 after returning to South Korea from the U.S.
In early December 2021, it was announced that the seven members of BTS would be taking an extended break from work—their first since 2019.
"This period of rest will provide the members of BTS who have tirelessly committed themselves to their activities, a chance to get re-inspired and recharge with creative energy," read a statement from Big Hit. "It will also be the first time for them since their debut to spend the holiday season with their families."
The group's management team said that BTS would be "focusing on preparing for the concert and release of the new album that will mark the beginning of a 'new chapter.' They are preparing for a concert this coming March to connect and communicate with the fans in-person in Seoul."