BTS Star Jimin's Single 'Promise' Becomes First To Hit 300M Streams on Soundcloud
BTS star Jimin has broken a world record with his solo single "Promise," on the same week it was announced that his band is taking an "extended period of rest."
The track, which was released by the K-pop superstar back on December 30, 2018, has surpassed 300 million streams on Soundcloud—making it the first single to achieve the feat on the platform in its entire history.
On December 7, the official Soundcloud account tweeted: "With an incredible 300M streams, Promise by #JIMIN is now the most streamed song on SoundCloud. Congratulations!!!!"
Soundcloud announced on January 3, 2019, that the single had surpassed the previous record set by Drake's "Duppy Freestyle" for the biggest 24-hour debut in history.
Jimin's track, which was his first solo release (his second, "Christmas Love," was released on December 24, 2020) spoke about how the track came to be during a livestream in January 2019.
"At first, it wasn't meant to be a comforting song as it is now," he said, per The Korea Herald. "Rather it was supposed to reprimand myself with lyrics like 'What's gotten into you' and more harsh words. My thoughts at that time were dark and lyrics came out that way."
"It's my personality," he went on. "I am often indecisive and am not true to myself. I hated that. I was so sick of myself not being able to say what I truly felt and thought."
News of Jimin's single success comes after it was announced on Monday that the singer and his bandmates—Jungkook, Jin, J-Hope, V, Suga, and RM—are taking a break.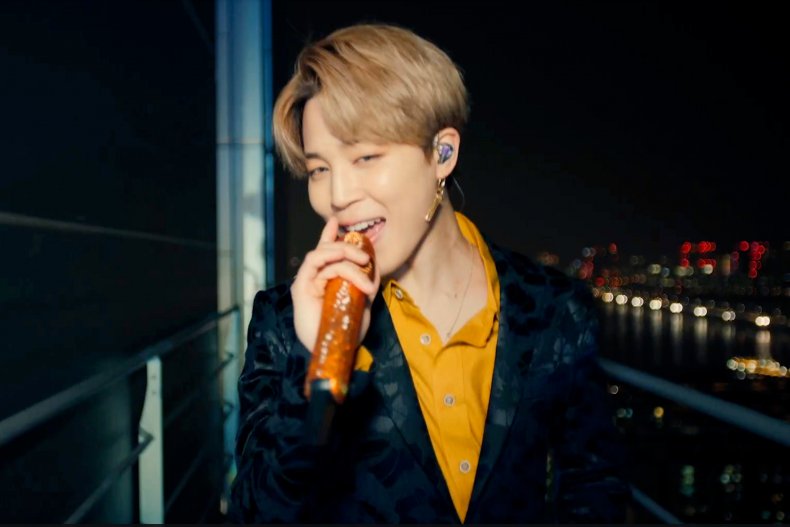 Big Hit Music, which manages the band, said in a statement that the stars had "stayed active in order to engage with fans in 2020 and 2021 amidst the Covid-19 situation."
"This period of rest will provide the members of BTS who have tirelessly committed themselves to their activities, a chance to get re-inspired and recharge with creative energy," the statement went on. "It will also be the first time for them since their debut to spend the holiday season with their families."
The management group added that BTS will also "be focusing on preparing for the concert and release of the new album that will mark the beginning of a 'new chapter,'" with a concert scheduled to take place in Seoul in March.
Fans of the group, known collectively as the BTS ARMY were also asked to "show consideration for [BTS members'] need to enjoy ordinary and free, everyday lives."
The statement concluded: "We would like to extend our deepest gratitude to all the fans who continue to cheer for BTS and they will return as their best, healthiest selves after recharging so they can return all the love from the fans."
Within hours of their break being announced, each of the band's seven members launched individual Instagram accounts. At press time, all of the singers' individual follower counts were close to, or had succeeded, the 20 million mark.
BTS' stars had previously announced that they were taking time off in August 2019. They returned to work soon afterward to release their hit singles "Butter" and "Dynamite."