BTS Star V Gains 10M Instagram Followers in Under 5 Hours, Sets New Record
BTS star V has set two new Guinness World Records after gaining 1 million and 10 million Instagram followers in the fastest time recorded.
The K-pop singer, real name Kim Tae-hyung, and his bandmates—Jungkook, Jin, J-Hope, Jimin, Suga, and RM—launched their individual Instagram accounts on December 6, hours after it was announced that they were taking a break.
And the social media breakaway has left V with two new records, with the musician gaining 1 million Instagram followers in just 43 minutes and hitting the 10 million mark in 4 hours and 52 minutes, according to the Guinness World Records website.
On Monday, a post on the official Guinness World Records Twitter account read: "Nothing to see here, just V breaking records for the fastest time to hit one million AND ten million followers on Instagram."
With his current count standing at 25.8 million, the "Dynamite" singer has the most followers of his bandmates, though all of them have more than 20 million followers apiece.
The record for gaining 1 million followers the fastest had previously been held by NCT star TAEIL MOON, who hit the milestone in 1 hour and 45 minutes after his first post in July. Other record holders have included Jennifer Aniston and Rupert Grint.
Breaking Guinness World Records is all but a way of life for BTS, whose hit single "Butter" saw the singers set five new records back in May of this year.
"Butter" gained the most viewers for the premiere of a video on YouTube, with 3.9 million concurrent viewers for the track's premiere. It also smashed the record for the most viewers for a music video premiere on YouTube with 187 million views (the stars beat their own record for their pop juggernaut "Dynamite").
The track also broke records for the most viewed YouTube music video in 24 hours and the most viewed YouTube music video in 24 hours by a K-pop group.
BTS' "Butter" also broke the record for the most streamed song on Spotify in the first 24 hours of its release, with 11,042,335 global streams on Spotify in one day.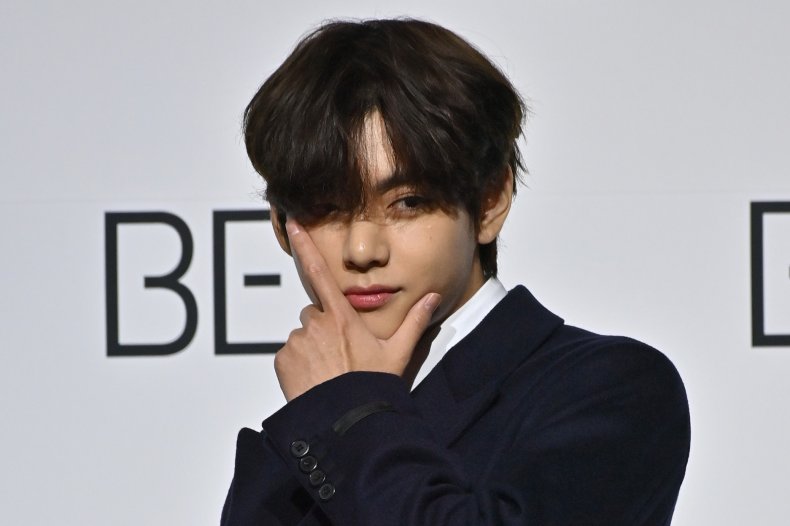 Such are their achievements that the band entered the Guinness World Records 2022 Hall of Fame in September 2021, after scooping titles across music and social media.
V's bandmate Jimin has also shattered a record individually during his group's downtime, with his single "Promise" becoming the first track to surpass 300 million streams on Soundcloud earlier this month. The track was released on December 30, 2018.
It was announced on December 6 that the stars of BTS would be taking some time off to "recharge with creative energy," ahead of returning to work in early 2022.
Big Hit Music, which manages the band, said in a statement: "This period of rest will provide the members of BTS who have tirelessly committed themselves to their activities, a chance to get re-inspired and recharge with creative energy. It will also be the first time for them since their debut to spend the holiday season with their families."
It added that BTS will also "be focusing on preparing for the concert and release of the new album that will mark the beginning of a 'new chapter,'" with a March 2022 concert scheduled to take place in Seoul.
The statement concluded: "We would like to extend our deepest gratitude to all the fans who continue to cheer for BTS and they will return as their best, healthiest selves after recharging so they can return all the love from the fans."