Video: BTS, Stephen Colbert Pay Homage to The Beatles, Ed Sullivan in Performance of 'Boy With Luv' Single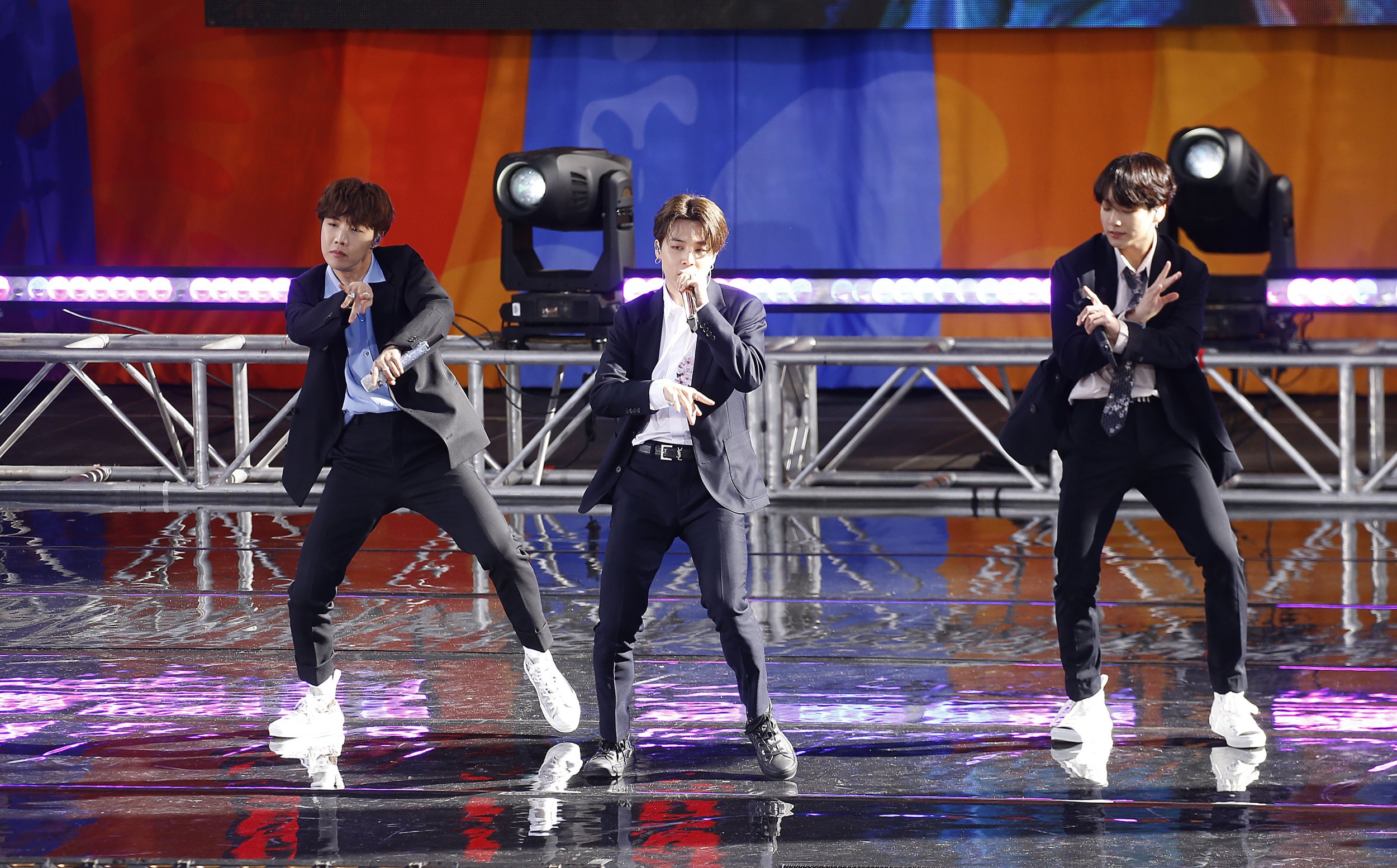 Stephen Colbert harked back to Ed Sullivan Wednesday on The Late Show, introducing South Korean smash hit boy band BTS in the style of the legendary television host.
Colbert and the group paid homage to The Beatles' landmark performances on The Ed Sullivan Show with their costumes, staging and extreme fan reactions.
Back in 1964, The Ed Sullivan Show hosted The Beatles several times. Performing at the height of Beatlemania, the group were met with an audience of doting, screaming fans. Women dressed in 1960s style clothes and holding homemade signs dedicated to BTS recreated this frenzied response on The Late Show.
At the start of the black-and-white segment, Colbert introduced the band in the style of Sullivan. "Ladies and gentlemen, now for the performance you have been waiting for by these fabulous young lads from Seoul—really impressed all of us here—performing their song 'Boy with Luv' from the EP Map of the Soul: Persona," he said. "Ladies and gentlemen, BTS."
BTS performed their new song "Boy with Luv" dressed in formal black suits reminiscent of those The Beatles wore on their Sullivan appearances.
A white drum kit at the back of the stage bore the letters "BTS" stylized like The Beatles' iconic logo. A similar kit graced the Sullivan stage back in 1964.
The band's Late Show appearance was a stop on their Love Yourself: Speak Yourself world tour, which has so far seen them perform in Los Angeles and Chicago. The group will hit New Jersey this weekend before traveling to Sao Paulo, London, Paris and, eventually Japan, according to their website.
The seven-member group released their song "Boy with Luv" in April 2019. It reached number one in several countries, including South Korea, Mexico and Hungary.
In the U.S., the song peaked April 27 at number 8 on the Billboard Hot 100 —the group's best performance so far. Map of the Soul: Persona is the band's third album to top the Billboard 200 chart in less than a year, the entertainment brand previously reported. Appropriately, as Billboard notes, they are the first group to achieve such a feat since The Beatles.
The single features American singer Halsey, real name Ashley Nicolette Frangipane. The group has previously collaborated with rappers Desiigner and Nicki Minaj.
According to ABC7, superfans camped outside for days to watch the K-Pop group perform at Good Morning America's Summer Concert Series in Central Park Wednesday.
"It's cold, it's been raining, but it's really cool to see how the Army all unites," fan Anna Tamura told the outlet. "And we're all enthusiastic about this and trying to support each other while having a good time."