The VMAs Are Racist According to Some Upset BTS Fans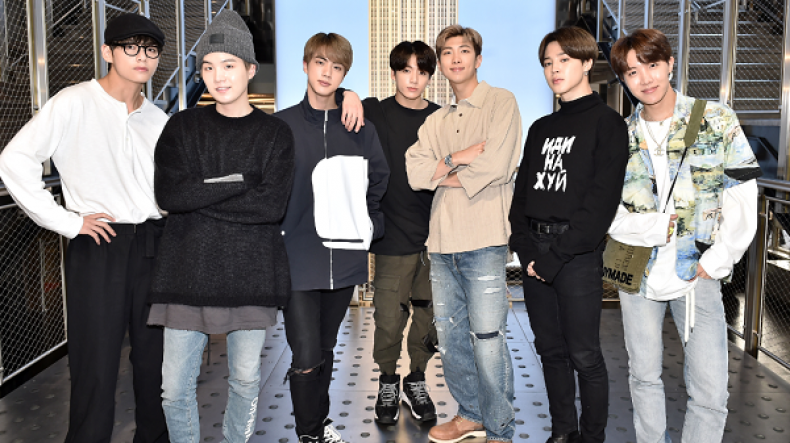 BTS fans are none too pleased with the K-pop band's lack of 2019 Video Music Awards nominations. Many of the BTS Army—the nickname bestowed upon diehard fans of the group—took to Twitter to accuse the VMAs of being racist and xenophobic on Tuesday, causing the hashtag #VMASracist to go viral.
The nominations for the annual awards show were announced on Tuesday. Artists Ariana Grande and Taylor Swift led the pack with 10 nominations each while newcomers like Billie Eilish and Lil Nas X received nine and eight nominations, respectively, including mentions in categories like Artist of the Year, Push Artist of the Year, Best Pop Song, Song of the Year and others.
Despite having a year of massive success over the last year, BTS was only nominated in four categories including Best Collaboration, Best Art Direction, Best Choreography and the newest category, Best K-Pop.
Not only were fans upset the network excluded BTS from award groups like Song of the Year, Video of the Year and Best New Artist categories, but they were additionally angered the network established an entirely new award category based on the band's ethnicity as opposed to just nominating BTS in Best Pop with contenders Grande, Eillish, Khalid, Jonas Brothers, 5 Seconds of Summer as well as Cardi B and Bruno Mars.
Although the category Best Latin was also featured on this year's nominations list—including a number of videos from Latin artists like Bad Bubby, Rosalía and others—BTS Army members accused the network of being racist against BTS and claimed the awards show didn't include the South Korean pop stars in general categories because they are not a white boy band.
Considerably one of the biggest boy groups in the world currently, BTS broke YouTube records when the music video for their hit single "Boy With Luv," featuring Halsey, premiered in April. The video became the streaming platform's most-watched video of all time after amassing more than 74.6 million views within 24 hours of its release. The video has since gone on to be viewed nearly 470 million times while Video of the Year nominee Grande has generated approximately 402 million views for "Thank U, Next," since its November 2018 release. Meanwhile, fellow nominee Swift has garnered nearly 91 million views for her video "You Need to Calm Down" since its June debut.
BTS' platinum-selling single is also one of the longest-charting K-Pop songs to ever appear on Billboard's Hot 100 after managing to remain on the chart for more than six weeks following its release. Not to mention earlier BTS hit singles "Mic Drop" "Fake Love" and "Idol" have also enjoyed lengthy appearances on Billboard's World and Hot 100 charts.
With the group's success in mind, some fans suggested BTS wasn't given the recognition they deserved on MTVs VMA list. Newsweek's request for comment to MTV was unanswered at the time of post.
See a few fan grievances below.