The BTS ARMY have shared their delight after a brand new mobile game was launched on Wednesday that allows you to manage the K-pop icons.
Designed by Netmarble, BTS World is a fictional game that travels back to 2012 when the members of the South Korean boy band—Jin, Suga, J-Hope, RM, Jimin, V and Jungkook—first came together in Seoul.
You play as an employee of entertainment company Big Hit, managing the group's debut and growing BTS into a global music sensation. You are responsible for what the band wears, their schedule and their social media accounts, making these choices by interacting with individual BTS members through in-game video calls and text messages.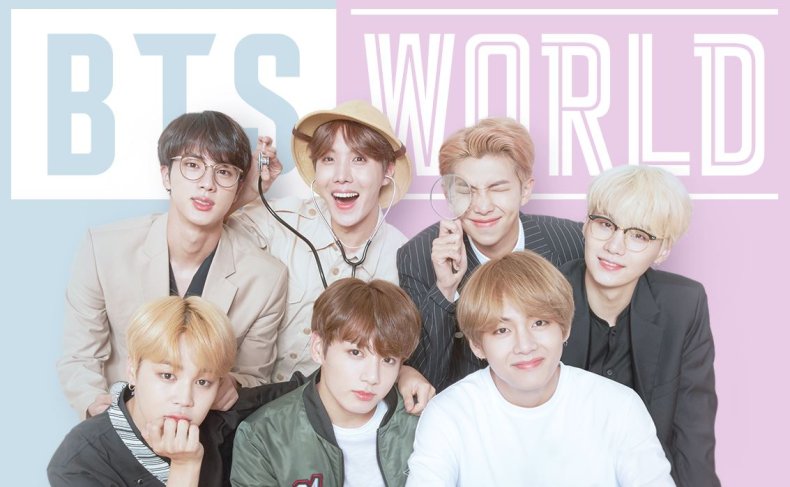 Each choice you make affects the story, and as you journey with the band towards stardom, you unlock exclusive photos and video content of the group.
As well as the game, BTS are also releasing an album on Friday featuring new songs in the game's soundtrack. Singles already released include "Dream Glow," "A Brand New Day," "All Night" and "Heartbeat."
The BTS ARMY took to social media to thank BTS for releasing the game and to share their excitement at getting the chance to play it.
The game is the latest product launched by the K-pop behemoths. Since first appearing in 2013, the septet has found global fame and staged sold-out live performances across the world. The band has broken numerous sales records in America and is the only Korean group to top the U.S. Billboard 200, thanks to their albums Love Yourself: Tear, Love Yourself: Answer and Map of the Soul: Persona.
How to download BTS World for iOS and Android
The game was made available in 176 countries in 14 languages to download today for iOS from the AppStore and Android devices from Google Play. The app is free to download, with VIP membership costing $4.99 a month.
If you feel you've got what it takes to manage BTS, you can download the game on your mobile device. On iOS, you can find the game on the APP store by searching "BTS." The same method works if using the Play Store on your Android device.
For Android devices, it is recommended you have at least 2GB RAM and are operating OS 4.4 or higher. For Apple products the app requires you operating iOS 9.0 or later and the iPhone 5s or higher. Make sure you have plenty of storage space as after the initial download you will be asked to pre-download an additional 508MB of data in order to ensure smoother gameplay.