'BTS World' Mobile Game Appears on Android Before iPhone, Prompting Fan Clashes on Twitter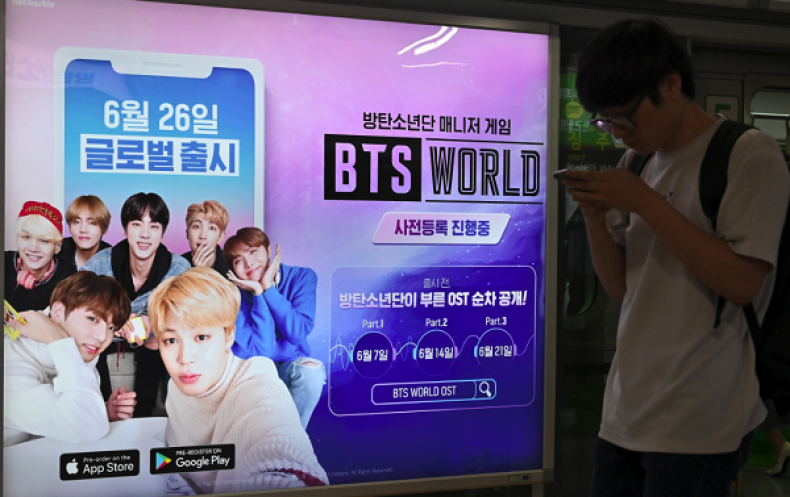 After much anticipation, BTS finally launched their new mobile game, BTS World. However, iPhone users were severely disappointed to learn the game was not yet available in the Apple App Store. Meanwhile, players with Android had a field day on social media teasing their good fortune since the game appeared on Google Play as scheduled.
BTS World released in 176 countries. The game allows fans to experience the thrill of being a manager for the superstar group. The story-based game takes players to the beginning of the BTS journey before they were pop stars. Through a series of missions, players will collect BTS member cards, which will help the group rise to stardom. Players will also be able to select specific group members as the main character and harness each member's strengths to navigate the group's career success.
The official press release noted the game would become available in 14 languages during the evening hours on Wednesday, but when fans with iPhone went to download, they got a message that said it wouldn't become available until Thursday.
The rivalry between cell phone users is no secret. There tends to be clashing among iPhone and Android users with every new feature and new phone release for both smart devices, and the BTS World roll out was no different. Some members of the BTS Army—the endearing nickname for fans and followers of the K-Pop group—were stunned to see fans with Android get access to the game before iPhone, considering iPhone is typically first to introduce new cutting-edge software and technology upgrades.
Those with Android were also shocked to see iPhone users left in the dust. Dozens of them gloated on Twitter, proclaiming the game's on-time arrival to the Google Play store a significant win for Android.
Although some fans will have to wait a little bit longer before they can play the game, everyone in the BTS Army will at least get new music from the group at the same time. BTS announced they would release the soundtrack of their upcoming movie in collaboration with the game. While the title song from the album "Heartbeat (BTS WORLD OST)" will be available for listening within the game, the group's newest album, BTS WORLD OST, is set to release worldwide on Friday.
BTS' newest feature film, Bring the Soul: The Movie, is set to hit theaters in August. The movie will feature live performances, interviews and behind-the-scenes footage of the group's "Love Yourself" tour in Europe.
See a few more reactions to the BTS World mobile game release below.