Bubba Wallace 'Mad' at People Questioning His Integrity Over Noose Incident
Bubba Wallace is "mad at people" questioning his integrity after the FBI determined the NASCAR driver was not the victim of a hate crime at the weekend, but insisted the criticism will "not break" him.
Wallace made headlines on Sunday, when NASCAR received reports a noose had been found in his garage stall at Talladega Superspeedway in Lincoln, Alabama.
The organization immediately launched an investigation into the issue, which ended on Tuesday with the FBI concluding that a pull rope shaped like an old-fashioned noose had indeed been on a garage since early October.
"The FBI report concludes, and photographic evidence confirms, that the garage door pull rope fashioned like a noose had been positioned there since as early as last fall," NASCAR said in its statement.
"This was obviously well before the 43 team's arrival and garage assignment. We appreciate the FBI's quick and thorough investigation and are thankful to learn that this was not an intentional, racist act against Bubba. We remain steadfast in our commitment to providing a welcoming and inclusive environment for all who love racing."
Speaking to CNN's Don Lemon on Tuesday night, Wallace accepted the findings and insisted NASCAR had done nothing wrong.
"I stand by Steve [Phelps, NASCAR's president], I stand by NASCAR," he said.
However, he had strong words for those questioning his integrity.
"I'm mad because people are trying to test my character and the person that I am and my integrity," he explained.
"They're not stealing that from me, but trying to test that. And as a person that doesn't need the fame or the hype or the media, I could care less. I give two c***s about that."
When Lemon suggested it may be wise for Wallace to avoid looking at social media, the 26-year-old agreed.
"I know. I'm trying hard not to. And I'll probably turn my phone off tonight," he added. "But to hear my side of the story and I don't mean to steal your spotlight. My side needs to be heard."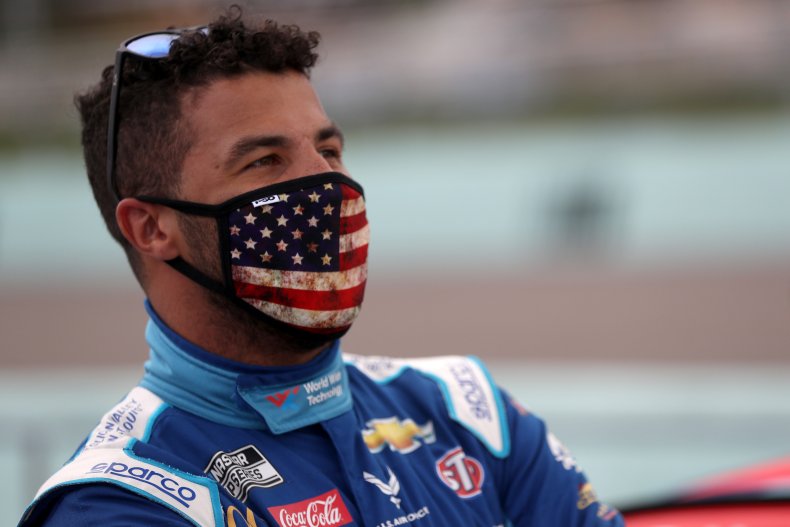 The only black driver in NASCAR, Wallace has been calling for change over the last few weeks, successfully pushing for the organization to ban the Confederate flag from its racetrack and support the Black Lives Matter movement.
Wallace didn't see the noose himself on Sunday, as it was reported to NASCAR by a team member. A NASCAR official informed the driver shortly after the race had been postponed by a day due to bad weather.
On Monday, the NASCAR world united behind a tearful Wallace, as dozens of drivers and team members pushed his car to the start line of the Geico 500.
The gesture spoke volumes for how highly Wallace is regarded by his colleagues and Lemon suggested his reputation would not be tarnished by the findings of the investigation, given he hadn't even reported the suspected crime himself.
"You and NASCAR should pick up and go on and continue to do what you're doing," Lemon added.
"You have the support of team members and NASCAR. And so, look at this as something that happened when you are evolving and changing. Everything is not perfect."
The CNN host then urged the driver to ignore the criticism coming from "the people [who] feel a certain kind of way about you and the flag."
In response, Wallace acknowledged his peers' support and vowed to use questions of his integrity to fuel his competitive fire.
"One thing you'll never take away from me is how 100 percent I am. How raw and real I am. I'll shoot it straight each and every time," he added.
"That's what I stand by. In my statement Sunday night this will not break me. None of the allegations of being a hoax will break me or tear me down.
"That only fuels the competitive drive in me to shut everybody up and get on the track next week and showcase what I can do behind the wheel. Whatever it is you want to say. It won't break me or tear me down."