One of the only NASCAR drivers to speak up in defense of stock car driver Bubba Wallace after President Donald Trump launched a false attack against him has seemingly retracted his criticism.
On Monday, Trump went after Wallace, NASCAR's only Black driver, calling for him to apologize to fellow NASCAR drivers and officials for his part in what the president described, in all-caps as "just another HOAX."
In June, a member of Wallace's team reported a noose hanging in Wallace's garage at Talladega Superspeedway in Alabama. NASCAR officials condemned the noose, but a subsequent investigation by the FBI found that the knot wasn't targeted at Wallace specifically, but had been in the garage since 2019. Apparently used as a pull-down for the garage door, the origins of the noose or the intention behind its tying remain unknown. It was not, as the President of the United States alleged, a hoax.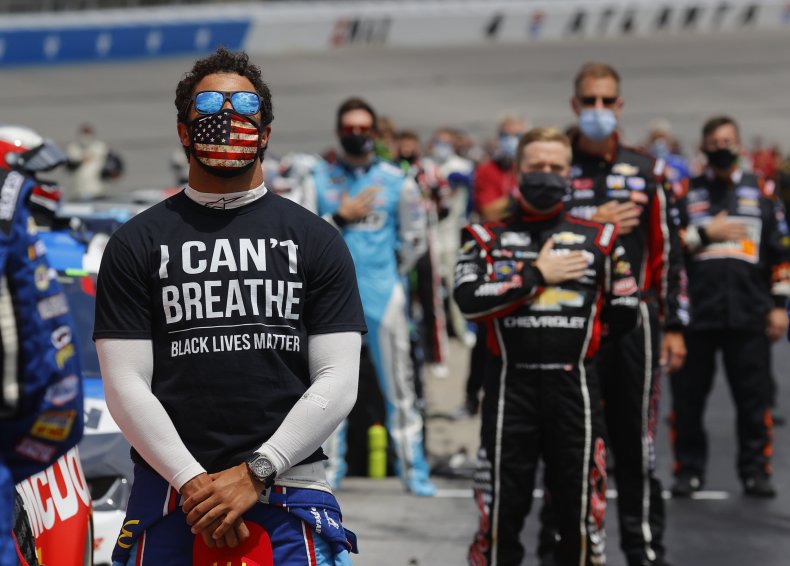 While most NASCAR drivers let the president's words against their colleague and competitor go unchallenged, driver Tyler Reddick stood up for Wallace on Twitter, writing, "We don't need an apology. We did what was right and we will do just fine without your support."
But after the sentiment was shared in several news stories regarding the president's tweet and reactions to it, Reddick deleted the tweet. Newsweek has reached out to Reddick for an explanation behind its deletion, but did not hear back by time of publication.
"We are proud to have Bubba Wallace in the NASCAR family and we commend his courage and leadership," NASCAR said in a statement released to Newsweek. "NASCAR continues to stand tall with Bubba, our competitors and everyone who makes our sport welcoming and inclusive for all racing fans."
Reddick subsequently reiterated his support for Wallace in a less confrontational manner, by retweeting thoughts from Fox Sports NASCAR reporter Bob Pockrass.
"There is nothing to apologize for," Pockrass wrote, describing the chain of events surrounding the noose-knot garage pull as reasonable responses to "a perceived threat," including "making policy to be more inclusive."
In the same tweet in which President Trump falsely described the noose incident as a hoax, he also alleged that the combination of the FBI's hate crime investigation and the "Flag decision" resulted in the "lowest ratings EVER!"
Trump is here alluding to NASCAR's June decision to ban the Confederate symbol, which NASCAR described as running "contrary to our commitment to providing a welcoming and inclusive environment for all fans." But the president is wrong about the reaction to the ban, which didn't result in the lowest ratings ever. Instead, viewership of NASCAR races went up from the previous year after the announcement, while Sunday's Brickyard 400—part of NASCAR's Cup Series—topped the ratings, garnering more than four million viewers.
Combining false accusations and incorrect information, the president's tweet was described by The New York Times as a "race-based appeal to white voters" and part of a pattern of "racist language and references" intended to inflame his conservative base. Other outlets have documented the president's propensity for attacking the intelligence of Black people in particular.
This article has been updated with comment from NASCAR.