Buccaneers Have Rare Opportunity to Accomplish Unseen NFL Feat With Brady, Gronk Back Together
It's not impossible for an NFL team to win a Super Bowl in its home stadium. But it's never been done.
Not all Super Bowls have been played in NFL stadiums. That is, until the mid 1990s, when new stadiums were built for teams in hopes of landing a Super Bowl, which is a huge moneymaker for both the team and its city.
The Los Angeles Rams won the NFC championship following the 1979 season, and they lost to the Pittsburgh Steelers in Super Bowl XIV at the Rose Bowl in Pasadena, California, which is in the Los Angeles metropolitan area. The Rams played their regular-season games at nearby Los Angeles Memorial Coliseum.
Then there are San Francisco 49ers, who won Super Bowl XIX over the Miami Dolphins in a game played at Stanford Stadium, which is in Palo Alto, about 35 minutes south of where the 49ers played their home games at Candlestick Park.
Since then, no other NFL team has even played a Super Bowl in their hometown, much less their own stadium.
Now, fast forward to the upcoming 2020 season. Tampa Bay is scheduled to host Super Bowl LV (55) at Raymond James Stadium, home of the Buccaneers. The Buccaneers organization may have put the right pieces together to win a Super Bowl in their own stadium—which would make them the first team to accomplish that feat.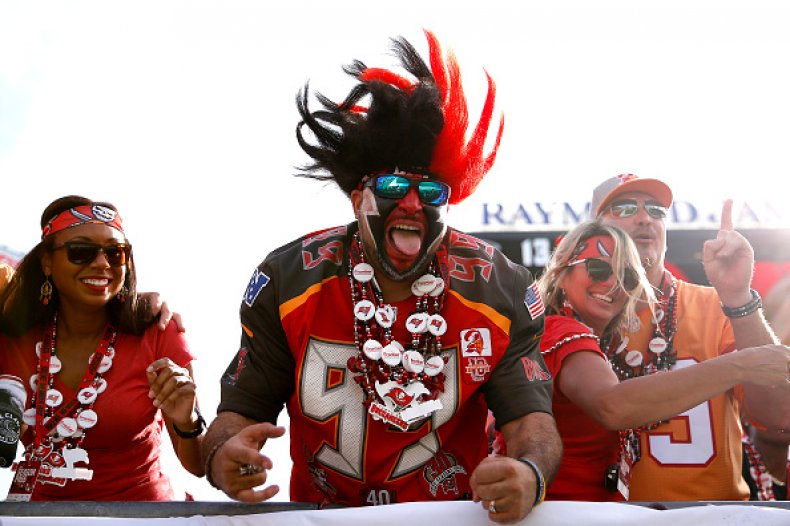 The Tampa Bay Buccaneers have made moves this past offseason that, on paper, have them moving up as favorites to unseat the New Orleans Saints in the NFC South division, and perhaps make a run at the Super Bowl. And with an added playoff team in each conference starting this season, there's no reason to not believe the Buccaneers won't make the playoffs.
Here's why.
The Buccaneers aggressively went after quarterback Tom Brady, who spent the last 20 years with New England, taking the Patriots to nine Super Bowls, winning six of them and losing close games in the other three—two of them to the New York Giants and the other to Philadelphia.
The Bucs shored up their pass rush by placing the franchise tag on linebacker Shaquil Barrett, who led the league with 19.5 sacks last year. The Bucs also signed outside linebacker Jason Pierre-Paul to a 2-year deal worth $27 million.
For anyone familiar with Brady's time in New England, he always had a good defense to rely on when he wasn't on the field.
Then there are the weapons at Brady's disposal when he signed his two-year, $50 million contract last month. There are two bonafide wide receivers in Mike Evans and Chris Godwin, and there's O.J. Howard at tight end. Heck, this offense was highly-prolific even with a quarterback [Jameis Winston] who threw 30 interceptions last year.
On Tuesday, the Buccaneers acquired former New England tight end Rob Gronkowski in a trade, reuniting him with Brady. Gronkowski retired after the 2018 season and spent the last year partly on the WWE circuit and another as a Fox Sports football studio analyst.
"Rob Gronkowski is one of the best tight ends in NFL history and he plays the game with the type of passion and desire that sets him apart," Buccaneers GM Jason Licht said. "Rob has played his entire career alongside Tom Brady, and their accomplishments speak for themselves. Together they have developed the type of chemistry on and off the field that is crucial to success."
Gronkowski caught 521 passes for 7,861 yards and 79 touchdowns during his nine seasons with Brady and the Patriots.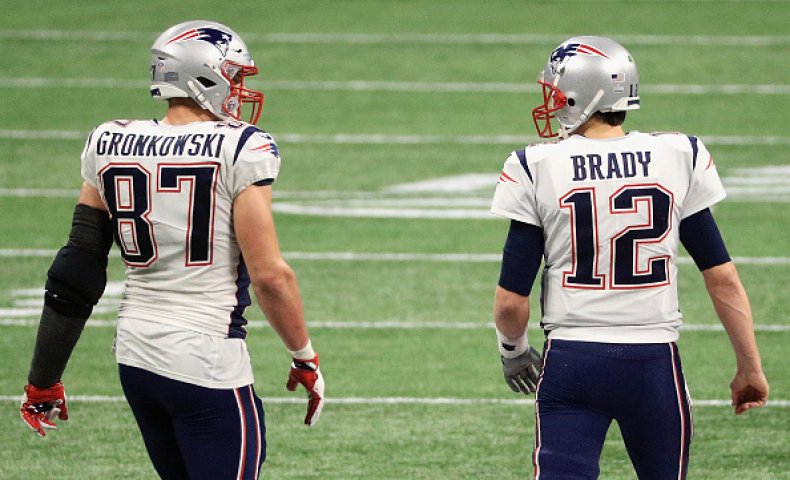 Will teams que on Gronkowski more now than they would another tight end? Having Gronkowski in the scheme opens up the playbook for head coach Bruce Arians even more. First of all, Brady never had as good of a 1-2 punch at wide receiver like he'll inherit in Tampa. Also, Arians could use multiple tight end sets, and use one running back who can also catch passes out of the backfield.
The schedule works out favorably for the Buccaneers, which have a tough slate of opposing quarterbacks—Drew Brees, Aaron Rodgers, Patrick Mahomes, Matt Ryan, Teddy Bridgewater, Kirk Cousins, Jared Goff—who all travel to play at Tampa Bay. The Buccaneers will have to travel to New Orleans, Carolina and Atlanta for divisional games, but two of them are in domes and the Carolina game should be in a favorable climate.
And lastly, there are the Las Vegas odds, which shifted more in Tampa Bay's favor once Gronkowski was named a Buccaneer. Before Tuesday, the odds of Tampa Bay winning the Super Bowl went from 17-1 to 14-1, and their odds of winning the NFC championship shifted to 8-1 to 7-1 on Tuesday, according to Caesars.
If the Buccaneers do, indeed, make it to the Super Bowl in their home digs, then it would be probably be hard to bet against Brady and the Bucs.