Tampa Bay Buccaneers linebacker Shaquil Barrett intercepted a screen pass and returned it for what turned out to be a game-sealing touchdown late in a 27-17 win over the Chicago Bears on Sunday. But what happened in the end zone moments after the score had to do with much more than football.
Every day over the past several months has been a struggle for Barrett and his family. Barrett's 2-year-old daughter, Arrayah, drowned on April 30.
The grief ahead of Tampa Bay's Week 1 game was almost too much for Barrett to handle. The nine-year NFL veteran said he couldn't stop crying beforehand. He misses his daughter, misses her smile.
This week, as Bucs fans inside Tampa's Raymond James Stadium cheered and his teammates surrounded him in admiration after the touchdown, Barrett used his moment of glory to pay tribute to his late daughter. Barrett blew a kiss to the sky to his "ray of sunshine."
For a moment, his pain wasn't so strong.
"It never stops sucking, it's always going to suck," Barrett said at his postgame press conference, a heart-shaped necklace with Arrayah's picture on it around his neck. "But at least I'm able to shine a spotlight on it a little bit. Camera was on me after I made the play. I told her, 'I love you, miss you, wish you were here.'"
Barrett, 30, had previously dedicated the 2023 NFL season to Arrayah's memory. And the Bucs are doing their part to honor her this season.
Tampa Bay improved to 2-0 with its win over Chicago. Quarterback Baker Mayfield threw for 317 yards and a touchdown in his second start with the franchise. It marked the first 300-yard performance from the former Heisman Trophy winner since 2021. Most of those yards went to wide receiver Mike Evans, who caught six passes for 171 yards and a touchdown.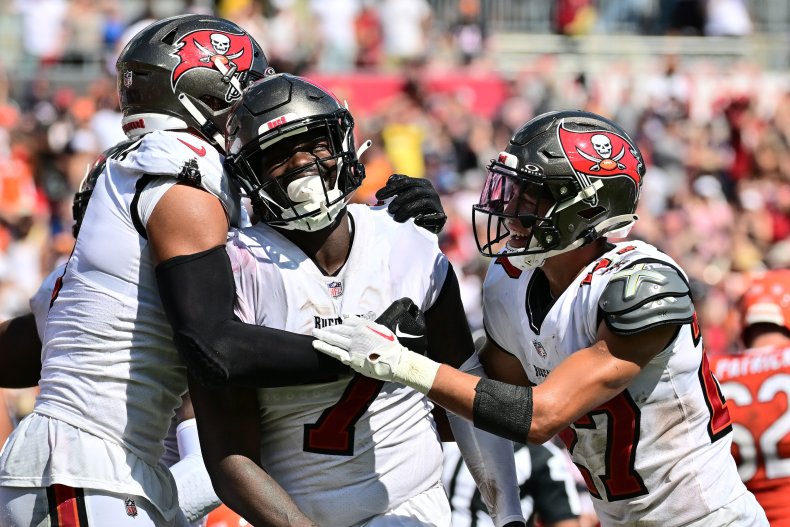 The Buccaneers defense forced two Bears turnovers and pressured quarterback Justin Fields throughout the day. Barrett, in his second game back on the field after tearing his Achilles tendon in Week 8 of last season, accounted for one of Tampa Bay's six sacks.
"It's unbelievable," Bucs coach Todd Bowles said about Barrett playing through tragedy. "You can't even fathom going through something like that. To see him go through it and come out on the other side—and I'm sure he still has days—but to play like he's playing right now, to be where he is right now, is unbelievable."
After a 75-yard touchdown drive on Chicago's first possession, the Bucs held the Bears to 161 offensive yards the rest of the way. Still, with two minutes and 12 seconds left in the fourth quarter—and trailing by only 3 points—Fields and the Bears had the ball and a chance to leave Tampa with a win.
Barrett made sure that didn't happen.
Fields dropped back to pass and tried to deliver the ball to running back Khalil Herbert on a screen pass. Barrett read the play, grabbed the ball out of the air with one hand, then ran it in for a four-yard touchdown—the first of his NFL career.
"That was great," said Bucs defensive back Christian Izien, who also picked off a pass Sunday. "I was a little confused at first. I [saw] his hand go up. I was like, 'Did he catch a pick?' My immediate thought was just push him into the end zone so we could get more points."
Mayfield added: "To seal the deal, right there...yeah, an interception return for a touchdown is always good, especially in that critical situation. We love Shaq."
Barrett's family was there Sunday for one of the best games of his nearly decade-long professional career. Barrett's wife, Jordanna, is expecting a baby daughter early in 2024. Barrett said she and their other three children are holding up as well as can be expected. Their oldest child, Shaquil Jr., has just started playing football, and Barrett said during his press conference that he is one of the coaches on the team.
The Barrett family is doing what it can to manage their sorrow since this past spring's tragedy.
At the podium postgame, Barrett was appreciative of the prayers he and his family have received. The linebacker beamed when talking about his daughter, despite the difficulty of the topic. Scoring a touchdown—his first touchdown, at that—in his first home game since her death was what Barrett could only describe as an act of divine intervention.
And one he is thankful for. "I'm glad I'm able to still get some spotlight for her and the Lord above," he said.
Uncommon Knowledge
Newsweek is committed to challenging conventional wisdom and finding connections in the search for common ground.
Newsweek is committed to challenging conventional wisdom and finding connections in the search for common ground.
About the writer
Robert Read is a Newsweek writer and reporter based in Florida. His focus is reporting on trending sports stories. Robert joined Newsweek in 2023. He is a graduate of the University of Iowa. You can get in touch with Robert by emailing r.read@newsweek.com. Languages: English.