Bucha Images Appear to Show Mass Grave by Church in Ukraine
Satellite images have indicated a mass grave in Bucha, yet more evidence of atrocities committed by Russian troops against civilians in the town.
The images presented by Maxar Technologies show a 45-foot long trench dug in the ground near the Church of St. Andrew & Pyervozvannoho All Saints. According to the company, the first signs of excavation on the grounds of the church date back to March 10.
"More recent coverage on March 31st shows the grave site with an approximately 45-foot-long trench in the southwestern section of the area near the church," Maxar said, as reported by Reuters.
The images have not yet been independently verified by reporters on the ground.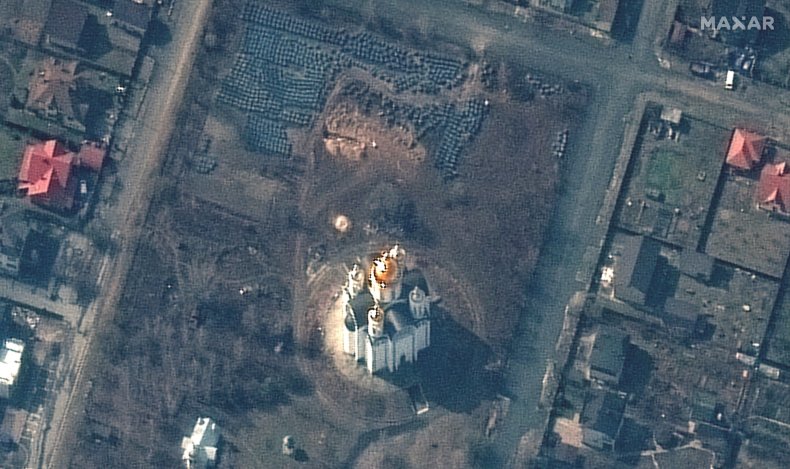 Ukrainian troops entered Bucha, 23 miles northwest of the capital Kyiv, after Russian troops withdrew from the town on Thursday to reposition themselves following new instructions coming directly from the Kremlin to refocus fighting in eastern Ukraine.
The town had seen fierce fighting since the beginning of the Russian invasion on February 24 and was occupied by February 26. For more than a month, the town remained completely inaccessible.
Ukrainian troops who entered the town last week found hundreds of bodies of civilians lying dead on the streets, some bound and shot at close range. According to the town's mayor Taras Shapravskyi, 50 of 300 bodies seemed to have been the victims of extrajudicial killing by Russian troops.
Agence France-Press, Associated Press and Reuters journalists confirmed seeing dead bodies along the roads of the town, some with their hands tied behind their backs and bullet wounds to the head.
Reuters reported a mass grave near a church site that was still open, with hands and feet sticking out the ground. It is not clear whether the mass grave reported by Reuters is the same as the trench in Maxar's satellite images.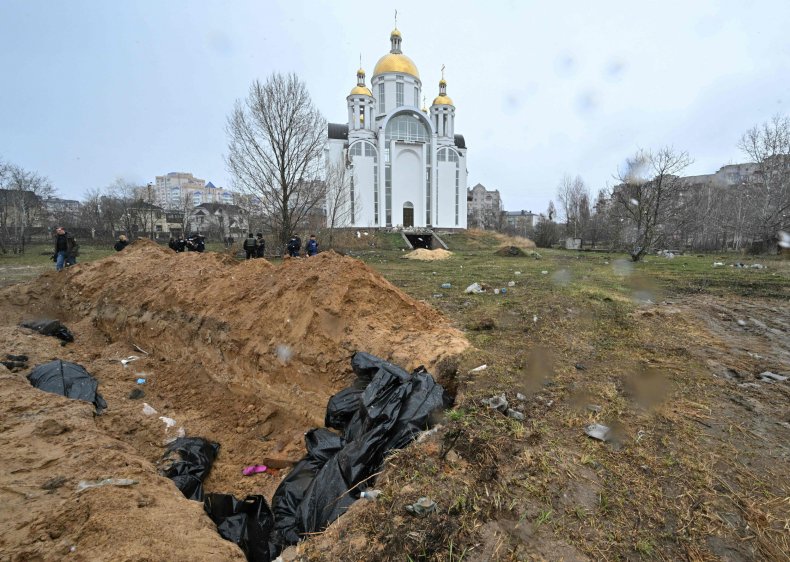 Local authorities told Agence France-Press that Russian troops did not initially allow residents to bury the dead, and that when they were able to, they had to bury 280 bodies in mass graves because they couldn't reach cemeteries in the line of fire.
Prosecutor General of Ukraine Iryna Venediktova, who is investigating possible war crimes committed by the Russian army in Ukraine, wrote on Facebook that the bodies 410 of civilians had been found in towns around Kyiv.
Such killings were evidence of "genocide," said Ukrainian President Volodymyr Zelensky. In his speech on Sunday night, Zelensky referred to the events in Bucha, Irpin and other towns near Kyiv saying: "Concentrated evil has come to our land."
He called Russian troops "murderers, torturers, rapists and looters."
His words were echoed by Polish Prime Minister Mateusz Morawiecki, who said what Russian troops had done in Bucha could be considered "acts of genocide."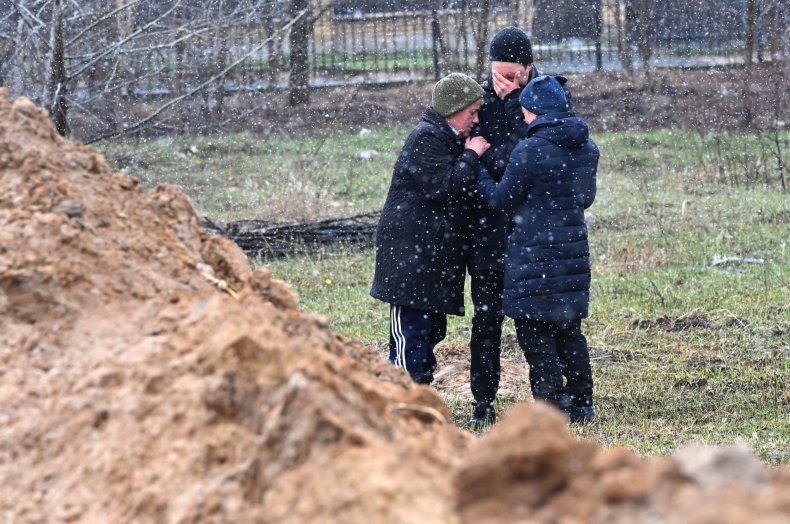 Russia has firmly denied that its troops commited any atrocities. According to Russia's defense ministry, photos and videos showing the bodies of dead civilians in Bucha and other towns near Kyiv "have been staged by the Kyiv regime for the Western media."
The ministry added that "not a single civilian" in Bucha faced any violent military action by Russian troops.
Russia has requested a meeting of the UN Security Council to discuss what happened in Bucha, which Moscow described as a "provocation by Ukrainian radicals."
Images of the Ukrainian town strewn with bodies have sparked outrage in the international community.
On Saturday, Latvia, Estonia and Lithuania announced that all three Baltic states have stopped importing gas from Russia in an effort to cut their dependence on Russian energy imports.
"If we can do it, the rest of Europe can too," said Lithuanian President Gitanas Nausėda on Twitter.
Germany—the most reluctant country in Europe to ban fossil fuels imports from Russia—has announced that it's now considering a ban, according to the country's defense minister Christine Lambrecht.
"Such crimes must not go unanswered," said Lambrecht to Germany's public broadcaster ARD.
Update 04/04/22, 5:43 a.m. ET: This article was updated to include a video.