Twitter Reacts to NFL Broadcasters Buck and Aikman's Political Leanings
Longtime Fox sportscasters Joe Buck and Troy Aikman have found themselves in the unfamiliar waters of political controversy after a hot mic picked up the duo discussing a pregame military flyover.
Before the Tampa Bay Buccaneers-Green Bay Packers game on October 18, military jets passed in formation overhead, which led to a short bit of back-and-forth banter between Buck and Aikman when they presumably thought their microphones were off. Not only did they touch upon the wastefulness of the sign of military might and patriotism, Aikman even seemed to suggest he at least favored Joe Biden and Kamala Harris leading the country.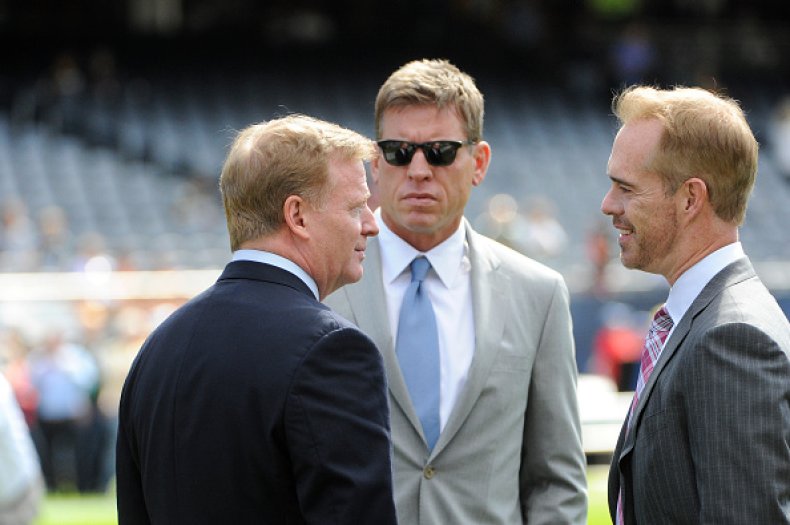 Here is exactly what the mic picked up:
Aikman: That's a lot of jet fuel just to do a little flyover.
Buck: That's your hard-earned money and your tax dollars at work!
Aikman: That stuff ain't happening with [a] Kamala-Biden ticket. I'll tell you that right now, partner.
Social media was quick to pick up on the technical slip-up, and many people shared the clip online.
Of course, many Twitter users were quick to attack the two, especially since the exchange took place during a NFL game, and football is long seen as one of America's most patriotic sports.
Plus, the fact that the sportscasters spouted seemingly liberal political leanings did not sit well with some of the more conservative football fans on Twitter.
One user, with the display name Gregory Jon, also claimed in a post that "...flyovers are done as mission/planning and training exercises and count towards pilot hours. The flight time needs to happen regardless of whether they are flying over a stadium or an empty point on the ground in Nevada. Might as well let people see what we are paying for."
Others reacted even more angrily:
Some other Twitter users, meanwhile, found themselves surprised to be in agreement with Buck and Aikman, as the former is often ridiculed for his takes on sports.
On an interesting side note, the Defense Department spent around $10 million on "marketing and advertising contracts with professional sports teams" between 2012 and 2015, according to a report from then Arizona Senators Jeff Flake and John McCain.
Before his passing, McCain suggested that teams that take that money from the government should cut a refund check or donate the money, which comes from tax dollars, to honor troops.
According to The Washington Post, a flyover of military fighter jets costs at least $60,000 per hour. Because of such an exorbitant cost, many football fans agreed with Buck and Aikman's assessment sheerly because of the state of the country right now, especially with many Americans experiencing serious economic woes brought on by the COVID-19 pandemic.
Fox and the NFL have not responded about the incident as of press time.