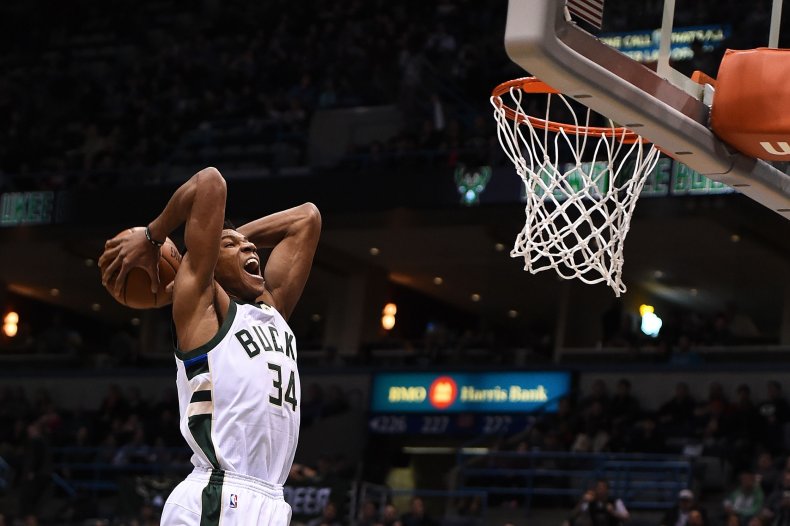 Milwaukee Bucks star Giannis Antetokounmpo had a record-breaking performance with 36 points, 20 rebounds and 6 assists Thursday night. The Bucks beat the Philadelphia 76ers 112-10 in a game filled with highlight plays from the reigning NBA MVP.
Antetokounmpo's latest stat line marked the first time in his career that he recorded at least 30 points and 20 rebounds, as well as his fifth straight game of at least 30 points and 15 rebounds--surpassing former Los Angeles Lakers great Shaquille O'Neal's record of four straight games of 30 and 15.
Antetokounmpo didn't stop there in rewriting NBA record books. His Thursday night performance also tied NBA legend Wilt Chamberlain's record of five straight games of at least 30 points, 15 rebounds and five assists. Additionally, it was Antetokounmpo's 11th game this season with those stats, while the entire rest of the league combined has accounted for 10, according to Elias Sports Bureau.
The performance by Antetokounmpo not only helped the Bucks obtain the victory over the 76ers, but it also helped improve his team's record to an Eastern Conference best 44-7, as well as an impressive 9-1 in their last 10 games.
"I'm happy that we're winning, I'm happy that I'm playing good, but I can get a lot better," Antetokounmpo said after the game, as reported by CBS Sports. "I can be smarter, I can be sharper, I can make better passes on time, I can make more shots, I can be better. I'm happy for the games, I'm happy that we're winning, but I still got to improve so I can help my teammates."
Despite wanting to get better, Antetokounmpo has been on a tear over the past few games and is currently averaging 39.2 points, 17.3 rebounds and seven-and-a-half assists per 40 minutes.
In addition to boosting his team's record, Antetokounmpo's most recent performance further enhanced him as a betting favorite for the NBA's MVP award in multiple sportsbooks.
On DraftKings' sportsbook, Antetokounmpo is given -305 odds, while the next closest is Dallas Mavericks' Luka Doncic with +500 odds. This situation is similar to other sportsbooks with slightly different odds. Antetokounmpo is listed on FanDuel at -280, while Bovada has him at -350 odds. Both sites also listed Doncic as the second favorite with +470 and +600 odds respectively.
If Antetokounmpo continues at this high level of play and wins the NBA's MVP, he will join a list of 11 other NBA players that have won the award in back-to-back years. The list includes such NBA legends as Steph Curry, LeBron James, Steve Nash, Tim Duncan, Michael Jordan, Larry Bird, Magic Johnson, Moses Malone, Kareem Abdul-Jabbar (who did it two separate times), Wilt Chamberlain and Bill Russell.
Antetokounmpo will try to help the Bucks win again in their upcoming game against the Orlando Magic Saturday.
Uncommon Knowledge
Newsweek is committed to challenging conventional wisdom and finding connections in the search for common ground.
Newsweek is committed to challenging conventional wisdom and finding connections in the search for common ground.
About the writer
Matthew Impelli is a Newsweek staff writer based in New York. His focus is reporting social issues and crime. In January 2023, Matthew traveled to Moscow, Idaho where he reported on the quadruple murders and arrest of Bryan Kohberger. Matthew joined Newsweek in 2019 after graduating from Syracuse University. He also received his master's degree from St. John's University in 2021. You can get in touch with Matthew by emailing m.impelli@newsweek.com. Languages: English.